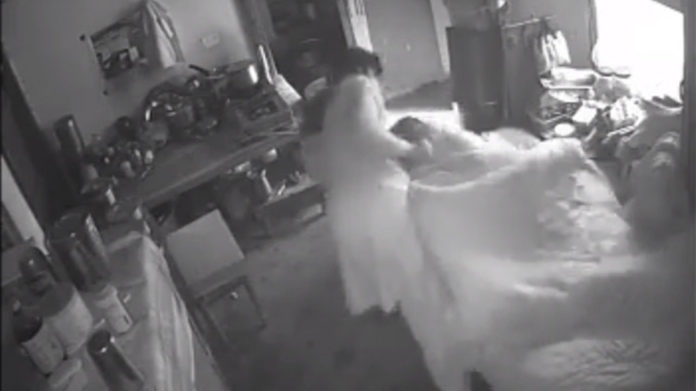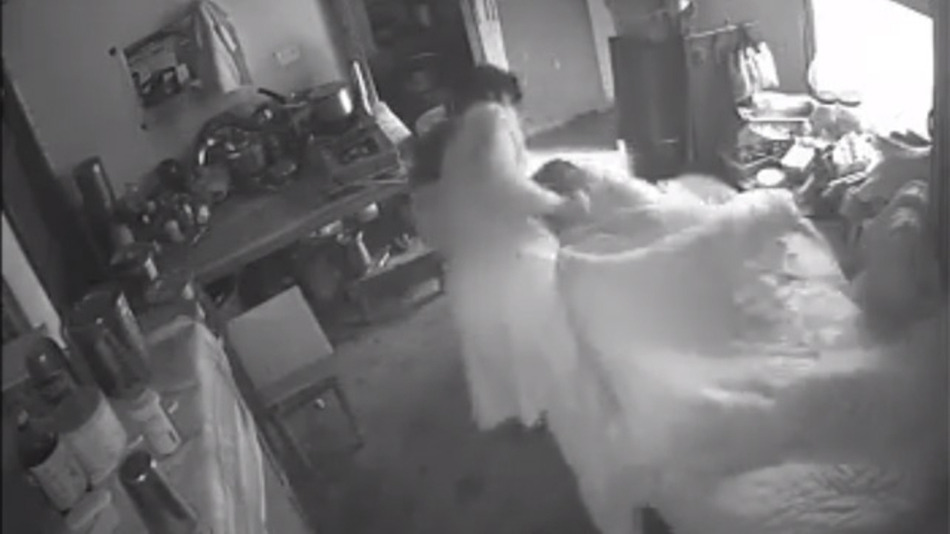 Police have arrested Sangeeta Jain for brutally beating her elderly mother-in-the law after CCTV footage of the assault went viral. The CCTV camera was installed by Sangeeta's husband Sandeep Jain in their house to expose his wife.
Indian activist, author and social entrepreneur, Kundan Srivastava, who shared the video on Facebook, noted that Sangeeta first attacked her helpless sick 70-year-old mother-in-law Raj Rani Jain with brick and rope. She then slapped her and dragged her down the bed to kill her. She also tried to shock her mother-in-law with a water heating rod. According to Kundan, Sangeeta has filed false dowry harassment and marital rape cases against Sandeep. A divorce case is also currently underway.
After she lodged a complaint against Sandeep under the Dowry Act, he was sent to police custody for a day on January 4 on charges of dowry harassment. The video was captured on January 5.
According to The Economic Times, Sandeep had a suspicion that Sangeeta used to torture his parents in his absence and had installed a CCTV camera in his mother's room to keep an eye on his wife. He alleged his wife used to hit his mother with bricks and shower abuses on her quite frequently.
"She was always like this. She used to attack us all – my parents, me… I complained about her (wife) but no one used to listen to me. After waiting for two years, I installed a CCTV camera hoping it will act as a deterrent to my wife's methods and that she will mend her ways. That day she crossed all limits. I installed the camera to unmask her since the law is on the woman's side when these types of cases are concerned."
What USA Media @HoustonChron wrote about #CrueltyOfSangeetaJain https://t.co/xSUdm2GXZl @DeepikaBhardwaj

— Kundan Srivastava (@ErKundan3) January 15, 2016
Within a few days after the video showing Sangeeta mercilessly beating her mother-in-law went viral and her subsequent arrest, a major twist appeared in the case. Sangeeta has levelled allegations of rape against her father-in-law. She claims that she does not have any children because of which her father-in-law wanted to rape her. She also accuses her mother-in-law and other members of the family of supporting him. She further asserts that the mother-in-law gave her electric shocks and the sister-in-laws poured boiling water.
"They made this fake video to ruin me. They beat me so many times…there is no video of that. Why no CCTV was installed when I was tortured?" she said claiming the video is a fake, set up by her husband and mother-in-law.
The police have registered a case under section 307 of the Indian Penal Code against Sangeeta. Senior police officer Daljit Chowdhury told NDTV, "It is a pity that she behaved like this. There is a lot of fighting in the family, it is a family dispute, but now we have the footage. We will definitely take action."
A woman Sangeeta Jain brutally beats mother-in-law in Bijnaur. This case is an eye opener. Wake up India, we need gender free laws.

— Atul Kumar Pandey (@goonj_pandey) January 12, 2016
Woman brutally beats up mother-in-law, caught on CCTV Need a law to protect to safeguard against such violations https://t.co/QMeeW5OCON

— Clarity21 (@Claritymay16) January 12, 2016
There r many cases in which woman beats mother in law. When they complain, she files 498A against the family. Guy did smart thing to record.

— Ankur Singh (@iAnkurSingh) January 12, 2016
There is growing criticism that the dowry laws are often being misused, particularly section 498A of Indian Penal Code which is observed by many in India as being prone to misuse because of mechanical arrests by the police.
Not just Rape law but Anti-Dowry Law is also misused in India https://t.co/lyFSLBDO8d #MisuseOfRapeLaw pic.twitter.com/O7JQYMXm6a

— MapsofIndia (@MapsofIndia) December 2, 2015
Anti-dowry law likely to be amended soon – The Times of India https://t.co/pzgDR9HBYt via @timesofindia Cal4 Strong deterrent against MISUSE

— Yashna Chawla (@yashna_chawla) December 11, 2015
@MinistryWCD @MIB_India Does it Cover Gross misuse of Female Laws also ? As if Dowry/ Marital Rape is not killing enough men ? #Scrap498a

— SaveASuicide (@SaveaSuicide) December 15, 2015
#Media420, Netas, feminists creating intolerance & fear in india Stop Dowry Law Misuse on Men #LawAgainstMen https://t.co/ogfSFbsxZc

— SaveASuicide (@SaveaSuicide) November 28, 2015
Flipside to anti-dowry law: Men cry abuse – The Times of India https://t.co/znuaZymBUk via @timesofindia

— Joydeep Das (@joydeepda) November 8, 2015
---
This Article (CHILLING VIDEO: Indian Wife Caught On Camera Trying To Murder Her Mother-In-Law) is free and open source. You have permission to republish this article under a Creative Commons license with attribution to the author and AnonHQ.com.