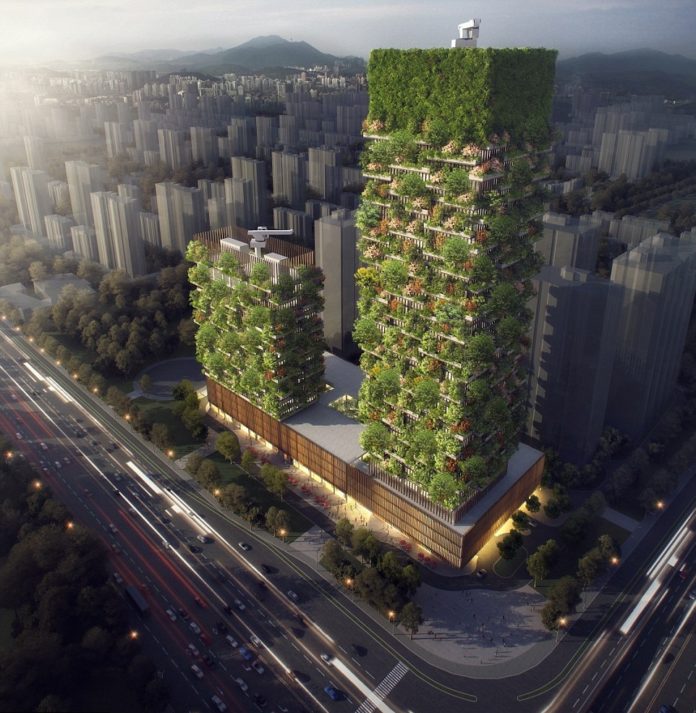 Air pollution in China has reached hazardous levels. Scientific studies attribute 1.4 million premature deaths per year — or almost 4,000 per day — in China to air pollution. Greenpeace estimates that around 460 million residents in China were affected by hazardous air pollution in 2016.
Despite declaring a "war on pollution" in 2014, Beijing issued the first ever Red Alert in December 2015, after a cloud of pollution bigger than Spain settled over northern China. In December 2016, Beijing issued the second Red Alert after northeastern China (the industrial heartland of the country) was engulfed by a thick blanket of choking and toxic smog.
Residents of Beijing, in 2017, from deep inside a cloud of poisonous smog, averaged concentrations of small breathable particles, known as PM2.5; were higher than 500 micrograms per cubic meter in the Chinese capital – 50 times more than World Health Organization recommendations.
Even as air pollution continues to rise at an alarming rate, wreaking havoc on human health and aiding a variety of companies to profit from the near-absurd business of selling bottles of fresh air; China is investing more money than any other nation in wind farms, solar plants and other renewable energy projects to curb the nation's crippling smog crisis.
One such project aimed at tackling the alarming carbon dioxide levels is called the Nanjing Green Towers. China, which features among the world's most polluted countries, is basically building Asia's first vertical forest to help its citizens get a breath of fresh air without having to pay for it.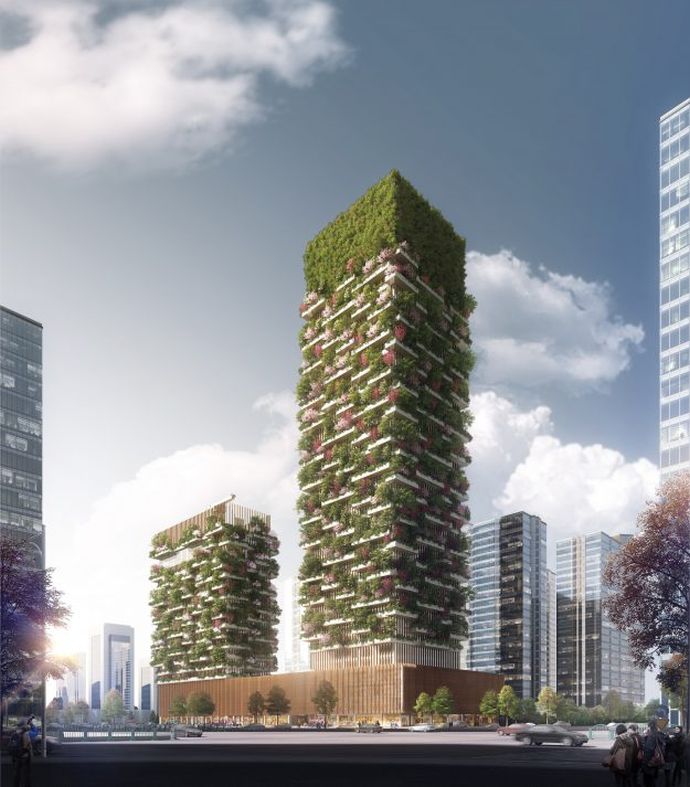 Designed by Italian architect Stefano Boeri, who has already built two vertical forests known as the Bosco Verticale in Milan; the Nanjing Green Towers will include 600 tall trees, 500 medium-sized trees (for a total amount of 1100 trees from 23 local species) and 2500 cascading plants and shrubs that will cover a 6,000 square meters' area.
Boeri says the trees and cascading plants will help regenerate biodiversity, absorb 25 tons of carbon dioxide annually, and produce 60 kg of oxygen every single day. Set to open in 2018 in Nanjing city, the quality of oxygen the vertical forest is expected to produce will be 3000 times purer than the city air.
"Vertical Forest is a model for a sustainable residential building, a project for metropolitan reforestation contributing to the regeneration of the environment and urban biodiversity without the implication of expanding the city upon the territory. It is a model of vertical densification of nature within the city that operates in relation to policies for reforestation and naturalization of large urban and metropolitan borders. The vegetal system of the Vertical Forest contributes to the construction of a microclimate, produces humidity, absorbs CO2 and dust particles and produces oxygen."
The two towers, promoted by Nanjing Yang Zi State-owned National Investment Group, will stand at heights of 656 feet and 354 feet.  The taller of the two towers will house offices, a museum, a terrace club, a green architecture school, and a private rooftop club.
The smaller tower will have a Hyatt hotel with a rooftop swimming pool and 247 rooms of different sizes. Both towers will rest on a 66-feet-high podium that will host a food market, restaurants, a shopping center and a conference hall.
Cai Long, president of Yang Zi Group, says that the towers' design has been adjusted to allow the balconies to support the weight of trees that can grow to 9 meters high, and that each tree planted on the balconies will be tested in a wind tunnel to prove it can remain vertical in storms.
"The vertical forest has many advantages, including regulating microclimate environment, isolating noise and reducing the heat flows between buildings and the outside environment. The vertical forest is a method to cope with the massive environmental crisis. Instead of horizontal expansion, it allows the cities to grow vertically and reduce pollution as well as energy consumption with multiple trees and other kinds of plants."
'Vertical forest' buildings rising in China, can fight pollution https://t.co/mzGYP5lJsW #INQ

— Inquirer (@inquirerdotnet) February 8, 2017
---
This article (China: Asia's First Vertical Forest Set to Produce 60 Kg of Oxygen Every Single Day) is a free and open source. You have permission to republish this article under a Creative Commons license with attribution to the author and AnonHQ.com.
---
Supporting Anonymous' Independent & Investigative News is important to us. Please, follow us on Twitter: Follow @AnonymousNewsHQ