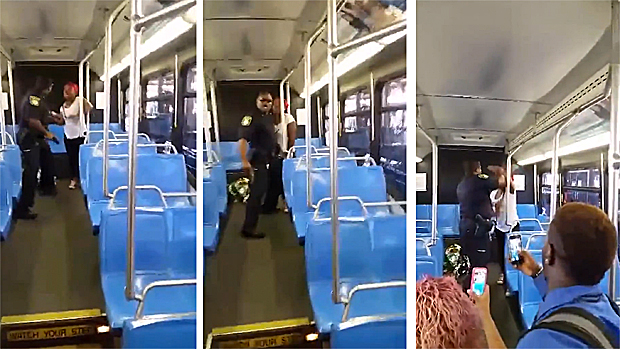 Boston, Massachusetts, September 19, 2015. Another day and another disturbing viral video can be seen streaming its way across the internet. The video's description describes a woman (whom remains nameless) being sited and detained for petty theft. What we see in this video is this woman visibly resisting arrest before getting violently tossed around by a male police officer. After several moments of further argument and struggle the police officer draws his weapon. Though he never directly points it at the women, the situation immediately escalates and the surrounding crowd takes action screaming and pleading with the officer to put is weapon away. After a few more moments, realizing his mistake the officer re-holsters his weapon and physically restrains the women until more officers arrive on scene for assistance. I think I speak for everyone who witnesses this video when I say I am relieved to see such a peaceful resolution to what could have become a tragic situation.



This video is just one in a long line of videos outlining a serious problem in our society that we are all becoming increasingly aware of. The rift between law enforcement and the citizens they are sworn to protect has perhaps never been larger. What is going wrong? Why does this keep happening? Are police officers truly more violent today they have ever been in the past? Or has police brutality always been this harmful, but only through the advancement of technology in our modern societies have we just now had the ability to expose it? This is not for me to say. What I think we can all agree on is that the interaction between police officers and the citizens of their communities is becoming more and more negative. Not only are people more fearful of the police, but the police themselves are subsequently becoming more apprehensive towards of the people they protect because of this. It is a double edged sword and this tension is only making the country more dangerous for all parties involved.
But, as this video shows us, not all is lost. Peace can win out over violence. Reason can win out of Chaos. People will do their best to place blame here. Some will say "the officer was at fault for being too aggressive with the woman!" Yet others will say "the woman was clearly resisting arrest putting the officer in a compromising position!" I am not here to make or change your opinion of this matter. What I am here to say is that it is not enough to just sit on the sidelines placing blame. As this video teaches us, we the people can make a difference. We can help others, we can save a life. All this takes is simply your attention and your action. I applaud the men and women who captured this video and who's verbal dialogue and actions diffused and ultimately stopped what could have become a tragic event. All of us can learn a lesson here: You are never too small to make a difference in this world.
---
This Article (Citizens Plead Officer to Drop His Weapon. Reason Prevails.) is free and open source. You have permission to republish this article under a creative commons license with attribution to the author and AnonHQ.com