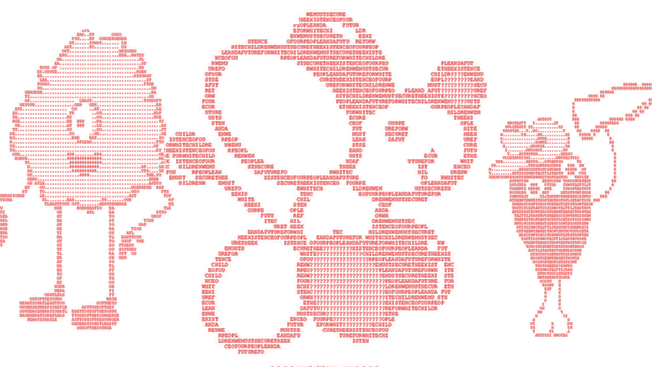 Coca-Cola launched an advertising campaign, called Make It Happy "focused on the importance of injecting happiness into the Internet", during The Super Bowl 49 weekend inviting netizens to reply to negative tweets with the hastag #MakeItHappy on Twitter. An automatic algorithm converted the negative tweets, using ASCII, an encoding system, into pictures of happy things. The idea was to "tackle the pervasive negativity polluting social media feeds and comment threads across the Internet".
You can happify the Internet like @nick_r_walker. Reply to a negative tweet with #MakeItHappy & we'll do the rest. pic.twitter.com/rl2peCJM7s

— Coca-Cola (@CocaCola) February 2, 2015
But Gawker had other ideas. Coke was forced to soon withdraw the campaign after it was tricked into quoting Adolf Hitler's autobiography Mein Kampf by Gawker.
Adam Pash, Gawker's editorial labs director, created a Twitter bot, @MeinCoke, tweeted lines from Mein Kampf with the #MakeItHappy hashtag, tricking Coca-Cola's Twitter bot to turn them into cute pictures and turning the #MakeItHappy campaign into a mouthpiece for Nazi propaganda. Coca-Cola quickly removed the Nazi tweets and disbanded its ASCII art project altogether.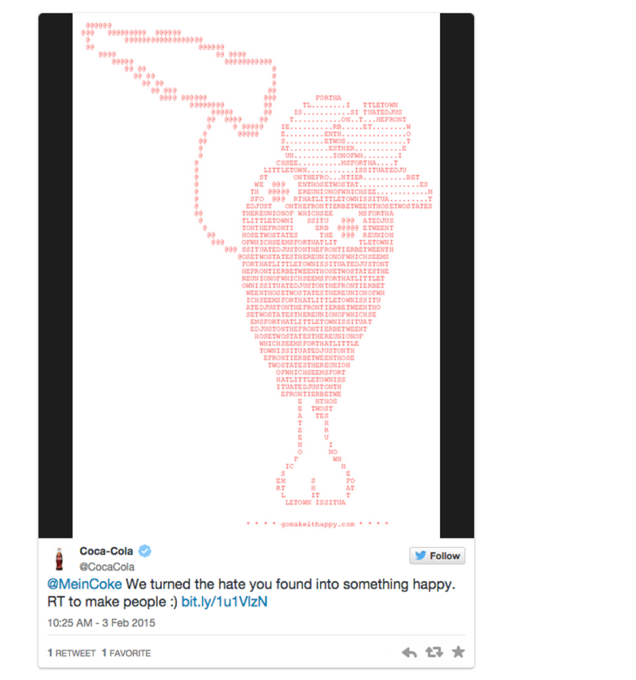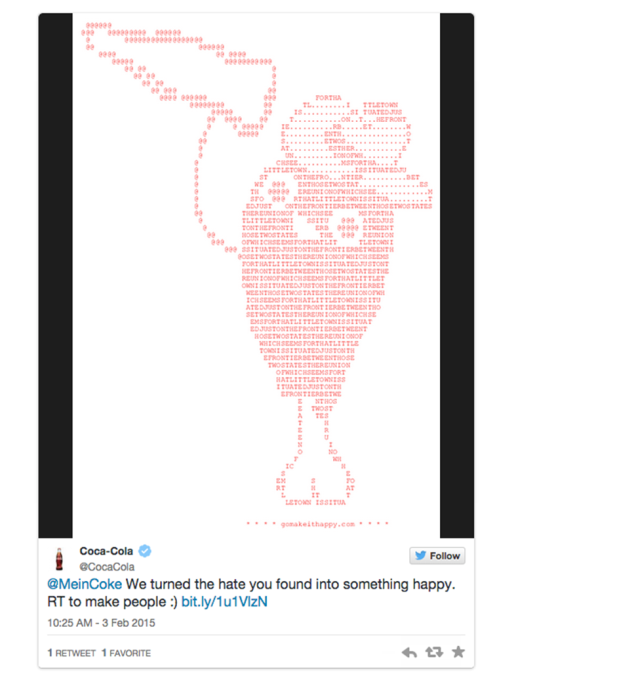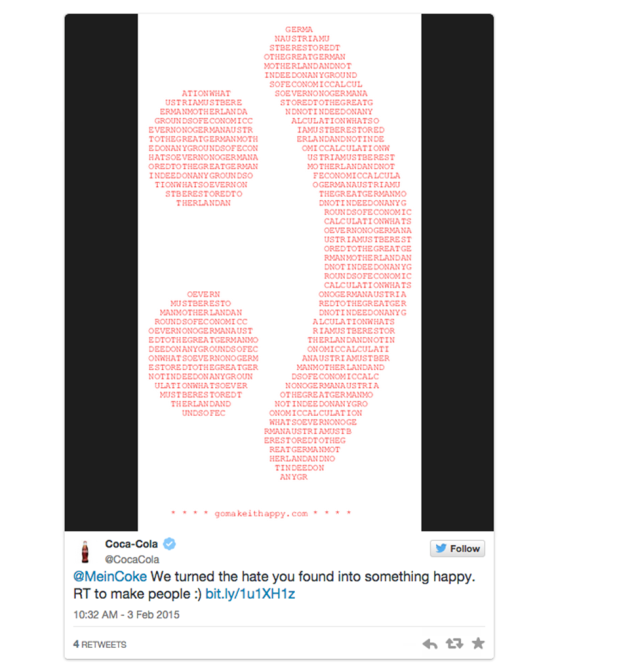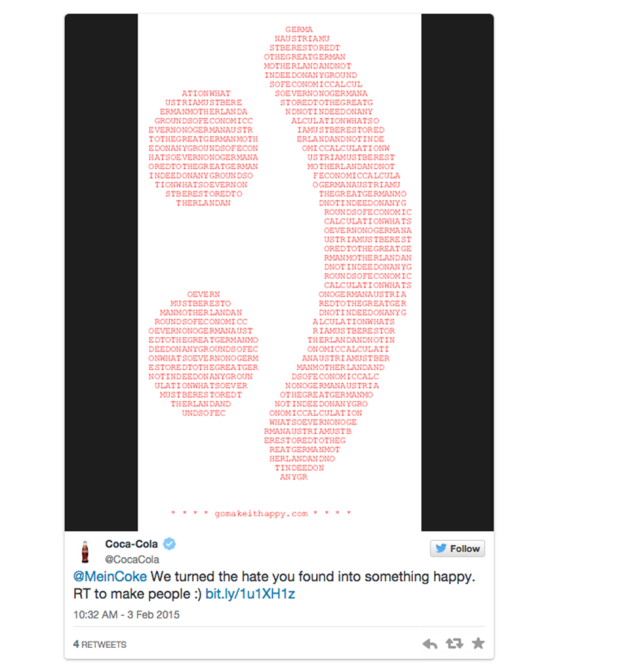 In a statement to AdWeek, a spokesperson for Coca-Cola said: "The #MakeItHappy message is simple: the Internet is what we make it, and we hoped to inspire people to make it a more positive place. It's unfortunate that Gawker is trying to turn this campaign into something that it isn't. Building a bot that attempts to spread hate through #MakeItHappy is a perfect example of the pervasive online negativity Coca-Cola wanted to address with this campaign".
Twitter CEO Dick Costolo was embarrassed by the company's failure to deal with online trolls. He wrote in an internal memo to his staff: "We suck at dealing with abuse and trolls on the platform and we've sucked at it for years. I'm frankly ashamed of how poorly we've dealt with this issue during my tenure as CEO. It's absurd. There's no excuse for it. I take full responsibility for not being more aggressive on this front. It's nobody else's fault but mine, and it's embarrassing. We're going to start kicking these people off right and left and making sure that when they issue their ridiculous attacks, nobody hears them".
The netizens were equally angry:
Funny and sad at the same time: @TheDrum: #MakeItHappy @Twitter campaign hijacked by @Gawker http://t.co/4giUA1nGA7 pic.twitter.com/VFUitLen9j

— Andy Murphy (@andymurphy) February 7, 2015
@Gawker @CocaCola I"m so confused #GamerGate is a hate group according to Gawker But they spammed Hitler quotes to the #MakeItHappy bot Wow

— WTF Mag (@thewtfmagazine) February 6, 2015
There is a special irony to Gawker calling #GamerGate fascists when they then make a Hitler-bot to destroy Coca-Cola's #MakeItHappy campaign

— SpecOpsSeaLion (@Smallnobody) February 5, 2015
I'm really disappointed @Gawker ruined @CocaCola's #MakeItHappy campaign by doing exactly what the campaign was created to combat. #NoTrolls

— Jerusha (@TheDisneyChef) February 6, 2015
Never thought @Gawker was much more than tabloid journalism. Now they've bullied @CocaCola out of the #MakeItHappy campaign & I hate them.

— Dave Gottschalk (@gawdchalk) February 6, 2015
---
Source:
http://www.theguardian.com/business/2015/feb/05/coca-cola-makeithappy-gakwer-mein-coke-hitler