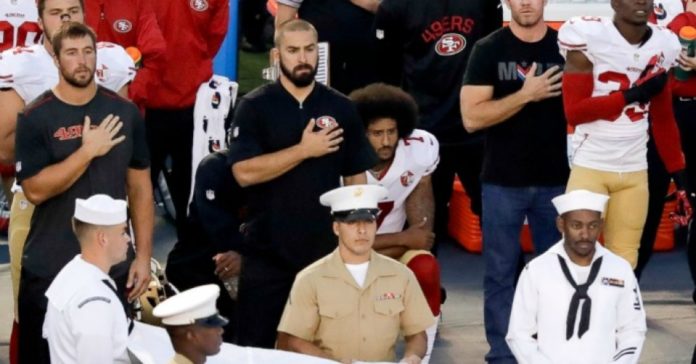 Nadia Prupis at commondreams.org
Headerimage: Colin Kaepernick, R, and his teammate Eric Reid, L, kneel during Thursday night's game against the San Diego Chargers. (Photo: AP)
"I've been very blessed to be in this position and make the kind of money I do, and I have to help these people. I have to help these communities"
San Francisco 49ers quarterback Colin Kaepernick's protest is growing, and with it, his mission.
When Kaepernick kneeled during the national anthem ahead of the 49ers' Thursday night preseason finale against the San Diego Chargers, he was joined by his teammate Eric Reid—while further up the coast, Seattle Seahawks cornerback Jeremy Lane also sat down in solidarity as the anthem played ahead of a game against the Oakland Raiders.
"I believe in what [Kaepernick] is doing," Reid told ESPN. "I believe that there are issues in this country—many issues, too many to name. It's not one particular issue. But there are people out there that feel there are injustices being made and happening in our country on a daily basis. I just wanted to show him I support him. I know there are other people in this country that feel the same way."
When the song ended, the two players stood and embraced. "It was amazing," Kaepernick told ESPN. "Me and Eric had many conversations and he approached me and said 'I support what you're doing, I support what your message is, let's think about how we can do this together.' We talked about it at length and we wanted to make sure the message that we're trying to send isn't lost with the actions that come along with it."
Those actions have now expanded, as Kaepernick on Thursday pledged to donate $1 million of his salary to community organizations focused on social justice causes.
"I've been very blessed to be in this position and make the kind of money I do, and I have to help these people. I have to help these communities," he said. "It's not right that they're not put in the position to succeed, or given the opportunities to succeed."
"The message is that we have a lot of issues in this country that we have to deal with. We have a lot of people that are oppressed, we have a lot of people that aren't treated equally, aren't given equal opportunities. Police brutality is a huge thing that needs to be addressed," he added.
In Oakland, Lane was the only member of either team to sit down during the anthem. He said he didn't know Kaepernick personally, but was "standing behind" him. After the game, he said, "It's something I plan to keep doing until I feel like justice is being served."
This work is licensed under a Creative Commons Attribution-Share Alike 3.0 License