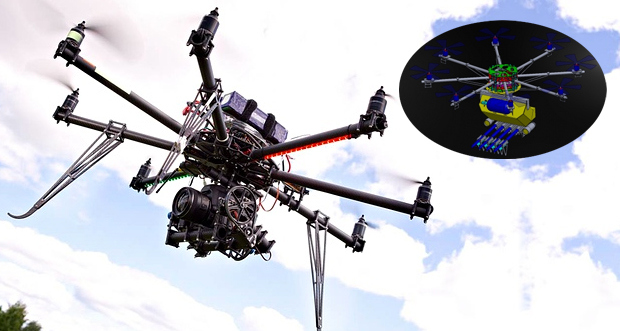 In April of 2014, it was reported by investigative journalist, John Vibes, of The Anti-Media, that new drones were being developed to shoot protesters with pepper spray. Many of these drones can also take photos and videos of protesters as well. According to the article, the drones would first be used in India before spreading to other areas of the globe. Now a year later, reports are resurfacing and are alarmingly stating that the drones are now officially in operation.
                                                                                        Delhi police deployed camera-equipped drones for surveillance in Trilokpuri on October 28, 2014 (CNN).
In the Anti-Media's report, Yashasvi Yadav of the Lucknow Police, stated that their department bought five drone cameras with the capability of showering mobs with pepper powder. This report states the drones cost roughly $1,000 per unit; CNN later reported that the city's force bought four drones, each costing between $9,560 and $19,300. All of them are fitted with a camera and pepper spray and were deployed in October of last year.
In a report by EnGadget, from June of 2014, this same technology has been used in South Africa against miners there who often strike. According to the report, the treatment of South African miners has been an issue since they were forced into the mines in 1894. They are now patrolled by "The Skunk":
"Equipped with a 4,000-strong clip and four paintball gun barrels, the Skunk can fire up to 80 projectiles in a single second. It can carry dye markers, pepper spray bullets or even solid plastic balls, which somewhat stretches the definition of 'non-lethal'."
Many are, of course, speaking out against the drones, and are concerned about the suppression of freedom of speech—this is already an issue in India. There are also those who are questioning why the police are resorting to aggression.
"While I think it is bound to fail if not be another scam in the making, it also shows the mindset of the administration to not use dialogue and mediation to solve problems but use authoritarian and forceful methods," Chirag Wakaskar, a photojournalist in Mumbai told CNN. "What they could do is start by having video surveillance in sensitive areas and have swifter justice."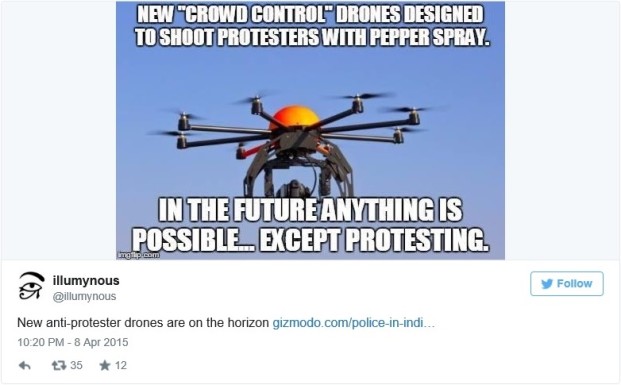 According to CNN's report:
"As well as being used as a security measure in other cities including Delhi and Mumbai, the unmanned, airborne vehicles have been used in tiger hunts, disaster relief and criminal investigations—and even pizza deliveries.

"Reports suggest that the drone surveillance will be officially launched by the Chief Minister of Lucknow, Akhilesh Yadav, later this month."
As John Vibes points out:
"Moves like this make it obvious that governments are preparing for war with their citizens. Why else would you want to indiscriminately spray entire crowds with pepper spray? Technology like this is obviously meant to scare large groups of people into submission, not specifically target people who are guilty of crimes."
Sources:
Cooper, Daniel. EnGadget. Jun 16, 2014. (http://www.engadget.com/2014/06/16/desert-wolf-skunk-mine-strike-suppression-drone/)
Sarkar, Monica. CNN. Apr 9, 2015. (http://www.cnn.com/2015/04/09/asia/india-police-drones/index.html)
Vibes, John. The Anti-Media. Apr 8, 2014. (http://theantimedia.org/new-crowd-control-drones-will-shoot-protesters-with-pepper-spray/)
Warde, Samuel. Liberals Unite. Apr 9, 2015. (http://samuel-warde.com/2015/04/crowd-control-drones-shoot-pepper-spray/)
---
You want to discuss a certain topic with likeminded people or you want to organize a local protest or you have an idea for a project that can help people in need in your local community or all around the world? Join our forum! www.anonboards.com
---
You want to support Anonymous Independent & Investigative News? Please, follow us on Twitter: Follow @AnonymousNewsHQ
---