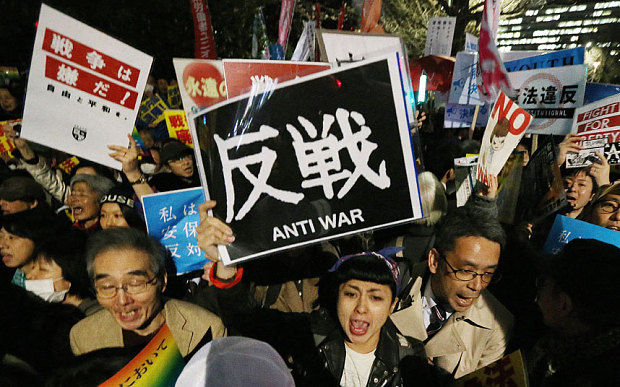 Japan's Constitution bars the country from using its military to resolve conflicts, except in cases of self-defense. Article 9 of the Japanese Constitution outlaws war as a means to settle international disputes involving the country. The Article states:
"(1) Aspiring sincerely to an international peace based on justice and order, the Japanese people forever renounce war as a sovereign right of the nation and the threat or use of force as means of settling international disputes. (2) In order to accomplish the aim of the preceding paragraph, land, sea, and air forces, as well as other war potential, will never be maintained. The right of belligerency of the state will not be recognized."
But in September 2015, Japan reinterpreted Article 9 of the country's Constitution and devised a policy dubbed "collective self-defense" to allow Self-Defense Forces (JSDF) to "defend" allies in foreign conflicts.
安保法制施行に抗議する総がかり行動。国会前は人であふれかえり怒りに震えています。野党4党も参加。共産党は山下書記局長が代表あいさつ。野党は共闘の自然コールも。
3万7千人の参加。発表されました! pic.twitter.com/VK4A1DkxbE

— ごとう 真左美(後藤 まさみ) (@gotou_masami) March 29, 2016
The House of Representatives passed the "Peace and Security Preservation Legislation" granting the military the power to engage in foreign combat, even when Japan is not under direct attack. It will provide logistical support to allies overseas, as well as armed support in circumstances when inaction would endanger "the lives and survival of the Japanese nation."
Japan's new defense laws, which allow JSDF to fight overseas for reasons other than self-defense – for the first time since World War II –  came into effect on March 29, amid concerns that an expanded military role goes against Japan's decades-long pacifism. Not to mention, the move triggered a series of public protests across the country.
On Tuesday, more than 37,000 anti-war protesters, including members of four opposition parties, gathered outside the Japanese parliament in Tokyo to protest against the controversial security laws; claiming them to be unconstitutional.
Mieko Gushiken, a 49-year-old nurse, told The Mainichi Shimbun, "With more integration between JSDF and US military, I'm worried about Okinawa becoming the target of military strikes as we host a lot of US and SDF bases here. We will work toward protecting (war-renouncing) Article 9 of the Constitution and scrapping the security legislation."
Japanese Defense Minister, Gen Nakatani, stressed the need for the change in order to "improve international co-operation of armed forces."
"Recently situations have changed, especially in terms of terrorist attacks. Incidents that occur abroad are not necessarily unrelated to Japan's national security. Furthermore, we are living in times where it has become extremely difficult for one country alone to maintain peace. We need a seamless law to handle any sort of situation, and we will continue to explain this to the public."
But Osamu Watanabe, honorary professor at Hitotsubashi University, said the new legislation violates Article 9 of the Constitution.
"It is the first item that says that Japan will not start a war. The second item says that Japan will not maintain military forces or a fighting army and it will not resort to force as a means of settling international disputes. This is what Article IX says to restrain state power."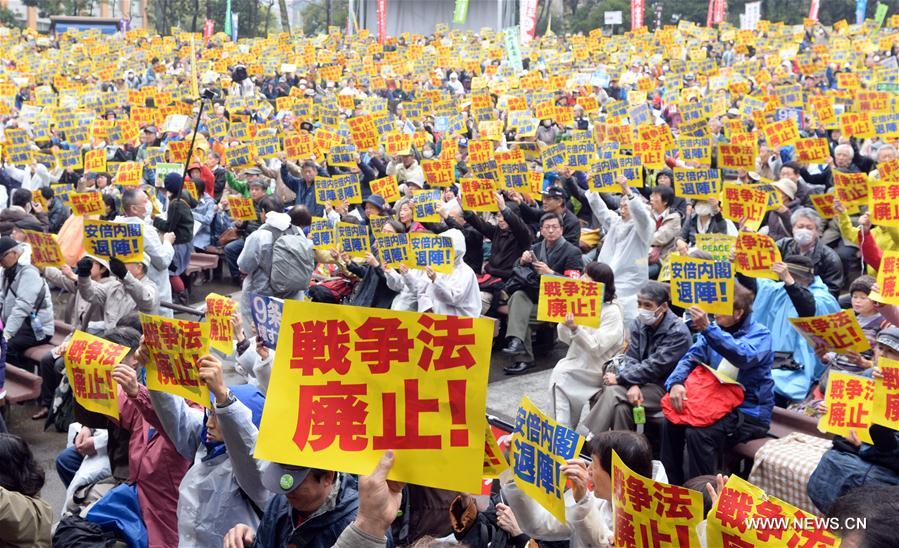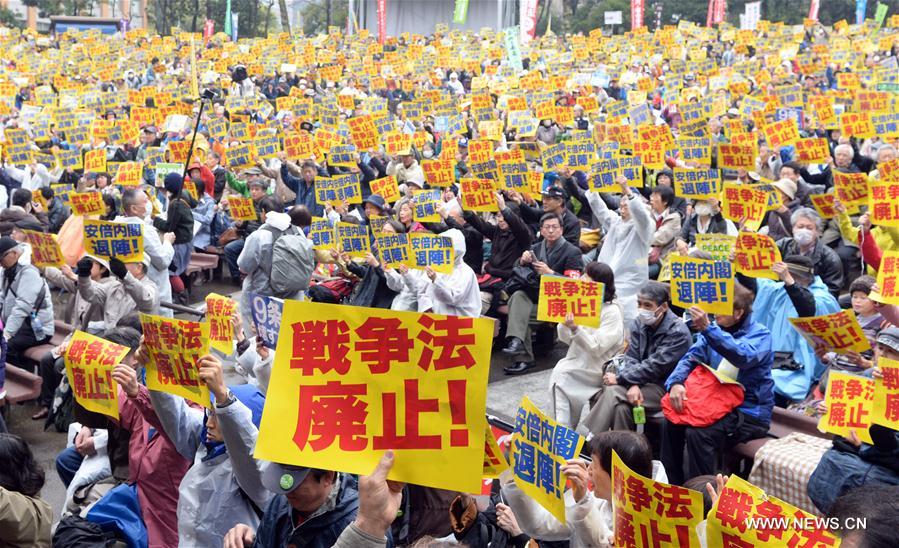 Interestingly, the state-run Xinhua news agency accused Prime Minister Shinzo Abe, of threatening peace in the region. The accusation hinted at an effort to appease the United States at a time when tensions with neighboring China and North Korea continue to rise. It wrote:
The only purpose of the controversial laws are to ride the coattails of Uncle Sam's "pivot to Asia" strategy and pave the way for Japan to further meddle in regional affairs — not only territorial disputes with its neighbors, but also issues for which Japan is not a stakeholder — with the United States, in a saber-rattling way.
Along with Abe's value-oriented diplomacy, the security legislation increasingly empowered Japan to promote weapons assistance and defense technology transfer to regional countries close with Japan and the United States, risking loss of regional geopolitical balance through triggering an arms race.
By doing so, Abe's elaborate ruse to contribute to regional peace and stability has been exposed and once again unmasked Japan as a trouble maker and a pawn of the United States in interfering in Asia-Pacific region affairs.
長野市での安保法施行に抗議する集会・デモには300人の参加。沖縄戦の語り部の親里さん、若者グループ・ぼくしゅけの三石さん、県内の野党の代表などがあいさつ。

戦争法は廃止にしよう! pic.twitter.com/uzz62o7Kuh

— 憲法かえるのやだネット長野 (@himitsuteppai) March 29, 2016
The legislation irked China as well. Chinese Foreign Ministry spokesman Hong Lei remarked:
"Due to history reasons, Japan's Asian neighbors and the international community have been expressing concerns over this issue. Regarding Japan's policies and moves in military and security fields, we hope that Japan could learn from history, stick to the path of peaceful development, act with prudence on military and security policies, and take more actions that enhance mutual trust with its Asian neighbors and benefit regional peace and stability."
China slams new Japan security laws http://t.co/Kw1Kg7MQKn

— Manila Bulletin News (@manila_bulletin) September 20, 2015
---
This article (Controversial Security Laws Trigger Huge Public Backlash in Japan) is a free and open source. You have permission to republish this article under a Creative Commons license with attribution to the author and AnonHQ.com.