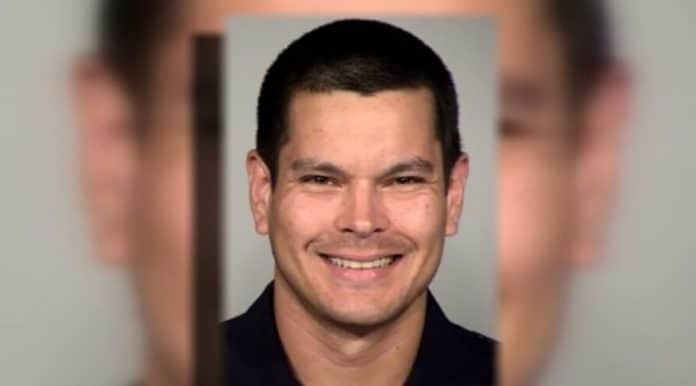 A Texas police officer who lost his job after feeding dog feces to a homeless man has returned to the job after his termination was successfully overturned following an appeal.
Officer Matthew Luckhurst of the San Antonio Police Department admitted to intentionally placing the dog waste in between bread and leaving in a food container next to a homeless man.
The bike patrol officer had initially admitted to pulling the cruel prank while he was on duty on May 6, 2016.
Luckhurst said that he had stumbled upon the bread and feces during his patrol route with another officer. The items were lying alongside a pile of personal hygiene products, condoms, and vomit.
The officer claims that in an attempt to clear the mess, he grabbed the feces with the bread to avoid contact with it before placing it in the food container.
He then placed the "sandwich" next to a non-compliant transient man in an attempt to clear people from the area. When the homeless man picked up the container, he smelled it before tossing it to the ground, according to KSAT.
The officer's fellow bike patrol officer then reprimanded Luckhurst, telling his colleague, "You can't be doing that. You have to go pick that up," according to police arbitration documents.
Luckhurst was suspended from his job on October 28, 2016.
However, the suspension was overturned following an investigation that found the incident could not have occurred on the date initially reported because Luckhurst had been injured in a martial arts class and was assigned to light duty from April 6 to June 14 of 2016 when he would not have been allowed to ride a bike.
Due to the mistakenly-reported date, the alleged incident was determined to have occurred outside of the 180-day window within which discipline against the officer was allowed, thus giving Luckhurst immunity from any disciplinary measures for the act.
However, Luckhurst is still facing arbitration for a second indefinite suspension for a separate incident also involving feces, KSAT reports.
Following Luckhurst's October 2016 suspension, he and a fellow officer defecated in the women's restroom at the bike patrol office in downtown San Antonio and failed to flush it.
They then acquired a brown substance with a tapioca-like appearance and spread it along the toilet seat to make it seem like the toilet was soiled with fecal matter, according to termination paperwork from November 2016.
The trouble-making officer with a tendency to play with fecal matter enjoys strong police union protections, according to the city's human relations department. There currently aren't any new dates for his arbitration hearings.
In a statement, City Manager Erik Walsh said:
"Clearly, the current collective bargaining agreement limits the Chief's ability to appropriately discipline officers that deserve to be disciplined. We intend to bring those issues to the next contract negotiation with the police union.

I am hoping the police union will agree that these cases tarnish and impact the community's confidence in our police department. The residents of San Antonio expect better behavior from police officers than what these individuals demonstrated, and frankly, so do I. Fortunately, the conduct of these few does not reflect of the high character of the more than 2,300 other officers on the streets protecting our community today."
Imagine if this was a teacher who fed a feces sandwich to a kid. Or a doctor who did this to a patient. No other job allows employees to do senseless violence to the people they serve and keep their jobs. It's deeply ingrained in cop culture & why people say all cops are bastards https://t.co/8FsLlKDi9V

— Dell Cameron (@dellcam) January 12, 2020
By Elias Marat | Creative Commons | TheMindUnleashed.com