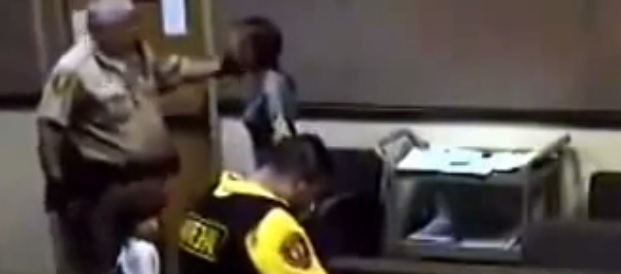 Monica Contreras, 28, was in Clark County Family Court along with her 3-year-old daughter in August 2011 to settle a divorce case. All of a sudden she was taken to a private room by court marshal Ron Fox for a random drug search as he contended she was displaying the 'demeanor of someone on drugs'. Once inside, Fox started touching her buttocks, breast, and ordered her to lift up her shirt. A horrified Monica cried and begged Hearing Master Judge Patricia Donninger to intervene and stop Fox. Donninger ignored her plight and remained silent.
After she was sexually assaulted, she was arrested 'for making false allegations' when she complained about it to the judge. A handcuffed mother was then given a choice: either recant her allegations against the officer, or be locked in a cage.
Monica gave in to the coerced recanting and exclaimed, "Let me go. It was all lies. I don't want to deal with anything. It was all lies. All lies. All lies. All lies. Please stop." But when the officers released her, she re-asserted the truth, "You put me in a room. You asked me to lift up my shirt without a witness."
That's when Fox said, "OK, take her to jail." A second marshal James Kenyon and Donninger were in the courtroom. While Kenyan took orders from Fox, Doninger was busy distracting her pleading daughter ignoring Monica's cry for help. The officers then sent the mother to jail for two months and the daughter to Child Haven, a government "child service".
Monica filed a complaint against Fox at the Regional Justice Center on October 25, 2011, prompting an internal court investigation. Fox denied the allegations but was placed on administrative leave on November 1, 2011, and ultimately fired.
Ed Finger, Assistant County Manager, in a report issued at the post-termination proceedings upheld the firing of Fox. "Fox, and to some degree Kenyon, simply intimidated and bullied the complainant in a way that is shocking and almost incomprehensible, using the complainant's own freedom and custody of her three-year-old child as threats," he noted.
In May 2012, Monica pleaded no contest in Las Vegas Justice Court to a misdemeanor disorderly conduct charge that had been changed from the charge of providing false information. The disturbing-the-peace charge was dismissed.
In April, 2013, Monica filed a federal lawsuit against Ron Fox, making claims of civil rights violations, battery, false imprisonment, defamation, and negligence. James Kenyon and Patricia Doninger were also included as defendants in the lawsuit, as well as Clark County, the state of Nevada, and the courts.
The lawsuit alleged that Fox "engaged in non-consensual improper sexual contact" with her body and "made sexually abusive and harassing requests. The wrongful conduct of defendant Fox was intentional and evilly motivated, and the wrongful conduct of defendants Kenyon and Doninger involved reckless, callous and deliberate indifference to plaintiff's federally protected rights".
The Board of Examiners in July 2014 approved a $200,000 payment to Monica Contreras as a global settlement of both a federal and separate state lawsuit filed against the court.
Monica was arrested on a law that didn't even exist, with no one present who could hear her side of the story. Are you still convinced that courts and police in America are synonymous with justice?
---
Source:
http://filmingcops.com/this-video-will-forever-change-the-way-you-think-about-police-and-courts-they-raped-her-and-took-her-child/