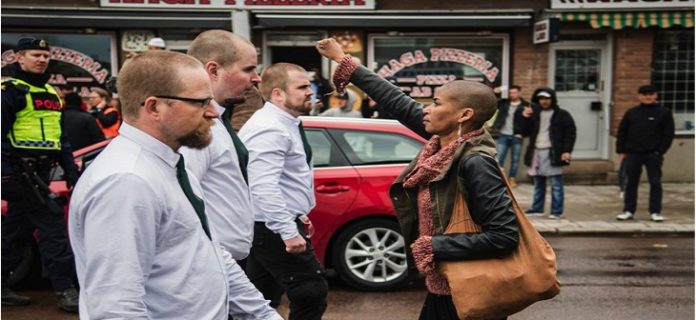 By Brianna Acuesta at trueactivist.com
This woman single-handedly stood up to 330 violent Neo-Nazis as they protested on the streets in Sweden.
Tess Asplund, a woman from Sweden, has been an activist for 26 years now and said that:
"I normally stand with a raised fist at demonstrations, this is not new to me."
However, a photo of the brave photographer/activist raising her fist in protest went viral for one iconic reason: she was raising it all alone against 330 marching Neo-Nazis.
Last week, the Neo-Nazis, part of a group called the Nordic Resistance Movement, obtained a permit to demonstrate and did so in Borlange, Dalarna, in central Sweden. The group rallied and marched on the busy streets on International Workers' Day and were protected by police.
Asplund was taking part in a counter demonstration against the Nazis with a group called Dalarna Against Racism when she saw the Nazis approaching and decided that she could not allow them to walk by without showing her disdain for their movement.
She ran in front of them and put her fist in the air to defy the group. She told The Daily Mail about the moment:
"I just felt when they came walking that "you shouldn't be here" and then one of them stared at me and I stared back. He said nothing and I said nothing, and then the police came and removed me."
The photographer behind the viral photo, David Lagerlof, also described the incident he saw unfold:
"In front of her, the organisations leader set moves closer in solemn silence. The woman's gaze meets that of the man in the middle, the leader of the nazi organisation who appears to stare back at her. There is a short "battle of the gazes" before the police steps in and removes the woman."
Asplund was removed by the police and the protest by the Nazi group went on, but the photo of her defiance has since been shared thousands of times. Her act has become a photographic representation of the outrage many people have towards the fascist forces still in motion in the Nordic nations.
The photo is already being hailed as an iconic moment in Sweden's modern history that will last for decades and be a symbol of the anti-fascism movement. A comparable photo in history is that of "Tank Man," where a man stood alone in front of a line of army tanks to protest the Chinese suppression of the Tiananmen Square protests.
Many of the members of the Nordic Resistance Movement have been convicted of violent crimes and their belief system is rooted in racism and violence. When asked if she was scared to face the men alone, Asplund replied:
"I am not afraid of them."
What do you think of this brave woman's actions? Please comment on, like, and share this article!
---
This article (One Woman Stood Up To 330 Neo-Nazis And Is Now The Face Of Anti-Fascism In Sweden) is free and open source. You have permission to republish this article under a Creative Commons license with attribution to the author and TrueActivist.com