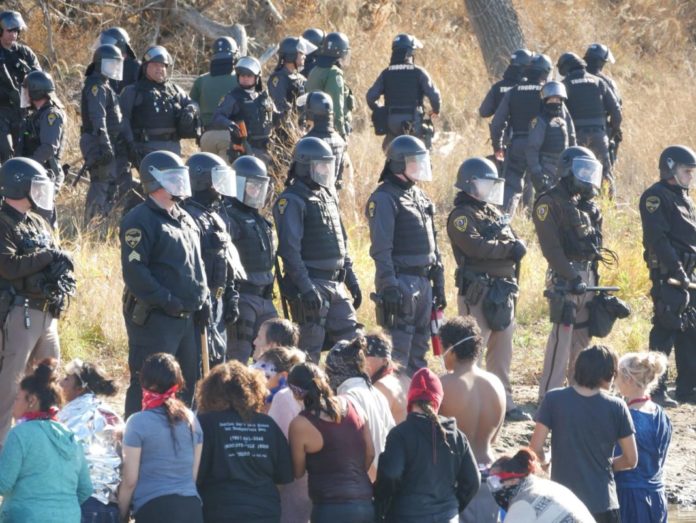 In another violent move against the protestors at Standing Rock, law enforcement has assaulted the main encampment with rubber bullets during the protestors attempts to protect a burial site.
Reports have come in that one man was point blank shot with a rubber bullet and has been coughing up blood ever since, another, a woman has also been shot by a heavily armed officer.
The attacks come at the same time President Obama has called for a cessation in the North Dakota pipeline construction, to attempt to find ways to conciliate or even 're-route' the pipeline away from Native lands. But the call has fallen on deaf ears, with the company saying such a move would be a cost in the hundreds of millions of dollars.
Breaking: hundreds of #NoDAPL water protectors attempting to cross foot bridges built over Cannonball river to reach DAPL construction area

— Unicorn Riot (@UR_Ninja) November 2, 2016

In breaking news, tensions have escalated. The U.S. Army Corps of Engineers has ordered that a makeshift bridge, which the DAPL protestors were constructing over the Cantapeta Creek to reach grounds for a prayer ceremony, to be removed. They further demanded that any protestor who dared cross the bridge be immediately arrested for criminal trespass.
"I was shot in point blank range," said Erin Schrode, a protestor. "Another water protector was also shot at twice at point blank range, but the rubber bullet hit the water, and not him."
Another witness, film director Josh Fox stated that there was absolutely no provocation by the protestors.
#NoDAPL protestors teargassed while standing peacefully in the water pic.twitter.com/GYGCpY4ecP

— wes enzinna (@wesenzinna) November 2, 2016
---
This article (DAPL Protestors Assaulted by Police While Protecting Burial Site) is a free and open source. You have permission to republish this article under a Creative Commons license with attribution to the author AnonWatcher and AnonHQ.com.