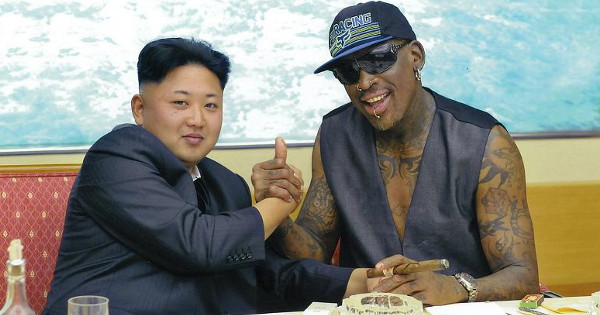 It's difficult to decipher the intent behind NBA's Dennis Rodman's 2014 revelation that Kim Jong-un is just like the rest of us. In 2014, Rodman spoke candidly in an interview about his experience with meeting the "Tubby Tyrant" who is keeping the world on its toes.
Rodman's first trip to North Korea occurred in early 2013. He has visited the country six times since, developing a friendship with the North Korean leader, to the point he calls Kim a "friend for life." After his third visit, Rodman was convinced that Kim Jong-un is for the people. It makes you wonder what changed from the first two visits that Rodman likened the nation to "The Walking Dead."
Admittingly, Rodman says he doesn't get involved in politics. What he can say is Kim Jong-un is building condos in the city and that his wife of two years likes wearing "Gucci and Versace." Rodman even benefitted from the North Korean leader ordering him two tailor-made suits during one stay.
The interview chat about politics is not entirely convincing however, when you hear Rodman admitting to paying NBA players to play for Kim Jong-un's birthday – a deal struck up while sailing on Kim's yacht – at a total of $30,000 to $35,000 each for three days. The amount of money spent on this and that, appears flippant, as though North Korea rolls in money and that the condos are for citizens of all walks of life.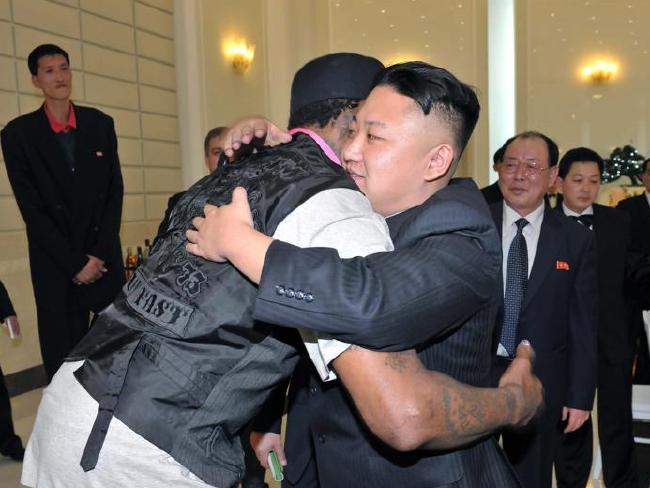 And when Rodman is asked if politics is ever discussed he does admit to the labor camps, extreme poverty and malnourishment existing for the hundreds of thousands that are suffering.
"You name any country in the world… Which country does not have that shit? Every country has that," Rodman fires back. But according to him and the North Koreans, Kim Jong-un is "trying to change that."
Although Rodman proclaims his love for America, he is clear that a return to North Korea may end up seeing him remain there. And not by choice. According to the famous basketball player he "knows too much" about the politics of the nation, quickly debunking the claim that Kim killed his girlfriend and uncle, Jang Song Thaek. Something the North Korean government reportedly confirmed as occurring.
But what makes the interview pressing is the government's warnings to Rodman. If indeed Jang Song Thaek is alive it proves the propaganda wheel is turning at a fast pace. According to Rodman, the government has warned his passport will be revoked if he visits North Korea again.
"When I go there, it's going to be a problem coming back. Because they could actually stop me from coming back. They could actually pull my passport. They [the American government] already told me that. They're afraid of me because I know so much," Rodman says in the interview with DuJour. "But for me, I mean, it's freedom of speech. I'm not hurting anybody, I'm not putting anybody in danger, I'm just telling what I see. I have that leverage now that no one in the world has."
Although the interview was conducted before current headlines of a looming WW3 and missiles launched into the Sea of Japan, Rodman's rep Christopher Volo confirms if another opportunity arises, Rodman will "go back if he can help both nations involved, and I know because I [booked] and have been on the last three trips with him."
Rodman said in the interview how Kim Jong-un confided in him.  "They want to rewrite the peace treaty, they want us to get the ships out of South Korea. He's saying the reason why they have the nuclear bombs is because they know that Americans think they can take over. He says, "I don't want to bomb anyone. But we keep our nuclear weapons because we're such a small country—that's the only way we can defend ourselves," Rodman said.
---
This article (Dennis Rodman Interview: Kim Jong-Un is "Friend for Life") is a free and open source. You have permission to republish this article under a Creative Commons license with attribution to the author AnonWatcher and AnonHQ.com.
---
Supporting Anonymous' Independent & Investigative News is important to us. Please, follow us on Twitter: Follow @AnonymousNewsHQ