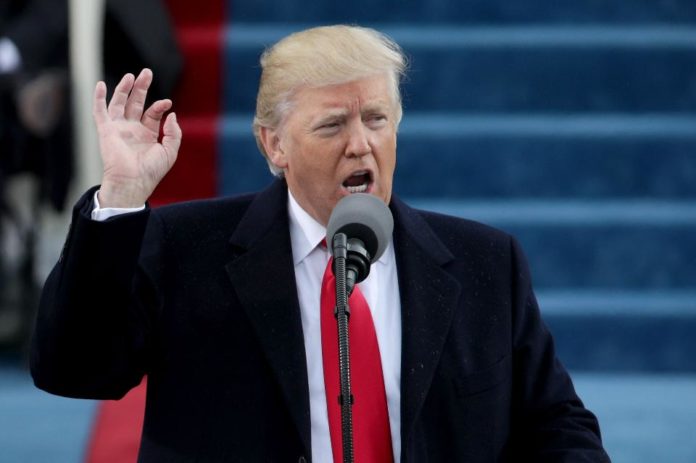 I read somewhere this week that when Clinton received his 'talk' about the nuclear codes, rulebook and military actions/interventions in the event of a nuclear war, his face paled and his body language was that of someone who literally had the weight of the world on his shoulders. But what about Donald J. Trump, the 45th President of the United States?
Joel Silberman, a media critic gave an account of Trump's somewhat changed demeanor during and just after his oath on Jan. 20. Uncertain as to if I entirely agree with him – with the Clinton story in mind – there is a certain 'change' that Trump projected on occasion in his body language.
Although it appears that Trump in some of the images below appears grim faced, concerned, and lacking the normal boastful body language he carries, Trump's rhetoric still continues as it did when he was the President-elect. As Silberman said, there was no 'pivotal' moment of change.
In one instance, is it possible that Trump, on arrival to a church service, that his shoulders appear heavier than normal, his head more in front than usual as he walks? It could be that he simply isn't a frequent flier of this particular church for the so-called Protestant President. But see for yourself, his gait and walk isn't that of President-elect Trump.
And upon leaving, Trump is a happier man. Maybe he feels cleansed?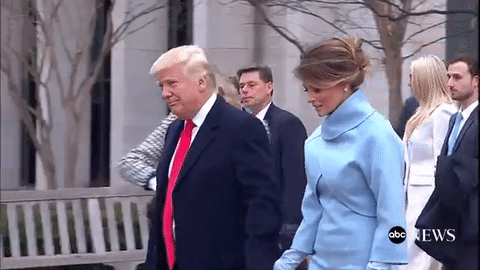 The most telling, however, is the footage of Trump arriving at the White House on inauguration day and being greeted by then President Obama and his wife, Michelle.
Not only is Trump approaching cautiously, with his head down as he walks the steps, Silberman points out the viewers' discomfort watching the process as Obama so graciously accepts Trump's hand to shake. The first impression is of a man who doesn't particularly want to be there, who is out of his depth. But then again, it almost reeks of indifference as Trump slaps his thigh getting out of the car, as though saying to himself 'here we go again.' Disrespect, uncertainty or the weight of the world? You decide.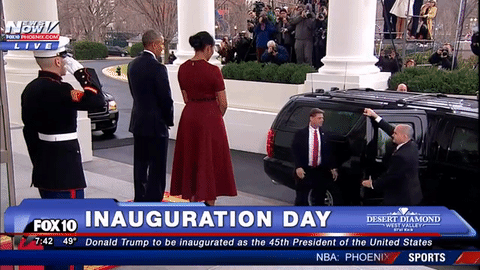 The one that stands out to the front though is the lone walk captured as Donald Trump makes his way through the halls of the Capitol, deep in thought, pensive and somewhat nervous. It's natural to experience these emotions on an epic scale – he was about to take the oath, after all – but the demeanor of a normally boastful and arrogant man who is constantly sure of himself is interesting to watch.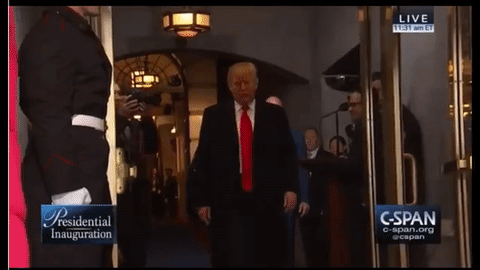 To this: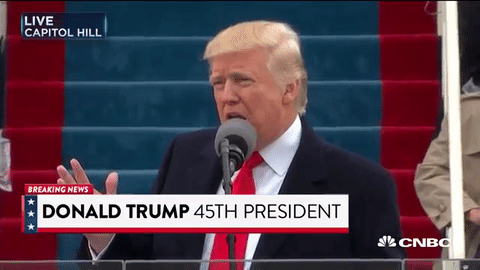 There were some painfully awkward moments of body language throughout the inauguration and afterwards, particularly during the presidential handover; winning the cringe-worthy award.
.

On the other hand, Carol Kinsey Gorman, a contributor to Forbes and a body language analyst, did say that by the time Trump gave his inaugural speech, that Trump was in full control. "Donald Trumps' signature nonverbal cues were in evidence during his speech. For example, he relied heavily on his most recognized hand gesture – the air pinch with thumb and forefinger. This gesture signals precision and control. And when he then exploded it into an open-hand, fingers spread gesture and hand chop, it sent an effective signal that he was ready to take that certainty into action."
However, Gorman did question why Trump never smiled, commenting that "Trump missed the chance to non-verbally express positive feelings about his vision of the future. Why didn't he – ever – smile?"
Do the words 'fake it until you make it' ring a bell?
You can view the full article by Joel Silberman here.
---
This article (Does Trump's Body Language Betray Him?) is a free and open source. You have permission to republish this article under a Creative Commons license with attribution to the author AnonWatcher and AnonHQ.com.
---
Supporting Anonymous' Independent & Investigative News is important to us. Please, follow us on Twitter: Follow @AnonymousNewsHQ