A small moth, with a tiny wingspan of only 0.4 inches has been named after Donald Trump.
Close up, you can see why the winged creature has caught the name – with its mop of blonde-white scales covering its head in a comb-over Trump-like fashion.
The Neopalpa donaldtrumpi can be seen in Southern California through to, ironically, Baja California in Mexico, an area that will be divided by The Wall. Scientific observers however say the donaldtrumpi shouldn't have any issues flying over it once built.
Evolutionary biologist Vazrick Nazari, a researcher from Ottowa, Canada, made his moth discovery during an earlier investigation that studied a moth family known as twirler moths.
"Its distinctive wing pattern and its unique DNA bar code immediately flagged it as a new and undescribed species," Nazari told Live Science. A similarity that some would argue is akin to Trump. Its genitalia is also described as "unique."
This isn't the first time an American president has been named after a newly discovered species, and politicians seem to be popular for the picking. Not so long ago, the then US president Barack Obama had a parasite named after him. At the time the scientists in the white coats didn't draw the distinction between politician and parasite and were in it for a good laugh.
But Nazari takes the naming of the moth seriously, hoping to spread public awareness about the diversity of species and the fragility of their world – a lesson the public would do well to learn.
And then there is the "Trumpapillar," who was also informally named after Donald Trump, in 2016. The extremely fluffy yellow caterpillar will now always be famous for its wind-swept hairdo as it explores the Peruvian Amazon from its tree branches.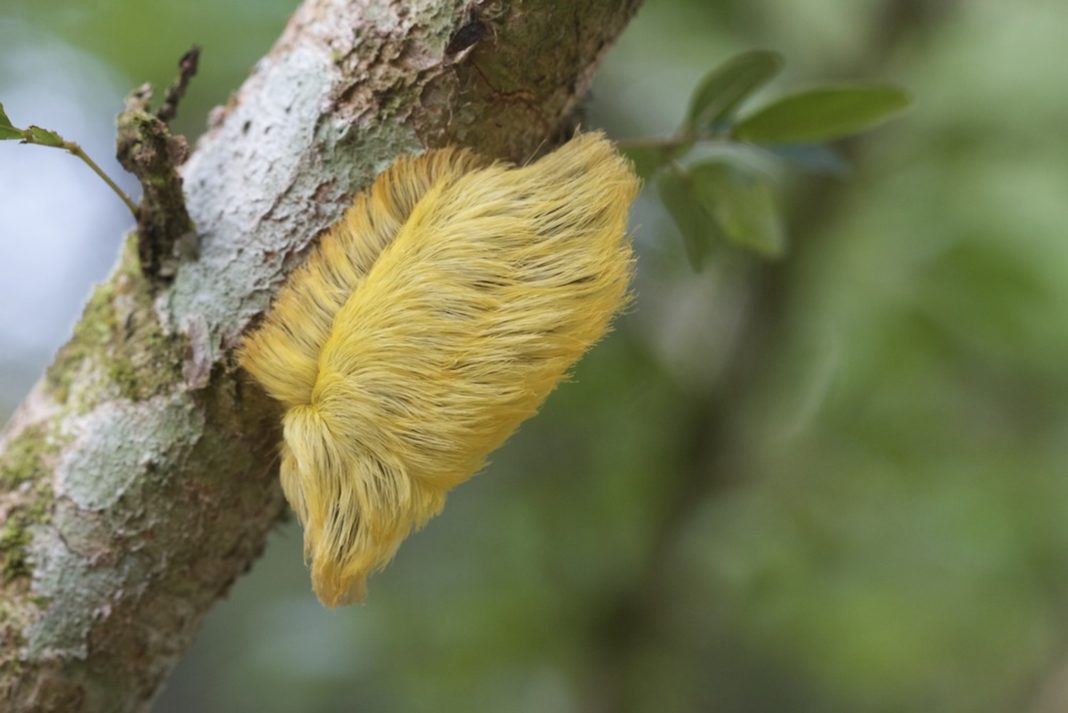 "I was putting on my boots, and someone said, 'Hey, check out this caterpillar hanging out,'" said Jeff Cremer, who photographed the larva. "Sure enough, it was Donald Trump's hair hanging on a branch."
There's no getting away from the striking similarities Trump has to this little grub-bug.
But just as Clinton accused Trump of being irritating, close contact with this fluffy little critter will also leave a painful irritation thanks to its urticating hairs, similar to those of the Tarantula.
Nonetheless, there's a method to the madness in naming a new species after a well-known personality. As Nazari explained, it's in hope to draw more public awareness to the importance of habitations and survival for these very creatures.   
Although President Trump has recently announced his first budget, and listed the Environmental Protection Agency as endangered with a 25 percent funding cut, Nazari remains hopeful.
"I hope that the president will make conservation of such fragile ecosystems in the U.S. his top priority," Nazari told Live Science. "These ecosystems still contain many undiscovered and undescribed species, and deserve to be protected for future generations."
---
This article (Donald Trump's Hairdo Inspires Name for New Grub-Bug Species') is a free and open source. You have permission to republish this article under a Creative Commons license with attribution to the author AnonWatcher and AnonHQ.com.
---
 Supporting Anonymous' Independent & Investigative News is important to us. Please, follow us on Twitter: Follow @AnonymousNewsHQ