The tech giant Google, has recently added an option to its self-services that lets you to transfer information from the Google profile. In addition, the option also allows you to move the Google lookup, search record, or your browser search history. Here is the important thing, your Google account can be used to reveal the searches you have made via the search history. This brings us to the personalized set of keywords which can uncover an abundance of private information, including the state of one's private relationship, locations that you have recently visited, something you wrote about your current job experience(s), or a future trip you are planning to take with friends. With that being said – you must be thinking, if it is so easy, why don't people do it? Well, I am sorry to get your hopes up, but if you want to get all of that data out – you need to be a developer. This is because the archive(s) is just a range of JavaScript Object Notation or JSON records. Over time, different search or query service providers might also allow you to import the Google search history. The massive search service provider, has not included the search to its take away dashboard yet. In order to get that, one needs to go to their history page and get the search data.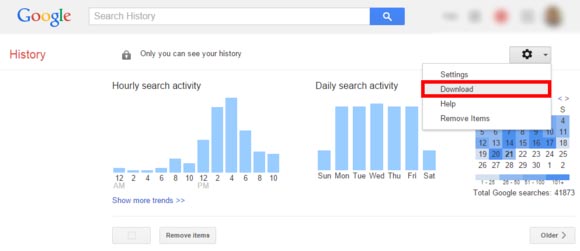 Once you have made it to that point and are logged in to your Google account, take the mouse to the settings icon in the top left corner and hit download.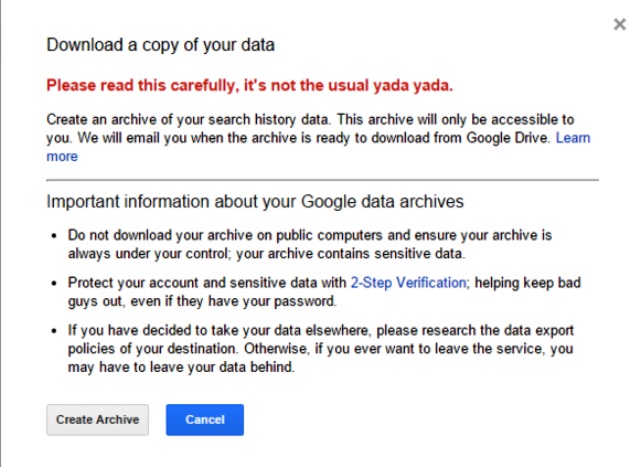 A pop-up window with information that is going to be related to your data should appear. The company typically warns its customers that the whole disclaimer must be read, something that Google and other companies typically makes use of for security & confidentiality related issues. The safety measures, nevertheless, are mostly common safety steps – do not export the archives on a public or an open computer, do not lose your search archive, and guard the account with a two-step verification – so that no one else can get their hands on your search history. Google also warns those importing personal data with a new service provider, that they should choose a company that also lets its users export and import data. If the user doesn't do that, once the data is uploaded, there will be no way to export it or download it. However, once you have read the warnings and all the clause(s) in the policy, you may then click on the Create Archive button that is at the bottom of the screen. This action will allow Google to generate your archive. Once the data is complete, it will send you an email telling you to download your entire data file.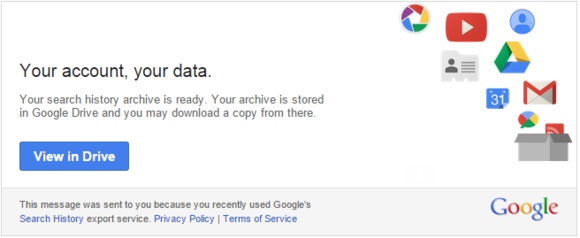 The amount of time it takes to get the downloadable file ready, depends on the size of the archive. Once you get the email, you can view it in your Google Drive, or if you are not willing to view them on Google Drive, you can directly download them from your Gmail as well. However, if you view the file on Google Drive, then it will create a new folder called TakeOut. This is where it will store the search and browse history for later viewing or downloading. As stated previously, if you do not possess the skills of a developer or have an understanding of HTML files—which only reveal the JSON data in your query, search or lookup history—this may prove to be impractical. Despite this, there is a lot of other useful information in those files, so give it a try.
You want to support Anonymous Independent & Investigative News? Please, follow us on Twitter: Follow @AnonymousNewsHQ
---
This Article (Download Your Complete Search History) is free and open source. You have permission to republish this article under a Creative Commons license with attribution to the author and AnonHQ.com.