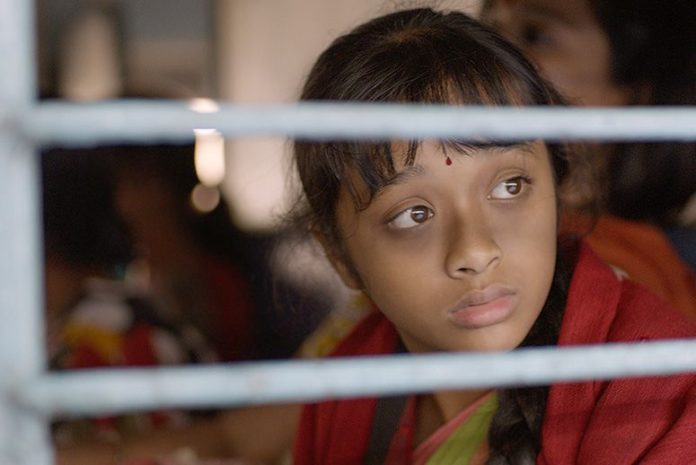 Sold, produced by Oscar-winner Emma Thompson and directed by Jeffry D Brown – again an Oscar-winner, is an extraordinary tale of survival of a 13-year-old girl brought from Nepal to India on the pretext of getting her a job, but sold into sexual slavery.
Based on Patricia McCormick's book, Sold is about Lakshmi — a fictional character who mirrors about 20,000 of Nepalese children trafficked out of their country each year. the character "risks everything for freedom after being trafficked from her mountain village in Nepal to a prison brothel," in the eastern Indian city of Kolkata. According to Brown, Sold places the audience in Lakshmi's shoes, to give voice to the millions of children who disappear every year.
He told TakePart:
"Part of the reason that this book in particular was so moving to me was it's written in a kind of prose poetry. It really brings you inside the spirit and heart of this kid as she's going through this horrific and brutal process."
Sold shows how Lakshmi's parents gave her away, in exchange of some money, to a woman who claimed she could find her a job in Kolkata. But the pimp sold her to a brothel called Happiness House, where she was repeatedly drugged, beaten, and forced to pay off her debt through sex work.
Unable to make ends meet, many poor families in Nepal are forced to send their young daughters to India to work as domestic workers. But a large percentage of these girls, lured by the false promise of work, end up at brothels.
The film deals with the harsh realities of human trafficking and child prostitution. It shows how innocent girls are forced into this horrific, inhuman world where they are raped and brutally beaten yet struggle to survive. A mere 1% of these sex slaves ever escape or get rescued.
TakePart reports that Brown and his partners are using money generated from the film to build residence facilities and fund vocational and therapeutic programs for girls who have been rescued, or kicked out because they've contracted HIV.
 "They really can't go back home…because of the stigma and shame, because their families won't accept them. They need to be taught skills that are going to be marketable and high-paid, because they're alone in the world."
Because children not attending school are more vulnerable to traffickers, Brown has partnered with Childreach International and Childreach Nepal for a campaign called Taught Not Trafficked to build 100 schools in Nepal that were destroyed after last year's massive earthquake. He told BollySpice:
"See during the earthquake over 5,000 schools were destroyed, which is 52,000 classrooms and now 1.7 million children now no longer have schools to attend and as result trafficking has gone up, it has doubled. If you can keep girls and children in school until they are 16, the likelihood of trafficking drops considerably, it drops 80%.
"If you go to #taughtnottrafficked you can see more. They have found a way to build prefabricated temporary classrooms that can last for 15-20 years. The cost of each classroom is a little over 3,000 dollars. They are raising funds to rebuild schools. They want to build 100 schools with these temporary classrooms in the most trafficked areas in Nepal."
The Trajectories of of Sex Slaves from India, Nepal and Bangladesh http://t.co/q7nfVVEDdf MT @NewIndianXpress pic.twitter.com/2AnjtY6SPD

— HIV Insight (@HIV_Insight) September 18, 2015
Brown hopes to raise money to help organizations in India as well as the Bamber Foundation, a foundation that supports women suffering from post-traumatic stress disorder as a result of human trafficking.
"For me, the film will be a success if some of these children can rebuild their lives, and if we can help them with education and training to support themselves in a dignified manner."
---
This article (Emma Thompson's Hard-Hitting Film Exposes Modern Day Sex Slavery in India) is a free and open source. You have permission to republish this article under a Creative Commons license with attribution to the author and AnonHQ.com.