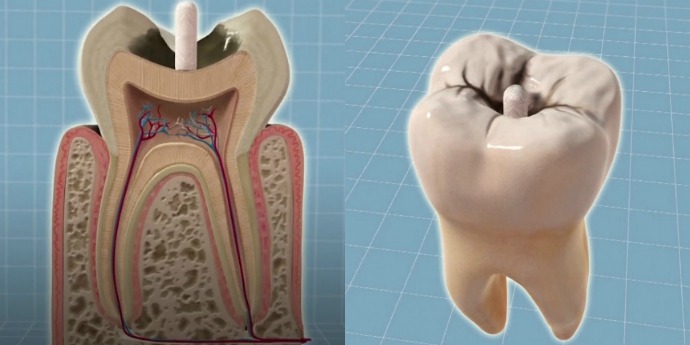 Researchers at King's College London in the United Kingdom have discovered that Tideglusib, a drug designed to regrow brain cells in patients living with neurological disorders such as Alzheimer's, can stimulate the stem cells contained in the pulp of teeth. This discovery generates enough dentine – the hard, calcified tissue beneath the outer enamel surface in teeth – and naturally regenerates the damaged teeth, substantially reducing the need for artificial fillings.
Previous work by the team has shown that Tideglusib stimulates stem cells in the center of the tooth, triggering them to develop into odontoblasts (specialized tooth cells) and boosting the production of dentine, allowing larger defects to be reversed. Professor Paul Sharpe, lead author of the study, commented:
"The simplicity of our approach makes it ideal as a clinical dental product for the natural treatment of large cavities, by providing both pulp protection and restoring dentine. In addition, using a drug that has already been tested in clinical trials for Alzheimer's disease provides a real opportunity to get this dental treatment quickly into clinics."
In the trial conducted on mice, the team showed that when the damaged tooth was filled with a biodegradable sponge soaked in Tideglusib, the tooth gradually rebuilt cavities extending from the surface to the root. The cavity was then covered with a cap made from a glass compound, as, although the dentine regrows, the drug does not help enamel to regrow. In the study published in Scientific Reports, the researchers explain:
"The restoration of dentine lost in deep caries lesions in teeth is a routine and common treatment that involves the use of inorganic cements based on calcium or silicon-based mineral aggregates. Such cements remain in the tooth and fail to degrade and thus normal mineral volume is never completely restored. This novel, biological approach to dentine restoration stimulates the natural formation of reparative dentine via the mobilization of resident stem cells in the tooth pulp.
"Biodegradable, clinically-approved collagen sponges are used to deliver low doses of small molecule glycogen synthase kinase (GSK-3) antagonists that promote the natural processes of reparative dentine formation to completely restore dentine. Since the carrier sponge is degraded over time, dentine replaces the degraded sponge leading to a complete, effective natural repair. This simple, rapid natural tooth repair process could thus potentially provide a new approach to clinical tooth restoration."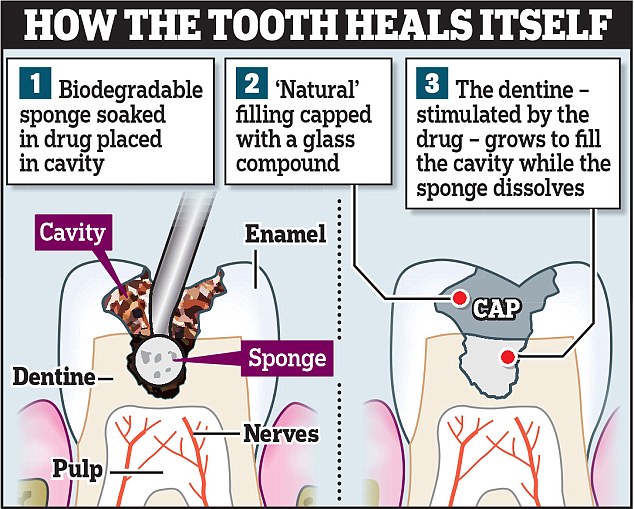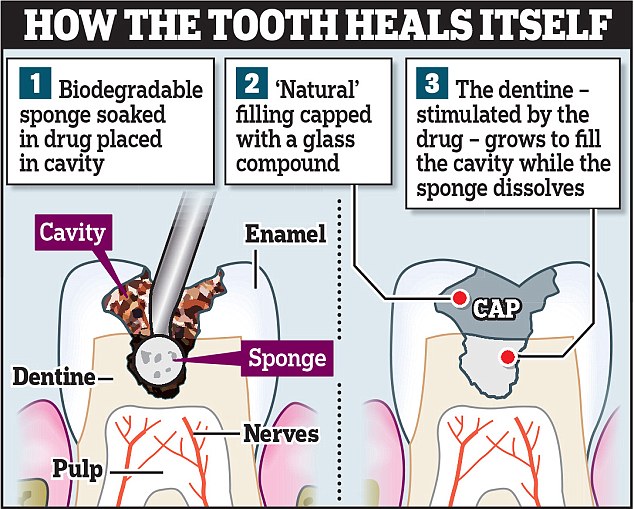 Currently, dentists use materials such as dental amalgam, composite and cement to treat larger cavities and fill the holes in teeth. But these traditional fillings not only weaken the tooth and leave it prone to infections; the tooth is usually extracted after undergoing multiple treatments. However, the new method, claim the researchers, could reduce the need for man-made fillings as teeth regenerated using Tideglusib would be as good as new.
"The novel, biological approach could see teeth use their natural ability to repair large cavities rather than using cements or fillings, which are prone to infections and often need replacing a number of times. Indeed when fillings fail or infection occurs, dentists have to remove and fill an area that is larger than what is affected, and after multiple treatments the tooth may eventually need to be extracted. As this new method encourages natural tooth repair, it could eliminate all of these issues, providing a more natural solution for patients."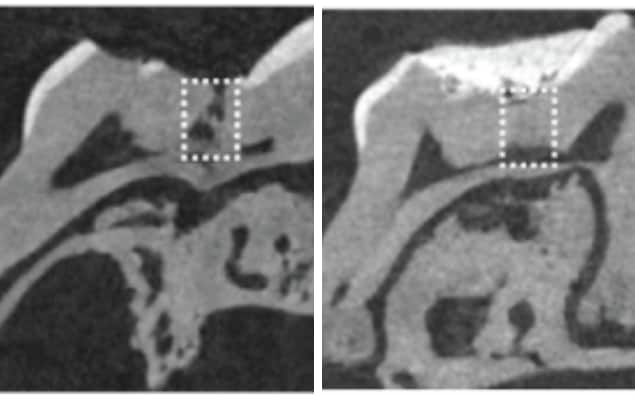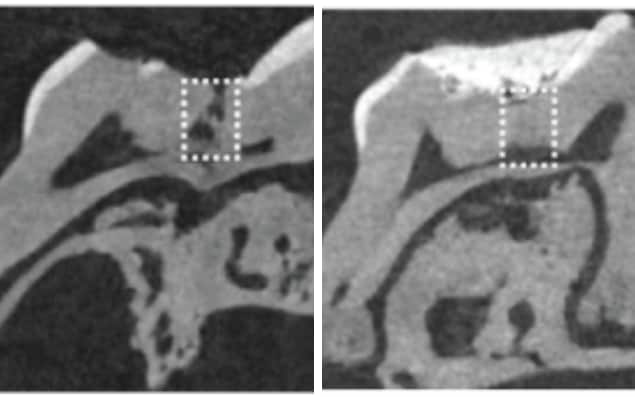 The method is currently being tested in rats, and there's a lot more research to be done to confirm if the results can be replicated in humans. However, the first human clinical trials are expected later this year; and because the drug has passed its safety tests in humans, the researchers believe it could be used on humans within three to five years.
---
This article (End of Fillings: King's Researchers Find Novel Way to Regrow Damaged Teeth) is a free and open source. You have permission to republish this article under a Creative Commons license with attribution to the author and AnonHQ.com.
---
Supporting Anonymous' Independent & Investigative News is important to us. Please, follow us on Twitter: Follow @AnonymousNewsHQ