Fossil fuels — coal, petroleum, and natural gas — are the world's primary source of energy (86%) for agriculture, industry, electric power stations, and transportation including cars, trucks, ships and planes. Fossil fuels are used to make and power mobile phones, tablets, laptops, fridges, gas cookers, washing machines and vacuum cleaners — modern day necessities. But when fossil fuels are burned, greenhouse gases — such as carbon dioxide, nitrogen oxide, and methane — are released into the atmosphere which cause global warming by increasing global temperatures and altering weather systems.
Fossil fuel exploration and transportation are not safe either. The largest accidental marine oil spill in the history of the petroleum industry, which began on April 20, 2010 and released about 4.9 million barrels of crude oil in the Gulf of Mexico before the leak was stopped, caused significant environmental damage, including extensive damage to marine and wildlife habitats and to the Gulf's fishing and tourism industries.
From mining to coal cleaning, from transportation to electricity generation to disposal, coal releases numerous toxic pollutants that harms the land, ground and surface waters, and the air. The dirtiest of all fuels, coal is used to generate over half of the electricity produced in the United States — the country burns nearly 900 million tons every single year.
According to a report released by a European NGO in 2013, emissions from Europe's coal-fired power plants cost the continent's citizens up to €42.8 billion ($54.9 billion) in health costs annually. In the United States the same year, researchers at the Environmental Protection Agency  found that the hidden health costs of burning fossil fuels added up to as much as $886.5 billion annually, or 6% of GDP.
While there is no denying the fact that the past three centuries of progress have been powered by fossil fuels, burning fossil fuels has resulted in more than a 25% increase in the amount of carbon dioxide in the Earth's atmosphere. Climate scientists predict that burning much of what's left will lead to environmental catastrophe – if carbon dioxide levels continue to increase, the planet will become warmer by 2 degrees Celsius by the next century.
Cheap solar and wind may eclipse fossil fuels – POLITICO https://t.co/fTmKT85QIk

— Tom Brookes (@coolaidkid) June 15, 2016
Renewable Energies Are The Future
Renewable forms of energy — wind, solar, tidal, and geothermal — are on course to replace fossil fuels as the world's leading energy providers.
In December 2015, leaders of 195 countries signed a global pact to move the world away from the fossil fuels and rapidly escalate the growth of the clean energy solutions to curb global warming. In April 2016, representatives of more than 170 countries endorsed Paris agreement to cut carbon emissions. In May 2016, leaders of the UK, US, Canada, France, Germany, Italy, Japan and the European Union for the first time set a deadline to end inefficient fossil fuel subsidies — agreeing to end government support for coal, oil and gas by 2025.
The word "inefficient" indicates subsidies that distort energy markets. The OECD estimates that this type of support for fossil fuels within its member states is $160-200 billion a year.  However, when the cost of damage from pollution and climate change is factored in, the International Monetary Fund estimates that the support increases to $5.3 trillion a year.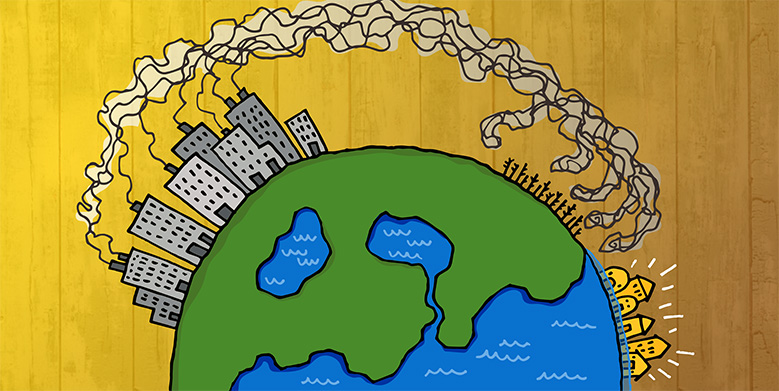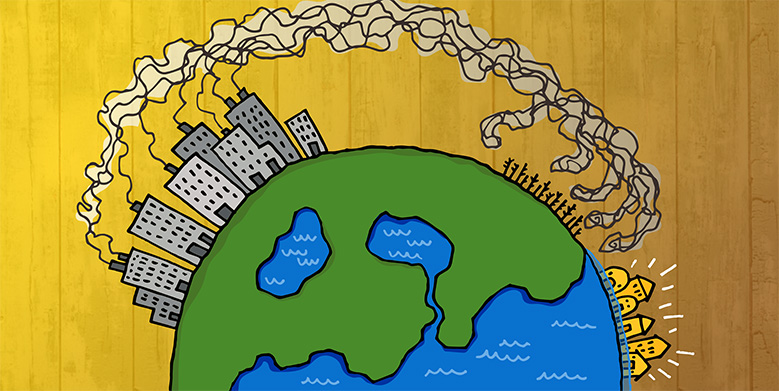 In spite of persistently cheap coal and gas prices, renewable energy sources will attract two-thirds of all investment in power-generating plants between 2016 and 2040. According to a forecast by Bloomberg New Energy Finance, while gas will attract $892 billion and new coal plants $1.2 trillion, an estimated $7.8 trillion [$3.1 trillion for onshore and offshore wind, $3.4 trillion for solar and $911 billion for hydro-electric] is expected to be invested globally in the next 24 years —  largely in India and other Asian emerging markets. Elena Giannakopoulou, co-author of the forecast, observes:
"One conclusion that may surprise is that our forecast shows no golden age for gas, except in North America. As a global generation source, gas will be overtaken by renewables in 2027. It will be 2037 before renewables overtake coal."
"Costs of wind and #solar #energy are falling too quickly for gas to *ever* dominate on a global scale again." ♻️☀️https://t.co/0v4amHZiYf

— Art Jonak (@ArtJonak) June 13, 2016
According to a report by the International Renewable Energy Agency, the average cost of electricity generated by solar and wind energy could fall by up to 59% by 2025 if governments set policies to minimize transaction costs and to streamline administrative procedures and approval processes. Since 2009, solar photovoltaic module prices have fallen by 80% and wind turbine prices have fallen by around 30-40% as renewable energy capacity has grown to record levels thanks to improved technology.
In June 2015, Mark Jacobson, director of Stanford University's atmosphere and energy program, claimed that the United States, one of the world's biggest greenhouse gas emitters, could completely replace fossil fuels with wind, water and solar energy sources by 2050 —  ditching the fossil fuel will not only create around 6 million jobs in constructing and operating the new renewable energy facilities, reduced air pollution would also eliminate about 60,000-70,000 premature deaths every year. Three months later, a new report from Greenpeace asserted the world could be 100% renewable by 2050.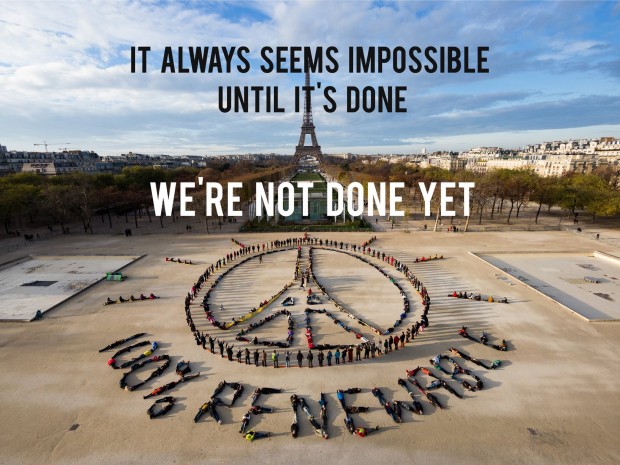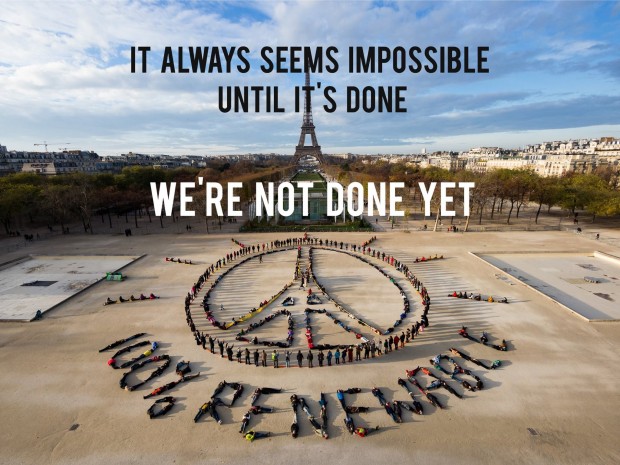 Renewables Are Crushing Fossil Fuels
If these facts sound fictitious, unrealistic, or fall into the realm of wishful thinking, consider these:
1. In less than 10 years, Norway will ban the sale of diesel and gas. The draft of the country's 2018-2029 National Transport Plan dictates that all new cars sold after 2025 must be emissions-free.
2. On May 8, 2016, Germany produced so much energy from its solar, wind, hydro, and biomass plants that power prices went into negative territory for several hours — the country eventually paid consumers to use the clean energy.
3. Solar capacity on Chile's central power grid has more than quadrupled to 770 megawatts since 2013. Electricity was free in parts of Chile for 192 days in 2015 – and 2016 could beat that record.
Solar is well on its way to a record year https://t.co/OpM2AH2vmp

— Climate Progress (@climateprogress) June 13, 2016
4. The Rockefeller Family Fund, worth approximately $130 million, is selling off its investments in companies dealing with fossil fuels including its holdings in Exxon Mobil and fracking oil producers.
"While the global community works to eliminate the use of fossil fuels, it makes little sense — financially or ethically — to continue holding investments in these companies. There is no sane rationale for companies to continue to explore for new sources of hydrocarbons."
5. India, with current electricity grid capacity of less than 300 gigawatts, is on its way to building 100 gigawatts of solar power by 2022 (from 5 gigawatts currently), double the current solar capacity of China. The world's first solar airport is located in India. The country's first solar-powered train is ready for trial.
6. Energy-starved Pakistan's parliament has become the world's first solar-powered legislative body.
7. Toyota, the world's largest automaker, has decided to end all production of petrol and diesel cars by 2050.
8. The Dubai Clean Energy Strategy, launched in November 2015, aims to provide 7% of Dubai's energy from clean energy sources by 2020, 25% by 2030 and 75% by 2050.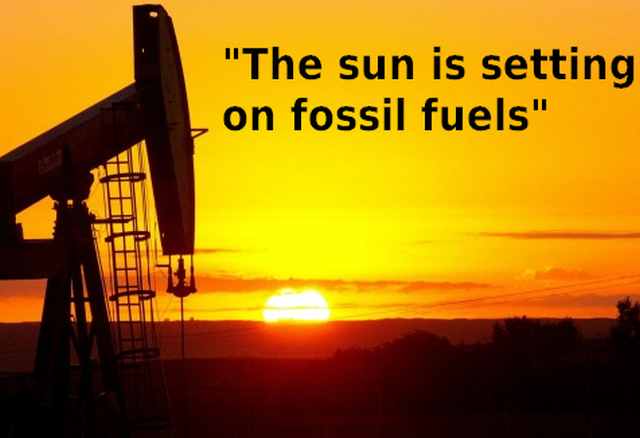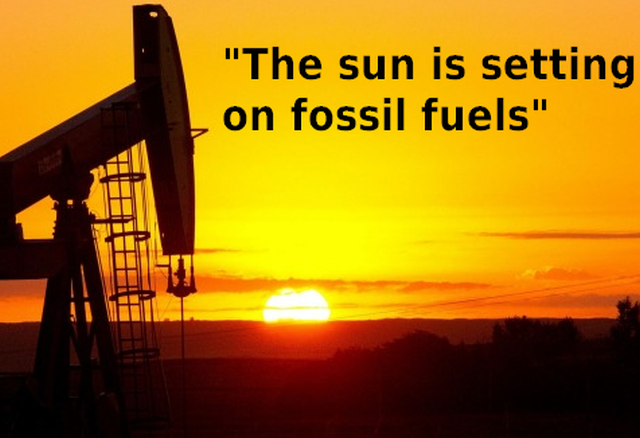 The Future Of Fossil Fuels — Is It The End?
Can we imagine a future that is cleaner, greener and sustainable as well as save the Earth without giving up on growth? There's far more fossil fuel than we can burn and the more we extract, the greater the risk of climate catastrophe. If we carry on growing the global economy at its current rate, and continue to rely on fossil fuels to power that growth, the planet is going to cook, writes The Guardian:
"We could be living through the green technological revolution, in which energy has been decarbonized. Atlanta and Barcelona have the same number of people and share the same per-capita incomes, but Atlanta's carbon emissions are 10 times those of Barcelona. We need more Barcelonas and fewer Atlantas, because that will encourage us to change the way we live: walking more, using public transport more, sharing cars, and cycling."
The International Energy Agency warns:
"Delaying action is a false economy: for every $1 of investment in cleaner technology that is avoided in the power sector before 2020, an additional $4.30 would need to be spent after 2020 to compensate for the increased emissions."
Fossil fuel reserves are finite but they are not going to disappear overnight; the world cannot immediately move beyond fossil fuels, but since the phasing-out process has started, there is hope for a healthier tomorrow.
---
This article (End Of Fossil Fuel Era Begins. Here's The Proof) is free and open source. You have permission to republish this article under a Creative Commons license with attribution to the author and AnonHQ.com.