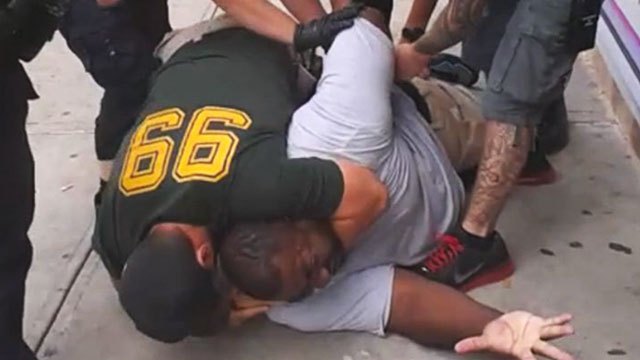 Instead of criminally charging its officers Daniel Pantaleo and his partner Justin D'Amico in the July 17 2014 chokehold death of Eric Garner, the New York Police Department charged Sgt. Kizzy Adonis with failure to supervise, an internal disciplinary sanction. The 'white' officers were let off the hook for a racially charged killing, but a sergeant, who was not part of the team out investigating that day, is stripped of her gun and badge, placed on modified duty, barred from doing street enforcement, and faces departmental charges. Adonis is black and so was Garner.
Sgt. Kizzy Adonis Is Being Charged In The Eric Garner Case, Do You Think She Is Being Rightfully Charged? Or Is She A Scapegoat? #DLQ

— The DL Hughley Show (@DLHughleyRadio) January 11, 2016
Adonis, who was appointed to the NYPD in July 2002 and promoted to sergeant in June 2014, chose to respond to the Garner arrest scene to assist her fellow officers. She wasn't assigned to that incident.
Sgt. Kizzy Adonis (center) behind officers as they took Eric Garner down & choked him. None of them were charged. pic.twitter.com/yln2z0aYAO

— D-Money aka Smoothie (@mikebrowncover) January 8, 2016
Ed Mullins, president of the NYC Sergeants Benevolent Association, blasted NYPD Commissioner William Bratton for playing politics by serving Adonis with disciplinary charges. In a statement to the media, an outraged Mullins called the charge ridiculous and political:
"First, the city paid a settlement of over $6 million dollars to the Garner family, and now Commissioner Bratton is placing Sgt. Adonis in the crosshairs. Sgt. Adonis is a dedicated law enforcement professional, and the aspersions being cast upon her by the commissioner's actions speak of political pandering at its worst. I believe that Commissioner Bratton is scapegoating Sgt. Adonis because it is too politically dangerous to do otherwise in such a volatile social environment.
"The officer involved has already been cleared of criminal wrongdoing, so placing Sgt. Adonis on modified duty puts an onus on her and the entire unfortunate episode. She didn't have to go there — she chose to go there to help out and look what happens. This incident stems from failed policies that ultimately led to the death of Eric Garner."
So Sgt Kizzy Adonis is the one getting charged in the Eric Garner death. Unreal

— TERI (@terilyns68) January 9, 2016
In an interview earlier in the day, Mullins said:
"Commissioner Bratton bears the full responsibility for what occurred on Staten Island in the Garner case. He was the commissioner in charge of a policy, a failed policy, that should never have been. And that policy being the enforcement of untaxed cigarettes. And if anyone should be put on modified assignment, it should be him."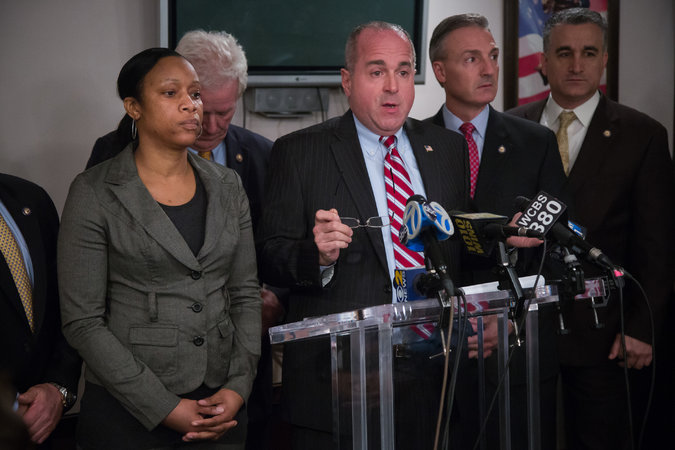 Reverend Al Sharpton called the departmental charges against Adonis a small step in the right direction.
"This is a good sign, but it's certainly not all we want. I think all the officers that were there need to be brought up on charges once the federal investigation is over. She and everyone involved had a responsibility to stop it."
Sgt. Kizzy Adonis charged in Eric Garner homicide: In the first sign of possible action against the … https://t.co/lIoMfvBhsy #CopBlock

— CopBlock PressPasses (@CopBlockPressID) January 11, 2016
Departmental charges against any other supervisors or officers at the scene are possible, but must be filed by January 17. According to Stephen Davis, the department's chief spokesman, were forced to initiate disciplinary proceedings against Adonis because of an 18-month statute of limitations dictated by the state's Civil Service law.
Davis said the department had filed the internal charges after consulting with the United States attorney's office for the Eastern District of New York. Because federal authorities were reviewing his conduct and a "criminal aspect exception applies", the statute does not apply to Pantaleo.
How can the NYPD strip Kizzy Adonis of her badge and gun and nothing happens to the officer who killed Eric Garner? https://t.co/zo2dXeuqrd

— Hal Dockins (@HalDockins) January 11, 2016
Garner, 43, died after being grabbed from behind by Pantaleo, who threw an arm around Garner's neck as he and several colleagues tried to arrest him on suspicion of selling loose cigarettes. Garner, who was unarmed, died after repeatedly saying he was having difficulty breathing. Even though the chokehold is banned under NYPD policy, a grand jury refused to indict Pantaleo on criminal charges; he remains on desk duty.
Forced prone restraints are designed 2 cut off oxygen to the body. Officers use this method often during arrests.The whole system is guilty.

— D-Money aka Smoothie (@mikebrowncover) January 8, 2016
---
This Article (Eric Garner Homicide: NYPD Sergeant Made A Scapegoat, Charged With Failure To Supervise) is free and open source. You have permission to republish this article under a Creative Commons license with attribution to the author and AnonHQ.com.