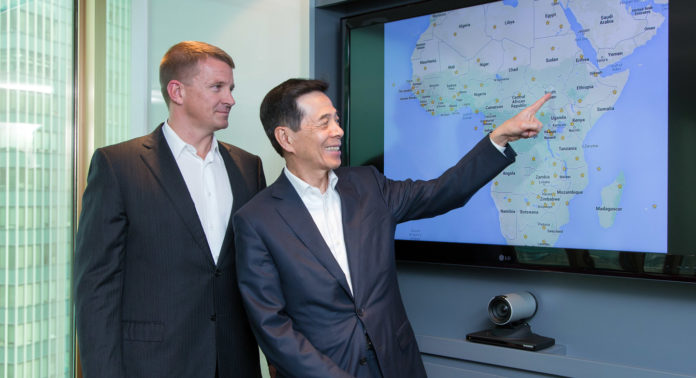 The founder of Blackwater (AKA Xe Services, AKA Academi), and current chairman of Frontier Services Group Erik Prince, is being investigated by the American Department of Justice for attempting to offer mercenary services to foreign governments, and money laundering, according to The Intercept.
Blackwater is known for its controversial activities while in service to the US government – most notably the unprovoked murder of 17 victims in Iraq.
The investigation  initially centered around Prince's attempted sale of defense services in Libya, and other African nations, expanded to include the investigation of allegations that Prince had been aided by Chinese intelligence in setting up an account for his Libyan operations through the Bank of China.
Prince's lawyer, Victoria Toensing, stated that she had not been told of any federal investigation, and had not offered defense services in Libya. She also called the allegations of money laundering "total bullshit."
The Intercept interviewed several of Prince's associates, including business partners and former US intelligence officers. They requested anonymity when speaking with The Intercept. The Intercept also obtained and analysed secret proposals offering paramilitary services to foreign entities. The proposals were drafted by Prince, his "closest advisers," and partners.
According to two former intelligence officials briefed on he investigation, the US intelligence has been monitoring Prince's communications and activities.
Several of Prince's associates were told by current government and intelligence officials of the surveillance; while those with business ties to Prince were even warned to stop doing business with him.
Prince started to distance himself from Blackwater and the scandals plaguing his mercenary company in 2010. However, this was not the end of his aspirations to rule the world of paramilitary service provision. He would use other vehicles to continue with his shady activities in countries like Somalia and the United Arab Emirates.
In early 2014, he would officially deal with the largest state-run investment company in China, the Citic Group. With the help of Citic group's investment, he founded the Frontier Services Group (FSG), a Hong Kong based company with two Chinese citizens as board members. Despite the company's ties to China, Prince was able to recruit former US intelligence and military officers.
Due to limitations that had been placed on the company, it does not conduct paramilitary services and is an aviation and logistics firm, which also conducts evacuations from conflict zones. Prince claims that FSG is "on the side of peace and economic development."
Peaceful development wasn't the only thing on Prince's mind, though. According to documents analysed by The Intercept, with the aid of a few trusted men, Prince tried to secretly set up foreign shell companies, which he used to offer paramilitary services.
As of 2014, Prince has tried to sell paramilitary services to a number of countries, including Libya. His plans were met with resistance by his own associates with FSG, who believe that he was abusing his role as chairman of a company, which did not and cannot offer paramilitary services to do just that.
In 2013, before establishing FSG, Prince initially tried to offer his services to Libyan officials in an operation code-named "Operation Lima"- ostentatiously to stabilize the broken nation. In May 2015, after becoming chairman of FSG, and amid the growing refugee crisis, he would return to Libya with a similar offer, this time claiming that border security was his concern.
Prince didn't just plan on stopping migration in Libya; this would be the backdoor for lethal/ kinetic operations, according to a source quoted by The Intercept.
"During the day, you do interdiction of migrants — not kinetic," said the person involved in the plan. "But those routes are used by weapons smugglers and drug traffickers at night. Insurgents too. Erik's guys can then be offered to the Libyans to help with their other problems. That's how you get kinetic."
Libya is one of the main routes refugees take en route to Europe, and Prince had planned to exploit the refugee crisis to gain European support for Operation Lima. He had hoped to be paid with frozen Libyan sovereign wealth funds from Muammar Gaddafi's era, as well as European tax payer monies.
His 2015 proposal would state that "Funding can be jointly shared by the EU and Libyan government from Libyan Investment Authority money frozen in European Banks."
Prince would then apparently decide to find other funding avenues for his Libyan plans. "Money laundering for Libyan officials using a Chinese bank — that is the issue that pushed it over the edge," said a former intelligence official. He would then attempt to open an account with a European-linked bank in Macau; but after his request was denied, he met with Chinese Ministry of State Security agents in Beijing, and later returned to Macau where he opened an account with the Bank of China. Prince's lawyer claims that he had met with the agents to discuss medical evacuation operations.
"It was not a personal account," said a former U.S. intelligence official who was briefed on the investigation. "He was doing it for the purpose of what is considered now — in the investigation — money laundering on behalf of the Libyans."
The CEO of FSG has denied that the company had anything to do with Prince's efforts at offering paramilitary services.
"FSG has no involvement whatsoever with the provision of — or even offering to provide — defense services in Libya," CEO Gregg Smith said to The Intercept. "To the extent that anyone has proposed such services and purported that they were representing FSG, that activity is unauthorized and is not accepted or agreed to by the company."
One source, who was one of Prince's close associates, called him a "rogue chairman" who was running a "secret skunkworks program" while traveling to war and crisis zones under the cover of  FSG's founder and chairman titles. "Erik wants to be a real, no-shit mercenary," said the source. "He's off the rails exposing many U.S. citizens to criminal liabilities. Erik hides in the shadows … and uses [FSG] for legitimacy."
FSG's leadership had had enough of Prince's attempts at selling paramilitary services, and in October 2014, stripped him of most of his responsibilities as chairman and firing two of his closest associates for being suspected of aiding his activities.
Sources: The Intercept, Reuters
---
This article (Erik Prince under Federal Investigation for Links to Chinese Intelligence, Money Laundering) is a free and open source. You have permission to republish this article under a Creative Commons license with attribution to the author(CoNN) and AnonHQ.com.