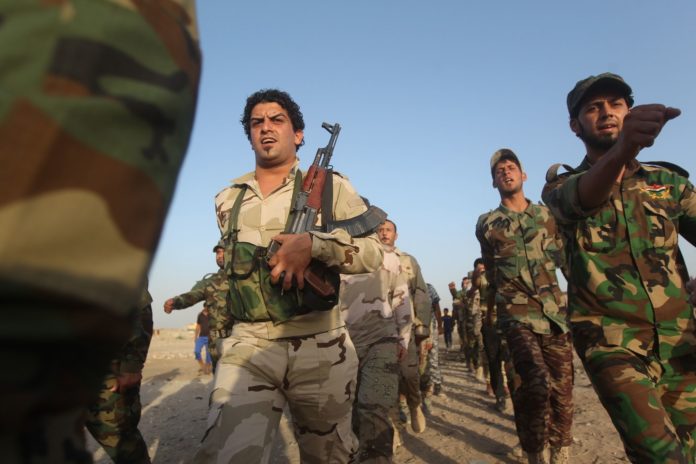 The Iraq war officially ended three years ago, yet once again US boots are marching back into Iraqi ground. This time, troops will be "fighting ISIS," according to a Pentagon announcement on the 20th of March.
Marines from the 26th Marine Expeditionary Unit (MEU) will be deployed on the ground, said the US military; consisting of 2,200 Marines, and will add to the 3,600 Army personnel who already serve there.
The announcement comes despite US President Barack Obama's 16 pronouncements that there would be no American "boots on the ground" in Syria or Iraq. It also comes despite the Iraqi government's insistence late last year, that it did not need US troops on the ground. It also comes despite Russia's "Mission Accomplished" moment and partial withdrawal from Syria, and a ceasefire that appears to be holding.
The Iraqi Shia militias aren't particularly happy with the news, and warned the following day that if forces are not "immediately" withdrawn, they will be dealt with as "forces of occupation."
The US is "making a new suspicious attempt to restore their presence in the country under the pretext of fighting their own creation, Daesh (ISIS)," the Asaib Ahl al-Haq militia said on its TV channel on Monday, according to Reuters. Hezbollah in Iraq has also condemned the decision, opposing the US's "occupation of regional states," as quoted by the Fars news agency, based in Iran.
The decision was apparently in response to an ISIS rocket attack which killed one US Marine. Interestingly, the Marine's death on the 13th anniversary of the beginning of the Iraq war, revealed the presence of a secret US firebase in Iraq. Thus, the death of a Marine at a base kept secret from the American citizen to begin with, perhaps due to opposition to the concept of "boots on the ground," has 'legitimized' the public deployment of even more Marines.
U.S. Defense Secretary Ash Carter, had pointed out that the US was looking for "opportunities to do more" against ISIS in January:
"We're looking for opportunities to do more, and there will be boots on the ground — I want to be clear about that," he said.
Sources: The Free Thought Project, RT, Common Dreams, USA Today
---
This article (Iraqi Shia Militias: New Wave of US Troops could be Treated as "Forces of Occupation" ) is a free and open source. You have permission to republish this article under a Creative Commons license with attribution to the author(CoNN) and AnonHQ.com.