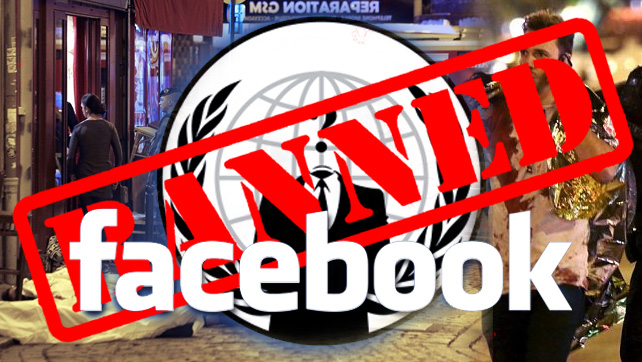 On Friday the 13th, without giving any warning Facebook deleted an Anonymous group page, which has been exposing and reporting social media accounts of ISIS the terror outfit used to recruit hardliners and spread propaganda, and banned all its administrators.
The social networking site said that the entire group's existence was a "violation" of Facebook Terms of Service and "Community Standards". But according to Counter Current News:
Facebook has refused to respond to inquiries from Red Cult or from Counter Current News and several other alternative media outlets who have contacted them directly via their media relations number.
Red Cult informs us that the only purpose and use of the aforementioned group was to identify and report ISIS recruiting accounts on social media. Not only does this not violate Facebook's own terms of service agreement, it is actually helping them enforce it.
How could Facebook declare war on Anonymous which is trying to combat the terrorist group in cyberspace?
The social networking website had no explanation to offer for apparently siding with ISIS over Anonymous. But when 8 ISIS militants rattled Paris hours later, Facebook swiftly restored the #OpISIS "Report ISIS Accounts" group without comment.
#OpISIS Anonymous España se suma a los ataques contra webs de Estado Islamico que se realizarán a partir de la… https://t.co/uhdUpRZ2f8

— AnonymousEspaña (@AnonySpain) November 15, 2015
#Isis have made a grave mistake. Watch as the world lights up blue, white and red. Watch as we eliminate you. #Paris pic.twitter.com/vCSK6sDLBJ — Anonymous Aussie (@AnonyAussie) November 14, 2015
THEY ARE THE VIRUS #OpISIS WE ARE THE CURE #NO2ISIS pic.twitter.com/D1bbpmlJbr

— FOLLOW @OPISIS_2016 (@Anonymous_OPIS) November 11, 2015
I've never been more ready to destroy Isis as I am now ? #OpISIS — Anonymous (@GroupAnonNews) November 14, 2015
Was this unethical action taken against the hactivists because Anonymous was doing the job that American and European law enforcement was either unable or unwilling to do? Was the move to restore the page prompted by intelligence's failure to stop ISIS' terror attack in France?
---
This Article (Facebook Bans Anonymous Hactivists Behind #OpISIS Just Hours Before The Paris Attack) is free and open source. You have permission to republish this article under a Creative Commons license with attribution to the author and AnonHQ.com.