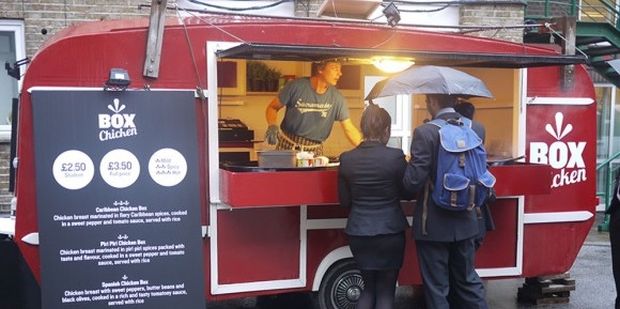 To tackle youth obesity in London's low income areas that have the highest incidence of health issues related to poor diets, including Type 2 diabetes, Shift Design is selling healthy delicious food to young people at competitive prices and the food it serves meets Department of Health nutritional guidelines. Since previous child obesity strategies that advised young people what to eat had failed, and since teenagers preferred eating at takeaways due to their convenient location, tasty food and price, Shift positioned its healthy fast food outlets near schools and got instant success.
There are over 8,000 fast food outlets in London and each meal they serve provides an average of 68% of recommended daily calories, 56% of saturated fat and 53% of salt. In October 2013, Shift partnered with Create and set up a mobile food outlet Box Chicken which sold healthy meals (for £2.50) to young people in Forest Gate, Newham. Box Chicken sold 1362 meals in a month, each with 90% less saturated fat, 80% less salt and fewer than half the calories of standard chicken shop take-away, as well as 2 portions of fruit and vegetables. Compared to an original recipe meal at KFC, a 300g Box Chicken meal and 200ml of orange juice had 60% fewer calories, 85% less saturated fat, 70% less salt and 20% less sugar.
Select independent street vendors are establishing outlets in the boroughs of Camden, Hackney, Tower Hamlets and Newham. The project aims to shift diets and health outcomes measurably and sustainably in low income areas and combat obesity amongst children and young people, particularly the secondary school age children.
Additionally, Shift intends to encourage young people to substitute a proportion of their unhealthy fast food meals with much healthier meals, reducing their intake of fat, salt, sugar and calories and increasing their consumption of vegetables, fruit and micro-nutrients.
The project will be rolled out across the UK in the future in the areas most affected by poor diets, competing on price, convenience, taste and appeal and will provide a long-term nationwide solution to the problems of child obesity and harmful convenience eating.
---
This Article (Fast Food Gets Tasty, Healthy & Affordable In London) is free and open source. You have permission to republish this article under a Creative Commons license with attribution to the author and AnonHQ.com.