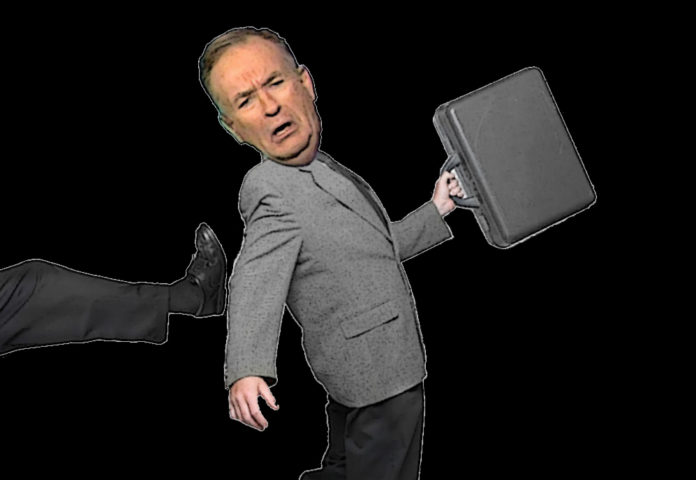 [responsivevoice voice="UK English Female" buttontext="Play"]
It's been a tough month for Bill O'Reilly. The O'Reilly Factor host, beloved by crotchety senior citizens across the nation, has officially been fired from Fox Opinion Network after it was disclosed that more than $13M had been paid out over the years to settle sexual harassment lawsuits. Although some are calling it a victory for women's rights, the fact he was only fired due to potential financial losses makes it a hollow victory at best.
While some may only recognize O'Reilly as that self-righteous crusty old guy who reminds you of your racist uncle, and despite the fact the average age of the O'Reilly viewer was roughly 70-years-old, there are few who haven't heard of him. This is thanks to outlandish remarks such as those showcased in the following video:
O'Reilly liked to describe himself as a gentleman of the "old school," though he's been better described as a "pathetic cliché," and when looking at his life and career as a whole, there are probably few who would deny it. Those at the Chicago Tribune state:
"Like many who live lives of cliché, he was vain and stupid enough to think he could keep doing it. He couldn't. Not after his boss who apparently covered for him, Roger Ailes, was driven out of Fox News for doing the same damn thing."
This recent blow to Fox's favorite propagandist came with a report from the New York Times earlier this month, in which it was disclosed that a total of five women received payouts (to remain silent) from both O'Reilly and the Fox company itself. O'Reilly of course maintains his innocence, but he's been known to be a cheeky bastard for a while now: The "falafel incident" happened in 2004 when O'Reilly phoned producer Andrea Mackris and "urged her to rub a 'falafel thing' on her 'pussy.'" Mackris, who had apparently recorded it, was paid $9 million in her settlement.
After the New York Times recent disclosure, O'Reilly used his children to form an admirable defense:
"But most importantly, I'm a father who cares deeply for my children and who would do anything to avoid hurting them in any way. And so I have put to rest any controversies to spare my children."
Never mind that according to his kids, they've almost never seen him in eleven years.
Donald Trump defended his bestie as well, stating:
"I think he's a person I know well – he is a good person. I think he shouldn't have settled; personally I think he shouldn't have settled. Because you should have taken it all the way. I don't think Bill did anything wrong."
In response to Trump's defense of O'Reilly, civil rights attorney Lisa Bloom stated the following in an interview with Amy Goodman of Democracy Now:
"Notice that he doesn't say 'I don't think O'Reilly did it.' He says, 'I don't think he did anything wrong,' and I think Trump is being very honest there. He does not think that sexual harassment is wrong. And as for settlements, I represented four of the women accusing Trump of sexual misconduct during the campaign, and I can tell you that he settled a sexual harassment case with my client, Jill Harth, back in the 1990's."
Fox initially said they would investigate the sexual harassment claims against O'Reilly, a move that seemed a little late considering they've already paid out millions over the years to keep his victims quiet. But it seems they had a change of heart when his advertisers began to drop like flies over soggy, outdated falafel – Cheeky Bill will have to take his $25 million payout from Fox, and kick rocks.
As mentioned at the beginning of this report, many within the women's rights movement are celebrating O'Reilly's downfall at Fox, and rightly they should, however we'd like to remind everyone that it's only because of the potential financial losses the Murdoch's were facing that they let him go. O'Reilly could have pulled down his pants and spanked his own ass on live-air, and if his advertisers stuck around, he'd still have a job.
It wasn't just the loss of advertisers that worked against O'Reilly though; Rupert Murdoch is currently in the process of trying to take over the British telecommunications company, Sky UK. UK regulators are now poised to rule whether or not the Murdoch's would be "fit and proper" owners of the broadcasting company, which of course meant O'Reilly had to go. Hopefully, British regulators will take into consideration the many years the Murdoch's allowed this behavior to continue.
No word yet on how Trump's dealing with this recent loss, or who will now keep him up-to-date on those Swedish terrorist attacks.
[/responsivevoice]
---
This Article (Fired from Fox: Bill O'Reilly Got the Boot) is a free and open source. You have permission to republish this article under a Creative Commons license with attribution to the author and AnonHQ.com.
---
Supporting Anonymous' Independent & Investigative News is important to us. Please, follow us on Twitter: Follow @AnonymousNewsHQ