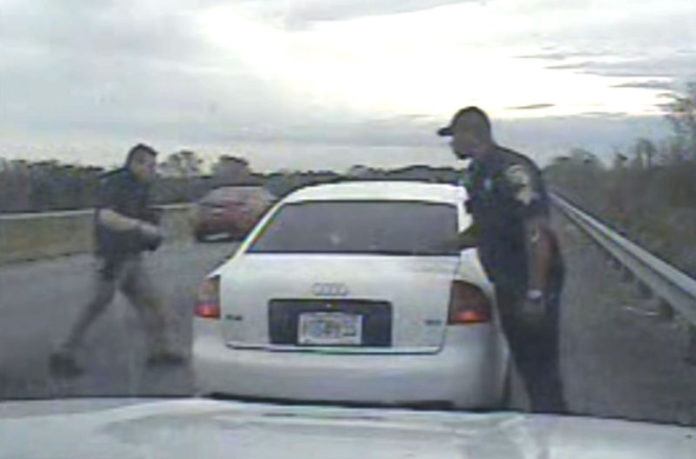 A South Carolina cop went into overdrive on a traffic stop and smashed the window of a seemingly non-resistant driver. A cell phone video has surfaced showing a black male driver calmly speaking with an officer at the window. The officer seemed to believe that forcing his way into the vehicle was a better solution than rationally talking to the man. The video demonstrates that no matter how many times cops end up on YouTube, nothing really seems to change.
The video cuts in moments before the officer breaks the window so we have no way of knowing what actually happened before officer friendly decided to escalate the situation. The cop could have been calmly talking to the man for ten minutes or more, who knows? One thing's for sure though: the officer was not a supervisor and was seemingly acting alone. In this day and age, with high profile police videos popping up, you'd think the cops would know that deescalation should be the goal of every encounter. You would also think they have other alternatives to violently dragging people from cars. Cops don't think this way and nor do they want to, especially if you're black.
The driver was identified as Onardo Norman Marsh. Mash had uploaded his video to Instagram, but from there it went viral. Along with the video a caption was posted: "Talk about how it continues. This police man just broke my damn car window for no damn reason. Good thing I got on camera. The struggle continues!!! We won't let them nor no one stop us from the success we have waiting for us!! I have more footage of the BE they did also."
Cops do have the right to forcefully remove a driver from a vehicle under Supreme Court rulings, however it is more a question of, should you? Unfortunately for the driver, even if a cop is wrong, he has the right to get you out of the car under the guise of 'officer safety.' In this case, Officer Logan Riley Hull of the Santee Police Department didn't feel the need to discuss why Marsh needed to turn over his license, only that he did. Cops don't really care if you understand what's going on, and if you question them, they can use that as justification for escalation, which is exactly what happened here.
As it turns out, Marsh had a suspended license, which in the real world isn't a big deal. But to a South Carolina road cop who makes a living on extorting his fellow citizens, it was certainly worth turning a relatively routine situation into a violent take down. Marsh was cited for driving on a suspended license and speeding. He was taken to jail for resisting arrest. Despite the unnecessary violence, Sanatee Police Chief Bing Jones, as expected, stood behind his officer stating, "He did everything appropriately." Thankfully the local Sheriff disagreed.
During the initial confusion as to what agency was responsible, the Orangeburg County Sheriff's Department released this statement: "In regards to a video released depicting what appears to be a violent traffic stop, the Orangeburg County Sheriff's Office finds this type of behavior to be despicable. We have a zero tolerance policy for this type of action."
They went on to clarify that it was not one of their deputies who was involved, and despite throwing the officer and his department under the bus, they neglected to directly name the agency responsible.
Sources: The Free Thought Project, WISTV.
---
This article (What is it with South Carolina? Cop Smashes Driver's Window for No Reason) is a free and open source. You have permission to republish this article under a Creative Commons license with attribution to the author and AnonHQ.com.
---
Supporting Anonymous' Independent & Investigative News is important to us. Please, follow us on Twitter: Follow @AnonymousNewsHQ