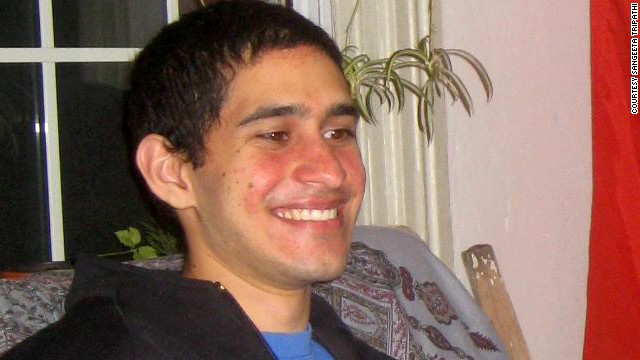 Part 2 here

Why was the Boston Police originally hunting for two completely different named suspects before the Tsarnaevs, and why was one found dead?
The first two names which were announced as suspects by the police were Mike Mulugeta, not much seems to be known about him, and the other suspect was that missing 22 year old Brown University student named Sunil Tripathi. The most disturbing fact in the FBI's 'Tsarnaev Brothers' storyline, is that hours before the fugitive brothers' photos were thrust into the national spotlight by the FBI, two other suspects were being pursued on April 18th, and at least one of them may have been killed following that manhunt.
This was also confirmed by CBS local: "Boston police on Friday revealed the names of two suspects in the Boston Marathon bombing, one of whom is an Indian origin person, Sunil Tripathi, reported CBS-affiliated television station WFSB."
Previously, Tripathi was reported missing and had even appeared on an official FBI Missing Persons List from March 16th. From what I can gather, it seems there is a narrative going on that seems to blame this mix-up entirely on reddit speculation…. But given the mainstream news sources that were quoting what police were telling them, I find that to be a hard one to stomach.
At 11pm on April 18th, an SUV was allegedly carjacked by Tsarnaev brothers after an MIT campus policeman was shot, at which time Tripathi's Facebook page was immediately taken down. Days later, Sunil Tripathi was reported as dead, after being found floating face-down in a pond. His family wrote in a statement, "On April 23, our beloved Sunil was discovered in the waters off India Point Park in Providence." The boy was found dead a week after being named a suspect, by both the mainstream news and social media.

Mike Mulageta and Sunil Tripathi were the first to be named by the police as suspects in the Boston Bombing, and one was found dead. If this does not indicate some strange connection, it at least details how easily people can be made to believe the authorities immediately, particularly in the aftermath of a major crisis because everyone from the MSM to social media were quick to lay blame on these two obviously innocent men.
The cause of Sunil's death was not immediately known, but the family and the authorities have named it a suicide….. Perhaps the police were quick to finger a look-alike, and had to withdraw their claims when they realized he had died; that's the most innocent explanation I can come up with.
Part 4 coming soon
Get Your Anonymous T-Shirt / Sweatshirt / Hoodie / Tanktop, Smartphone or Tablet Cover or Mug In Our Spreadshirt Shop! Click Here