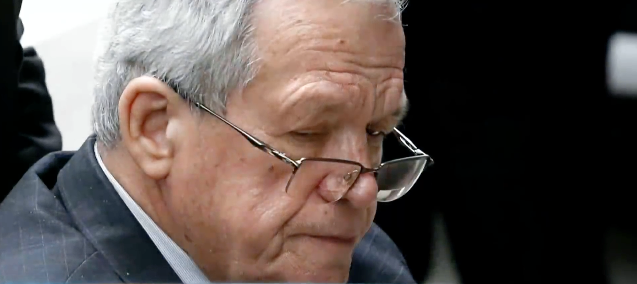 On April 27, former U.S. House Speaker Dennis Hastert was sentenced to 15 months in prison. Federal Judge Thomas Durkin described Hastert as a "serial child molester," but sentencing was constrained to charges related to violating bank laws because the statute of limitations for the child molestation, which occurred more than 30 years ago, had expired.
Hastert, 74, committed the crime of "illegal structuring of bank withdrawals" while paying off one of his victims in order to keep him silent. Hastert pleaded guilty in October last year.
According to the prosecution's court filings, Hastert molested four boys while working as a high school wrestling coach in Chicago. "While defendant achieved great success, reaping all the benefits that went with it, these boys struggled, and all are still struggling now with what defendant did to them," prosecutors said in the filing. "Some have managed better than others, but all of them carry the scars defendant inflicted upon them."
Hastert admitted to the child abuse for the first time at his sentencing and apologized. "The thing I want to do today is say I'm sorry to those I hurt and misled," said Hastert. "I want to apologize to the boys I mistreated when I was their coach. What I did was wrong and I regret it."
Before his sentencing, his lawyers filed 41 letters defending Hastert's character. The letters, from relatives and former colleagues, lauded Hastert as a man of faith and integrity. Even his wife, Jean Hastert, wrote a letter describing him as "selfless" and someone who was there for his wrestling students whenever they needed help – she neglected to mention anything about the allegations of child abuse.
Hastert, who presented a pathetic figure in court, arrived in a wheelchair, requiring assistance to stand to address the judge. He suffered a stroke several months before the sentencing and cited health problems as a reason he should receive probation.
Judge Durkin, however, opted to put Hastert in prison and rejected the prosecution's recommended six-month sentence. In addition to the 15 months in prison, Hastert was ordered to pay $250,000 in fines and sentenced him to two years of supervised release after prison. Judge Durkin, however, could have given up to five years in prison for the bank law violations, to which Hastert pleaded guilty.
One of Hastert's victims, Scott Cross, confronted Hastert in court and spoke about the effects of the abuse. "As a 17-year-old-boy, I was devastated. I tried to figure out why Coach Hastert had singled me out. I felt very alone and tremendously embarrassed. I felt intense pain, shame, and guilt," said Cross in his witness statement.
Cross said that coming forward and publicly acknowledging the abuse was very difficult for him and added that "I want my children and anyone else who was ever treated the way I was to know there's an alternative to staying silent."
Hastert is to report to prison by 2 pm June 22 to serve his 15-month sentence and with credit for good behavior, he could serve as little as 12.5 months.
---
This article (Former House Speaker Described as "Serial Child Molester" Given 15-Month Sentence) is a free and open source. You have permission to republish this article under a Creative Commons license with attribution to the author Bullseye and AnonHQ.com.