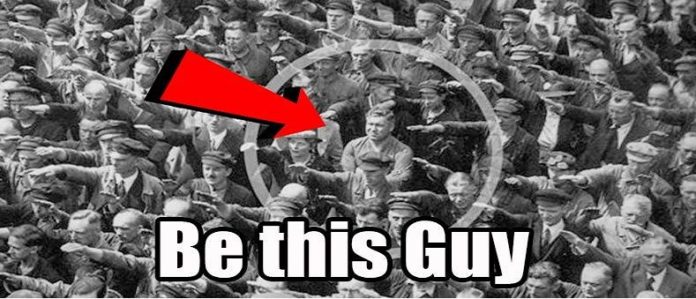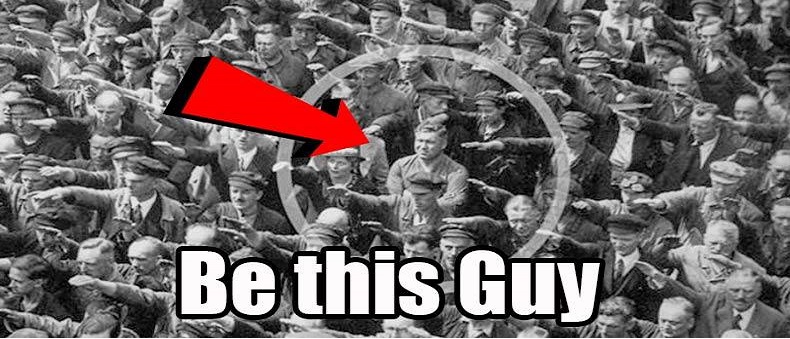 One of the most iconic photos of World War II was clicked in Hamburg 80 years ago, though only became a symbol of civil disobedience in 1991, when it was first published in Die Zeit, a German newspaper. The image is that of August Landmesser – the man who defied the Nazis by refusing to perform the "seig heil" salute to Adolf Hitler at the launch of the naval training vessel Horst Wessel on June 13.
While no one, absolutely no one, had the guts to show their disapproval by not displaying loyalty for Adolf Hitler – the German dictator responsible for the genocide of at least 5.5 million Jews – one man stood in defiance, strong and fearless, stone faced with crossed arms; refusing to do Hitler's mandatory salute at a place where his bold act could have easily gotten him killed.
But while the whole world now salutes Landmesser's bravery, not many know the [love] story behind the iconic photo.
Well, Landmesser had a personal reason to stay idle amidst a large public gathering of Nazi proponents and Adolf Hitler's followers.
A 21-year-old Landmesser joined the ranks of the Nazi party in 1931, hoping it would help him get a job. Then Landmesser met Irma Eckler, a Jewish woman, and the two fell deeply in love. A year later the two became engaged; but not only was his marriage application denied under the newly enacted racial Nuremberg Laws, he was promptly expelled from the party for falling in love with the enemy. The couple's first daughter was born on October 29, 1935.
The series of events explain why a worker at the Blohm + Voss shipyard in Hamburg publicly exhibited utter lack of respect towards the Nazi regime.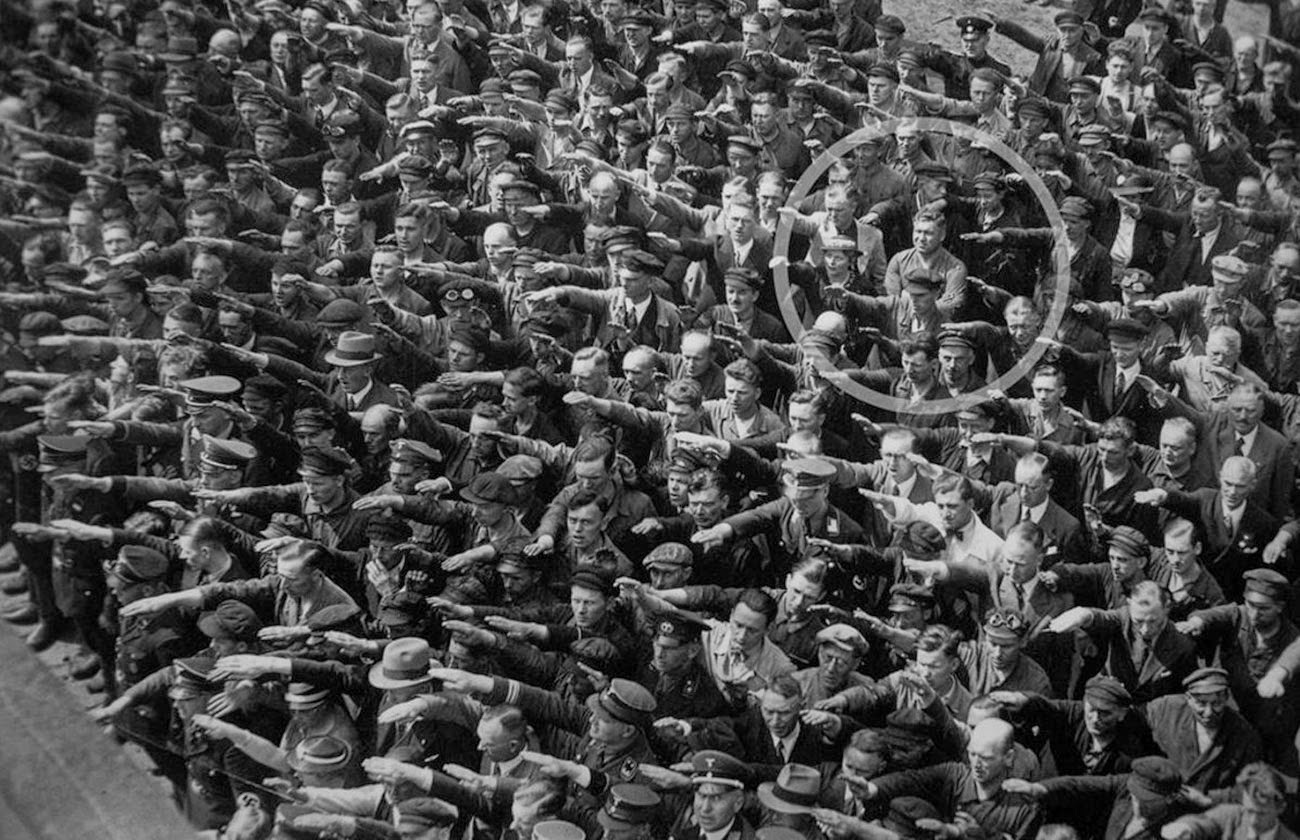 However, the story didn't end there.
The family attempted to flee to Denmark in 1937, but they were apprehended at the border. Landmesser was arrested and charged for "dishonoring the race." He was acquitted in May 1938 for lack of evidence after he argued that neither he nor his wife knew that she was fully Jewish.
Despite being warned that a repeat offense would result in a multi-year prison sentence, the couple publicly continued their relationship; in June 1938, Eckler gave birth to their second daughter. Less than two months after he was acquitted, Landmesser was arrested again and sentenced to two and a half years in the Börgermoor concentration camp; Eckler was taken by the Gestapo to prison Fuhlsbüttel.
Landmesser was discharged from prison in 1941, but soon after was drafted to serve in the war. In 1944 he was declared missing in action, and five years later he was legally declared dead.
It is believed that from Fuhlsbüttel, Eckler was sent to the Oranienburg concentration camp, later to the Lichtenburg concentration camp for women, and then to the women's concentration camp at Ravensbrück, before she ended up being at the Bernburg Euthanasia Centre in 1942. Just like Landmesser, she too was pronounced legally dead in 1949.
Ironically, the Senate of Hamburg recognized the marriage of Landmesser and Eckler in 1951. Their daughters split their parent's names with his elder daughter Ingrid assuming the surname Landmesser and the younger daughter Irene keeping the surname Eckler.
Landmesser's daughters were initially taken to the city orphanage. However, while Ingrid was later allowed to live with her maternal grandmother, Irene was placed with foster parents in 1941. However, after her grandmother's death in 1953, Ingrid was also placed with foster parents.
In 1996, Irene Eckler published the book Die Vormundschaftsakte 1935–1958: Verfolgung einer Familie wegen "Rassenschande" (The Guardianship Documents 1935–1958: Persecution of a Family for "Dishonoring the Race"), which tells the story of how her family had been torn apart; it includes a large number of original documents, including letters from her mother and documents from state institutions.
---
This article (The Real Reason Why One Badass German Refused to Obey Hitler at a Nazi Meet in 1936) is a free and open source. You have permission to republish this article under a Creative Commons license with attribution to the author and AnonHQ.com.