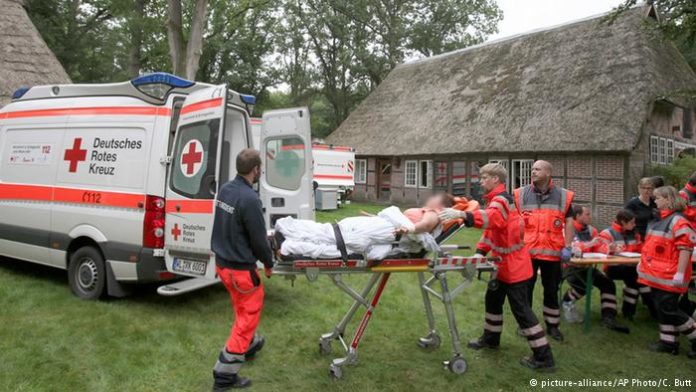 15 ambulances, a helicopter and 160 rescue personnel were sent to a conference center in northern Germany after 30 doctors, homeopaths and alternative medicine practitioners aged between 25 and 55 were found staggering and suffering from violent convulsions, delusions and hallucinations, cramps, and racing hearts apparently as a result of amphetamine poisoning.
Tests indicate they had all taken 2C-E, or Aquarust, a psychedelic drug that was banned in Germany in 2014. 2C-E has a euphoric effect and, like Ecstasy and Speed, belongs to the group of synthetically-produced amphetamines. 2C-E is a powerful, violent and difficult to control psychedelic that is known on the street as a dirty version of LSD. While 2C-E may carry some of the visual qualities that LSD has, it takes way longer to wear off and has lasting effects on the body. 2C-E can also be way more powerful in low doses and is known to cause physical discomfort in many cases.
An investigation is underway to find out whether the delegates knowingly took the banned drug, or were they victims of a macabre prank.
"There must have been a multiple overdose. That argues against the people being aware what they were taking. The drug heightens the emotional experience. An overdose can cause delusions and psychosis-like symptoms," Torsten Passie, a member of a German government commission on narcotics, told NDR.
Interestingly, the leading German alternative medicine association disowned the conference. "I dissociate myself quite strongly from what happened at Handeloh. If I find out one of our members has participated, he will be thrown out of the association," Heinz Kropmanns, president of the Association of German Naturopaths, told NDR.
The Handeloh poisoning, however, follows a series of murders, deaths and disappearances this summer of chiropractors, osteopaths and medical doctors, most of whom were practicing holistic medicine. Things have been dangerous for holistic doctors in the US, as many have been found dead of unnatural causes, and in suspicious circumstances.
---
This Article (Foul Play? 30 Holistic Healers Poisoned At Health Conference In Germany) is free and open source. You have permission to republish this article under a Creative Commons license with attribution to the author and AnonHQ.com.