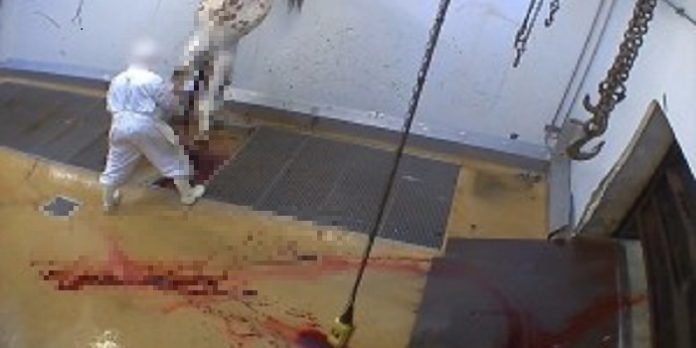 The French national assembly voted on Friday to monitor slaughterhouse practices and worker behavior to prevent animal cruelty as well as hygiene and safety violations.
While many are content to ignore the processes that transform farm animals into neatly-packaged and butchered meats, those who have dared to delve into the practices of industrial meat operations rarely are pleased by what they find as slaughterhouses throughout the world often show remarkable disdain for the animals they "process" while also frequently violating key safety and hygiene laws. In many cases, animals are improperly stunned or killed, sometimes entering scalding tanks or other subsequent steps in the process while still alive.
Other animals are the victims of beatings and other abuse at the hands of slaughterhouse workers, who themselves are often abused by their overseers who demand they work at unsafe speeds and in high-stress environments. In other cases, choosing to put slaughter speed over safety and animal welfare has led to numerous disgusting hygiene violations such as the contamination of meat with feces, meat stored in insect-infested rooms, and the discharge of slaughterhouse waste – namely blood – into public waterways or storm-water drains. Not surprisingly, in the absence of federal regulators or oversight of any kind, these abuses become more and more commonplace as the corporate bottom-line ultimately ends up trumping common sense.
Yet, the burgeoning animal rights movement in France has decided to do something to end these harmful and inhumane practices and have, just recently, achieved a historic political success. This past Friday, the French national assembly passed a bill making cameras mandatory in slaughterhouses throughout the country. It also creates an independent commission to monitor slaughterhouse ethics and offers stiff penalties for animal cruelty violations, including 6 – 12 months of prison time and hefty fines up to €20,000 ($21,000). The measure, set to be implemented in 2018, came as a consequence of widespread public outrage following several appalling and shocking undercover exposés that were released to French media organizations by local animal rights groups.
The French legislature passed the measure, intended to monitor slaughterhouse practices and worker behavior to prevent violations, passed 28 to 4. The bill still has yet to clear the senate, where it will be debated and voted upon in March. If successfully passed, which spectators acknowledge as likely, cameras will begin being "experimentally" installed as soon as July 2017 in 263 slaughterhouses. 85% of French citizens approve of the video surveillance of slaughterhouses, according to IFOP, the French government's public opinion institute.
Despite enjoying overwhelming public support, the bill was not passed without controversy. French Minister of Agriculture Stephane LeFoll, during the debate session in the national assembly, spoke about the need to have "respect for slaughterhouse workers" due to recent incidents where agricultural workers have participated in various media stunts including the dumping of truckloads of manure in public places and the hanging of dead animals from highway overpasses – all to protest the mandatory camera bill. Many agriculture unions – opposed to the measure – are pushing for an increase in government subsidies for slaughterhouses and national meat production facilities to offset "unfair" competition from other countries. However, many French citizens support the removal of any and all subsidies for the national meat industry – not their expansion. Though it remains to be seen if the use of mandatory cameras will negatively affect the meat industry in any way, it is a positive and historic step for animal rights activism in the European nation.
What are your thoughts? Please comment below and share this news!
---
This article (France Passes Controversial Bill Making Cameras Mandatory In All Slaughterhouses) is free and open source. You have permission to republish this article under a Creative Commons license with attribution to the author and True Activist.