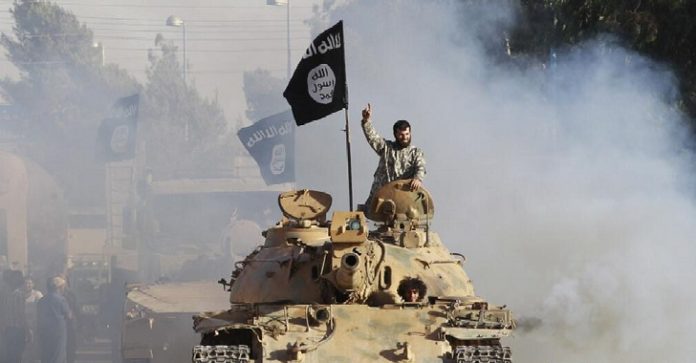 By Darius Shahtahmasebi at theantimedia.org
You wouldn't know it from following most of the corporate media online or on your television set, but ISIS is currently making significant headway in Syria. According to the Guardian, ISIS fighters have broken through government defensive lines in the Syrian city of Deir ez-Zor, successfully surrounding a military airport and cutting off food supplies for roughly a quarter of a million civilians in the Syrian city.
Remember when the Syrian army surrounded Aleppo and Western media accused the regime of cutting off supplies to over a quarter of a million residents in eastern Aleppo? Apparently, when ISIS does the same, it is not newsworthy.
But there's more. According to the Guardian, the ISIS fighters who successfully broke through government defense lines in Syria were "primarily reinforcements coming over the border from Iraq's Anbar province." In October 2016, Anti-Media speculated that the U.S. military was planning to allow ISIS safe passage to move from Mosul, their de-facto Iraqi capital, into Syria so they could battle the Syrian regime.
Unfortunately, whether or not the U.S. is allowing this to happen on purpose or out of sheer negligence, that speculation has become a reality. ISIS has indeed seemingly relied on their Iraqi component to push through the defenses of the Syrian government and the U.S. military has done little to stop the terror group bolstering its numbers in Syria.
But wait, there's still more. The city of Deir ez-Zor is the same city that was attacked by the American-led coalition in September last year – an attack that targeted Syrian troops for over an hour, paving the way for a timely ISIS offensive.
This all begs the question: where is the U.S. military right now? Clearly, the U.S. coalition is capable of attacking Deir ez-Zor, as they didn't hesitate to provide air cover for ISIS against Syrian troops in September. The U.S. could also target the convoys of ISIS recruitments heading from Iraqi territory into Syria if they wanted to. Why aren't they? The U.S. has spent billions and billions of taxpayer money interfering in Syria, so surely some of that money could be used to advance Barack Obama's stated goal of "degrading and destroying" ISIS.
Further, Deir ez-Zor holds significant importance for ISIS as it is close to key oilfields that provide a financial lifeline to the terror group.
Sounds like the perfect place for the American military to strike. Or the Russians, for that matter. They're also adept at 'spreading peace' by bombing terror groups into submission (as well as civilians, including children).
It would appear the Syrian military has been left to its own devices, and the corporate media has turned its head the other way.
---
This article (US Military and Media Ignore New ISIS Push into Syria, 250K Civilians Threatened) is free and open source. You have permission to republish this article under a Creative Commons license with attribution to Darius Shahtahmasebi and theAntiMedia.org.