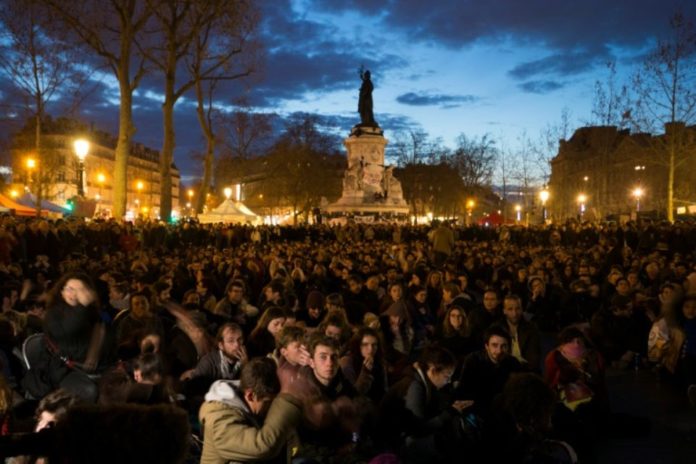 France is running into their 12th night of "Nuits Debouts," or "Rise Up at Night" movement to protest against authorities, as I write this article.  It is essentially France's own occupy movement, with the people tired of unfair labor reforms, which seek to give companies more power to fire people, amidst the high tensions that the Paris terror attacks brought about.
A source in Central France, at the beginning of the movement, spoke of the hefty numbers of people beginning to protest across the country, arm in arm with their fellow neighbors. The police numbers were increased to combat the situation, which has sometimes turned ugly.
France's #nuitdebout movement shows no signs of stopping after 11 nights of protests. pic.twitter.com/kXkcmDMc3k

— The Local France (@TheLocalFrance) April 11, 2016

But for the most part, gatherings have occurred peacefully at the Place de la Republique, where they sing, drink beer, but also air their grievances since March 31st.
Though it has been the labour reforms threatening workers' rights that gave rise to the initial protests, the French have suffered multiple assaults against their freedoms since 2015. It was only recently that President Hollande stepped down from his call, to write  a permanent state of emergency into the French constitution, which would have given sweeping powers to the police and military, alike. At the same time, he also attempted to pass through a legislation to deport any French National suspected of doing wrong.
https://t.co/80Pour3XSL
Intervention de Samuel Churin place dela République droit au chômage #NuitDebout #NuitDeboutLyon #NuitDeboutPartout

— LK (@LeTimiotata) April 10, 2016
Now it seems France's Occupy Movement is only gaining momentum as citizens try to find answers against Islamophobia, poverty, health, education and workers' rights – in the middle of keeping their liberty, equality and fraternity.
However, some say it will die out without political demands, others remain disciplined with daily assemblies and the handling of the themes.
Nachts tut sich etwas Neues auf Frankreichs Plätzen: die "Nuits Debout" https://t.co/wCYA5SMDko @ARTEde pic.twitter.com/Lbcx5Fl6y9

— ARTE Journal (@ARTEjournal) April 11, 2016
But the 25 percent unemployed, mostly young adults disagree. Crowds into the thousands are standing in protest every night, dismissive of the government who want the band broken apart. However, riot police have been deployed this weekend, with several hundred people the target of tear gas.
---
This article (The French take a Stand with Nightly Protests: A New Occupy Movement Looms) is a free and open source. You have permission to republish this article under a Creative Commons license with attribution to the author AnonWatcher and AnonHQ.com.