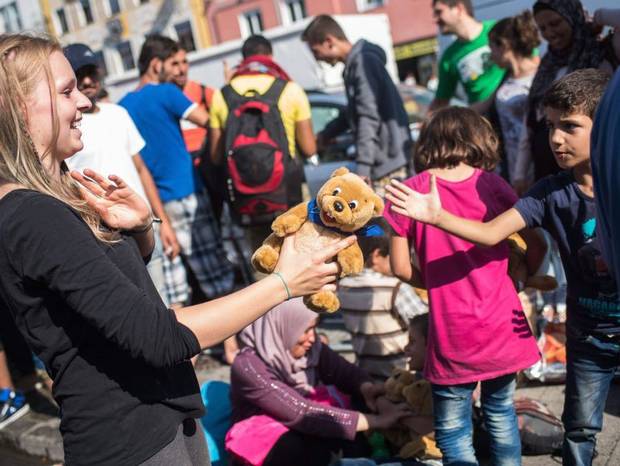 Written by Amanda Froelich at trueactivist.com
The outpouring of generosity by German residents has been so substantial, police in Munich have become "overwhelmed."
Here's news concerning Syria you can feel good about. Like Iceland residents opening up their homes after their government capped the Syrian refugee number at 50, German residents are opening their hearts and helping provide relief for the many Syrian refugees flooding into the city of Munich.
As the Independent UK reports, people have donated so much food, clothes and toys, the police of the German city have become overwhelmed and have asked them to stop. Polizei München's official account tweeted this morning that around 590 refugees were at the city's main train station. "Anyone who wants to help is welcome," the tweet said.
No one could have predicted the huge outpour of generosity that followed within minutes of hundreds of migrants disembarking at the Hauptbahnhof.
It was barely an hour after police announced the refugees' arrival that they were being inundated by volunteers with tons of gifts, such as food, drink and nappies for babies, to help them through their struggle. "We think it's great!" the police commented.
Shortly before 11 am, officers confirmed that the aid was continuing to flow in – with no sign of stopping.
By 1 PM, police and local authorities became overwhelmed transferring the refugees to reception centers and dealing with the influx of donated assistance. They kindly asked for people to "please bring no more items." 
Later, they followed up with: "The existing donations for the refugees present and those still coming are sufficient. Thank you, Munich."
Amazingly, help continued to trickle in, so the police shared contact details for the city council for those still seeking to donate.
The city of Munich has received thousands of asylum seekers and migrants arriving via its main train station in recent days. Many Syrians and Iraqis are seeking assistance, and many more are expected to come.
Political tension continues, but at least this good news goes to show the kindness that does exist in the world and is an update for all on this facet of the Syrian crisis. 
Related article: Despicable: British Tourists Complain Of Refugees 'Ruining Their Holidays' In Greece
---
This article (German People Are Giving So Much To Migrants, The Police Had To Ask Them To Stop) is free and open source. You have permission to republish this article under a Creative Commons license with attribution to the author and TrueActivist.com