Do you know that you are being tracked by your every move you make on the internet? You see, the online activities in which you perform is very valuable and large companies continue to track and collect your online activity. This is performed by "Online Vendors" who have created tags on web pages and even apps that carry out scripts. This in returns sends your information back to the company and informs them on how you utilize the web.
Educational talk time…
What are "Tags"? No we are not talking about playing a game Tag. In fact, a "Tag" is actually are rather simple pieces of data (just a few words in length) in which describes the item that is tagged. These tags, which can be found all over the internet, provide and host information about the tagged item as well as making it easier for you to see related items in which carry the same tag.
**Example. You are reading something about Dirt Bikes. Well ads and other google search results will pop up other links for more dirt bikes.
Why do companies even use Tags? Tags are very similar to a category system, but completely different at the same time. When you use a category system, you place certain things in an organized matter (most commonly alphabetically). However, when you are searching for something, we will use Dirt Bikes again, and you are looking to purchase Yoshimura Off-road RS-4 with full system
exhaust, your first thought is to look under Dirt Bikes. You don't see it. But you know it also a Yamaha, so you look under Yamaha. Still, you don't see it. Now you know it is a Yoshimura model, finally you find it. You see when companies develop their website and use Tags, they are utilizing a very advanced category system to help you when you search for their company or product. By placing certain words of their company, or product, they can then gain more chances of being seen by you when you type in "Key Words" that are connected to their website tags.**
Now, thanks to advancing technology from Ghostery, you can install a simple add-on for your browser and take control of your online experiences. The services provides you with detailed information about who is tracking you and allows to prevent them from tracking you. This is an easy to use system, and with just a few simple clicks you are protected from trackers.
You can download the Free Ghostery Add-On here!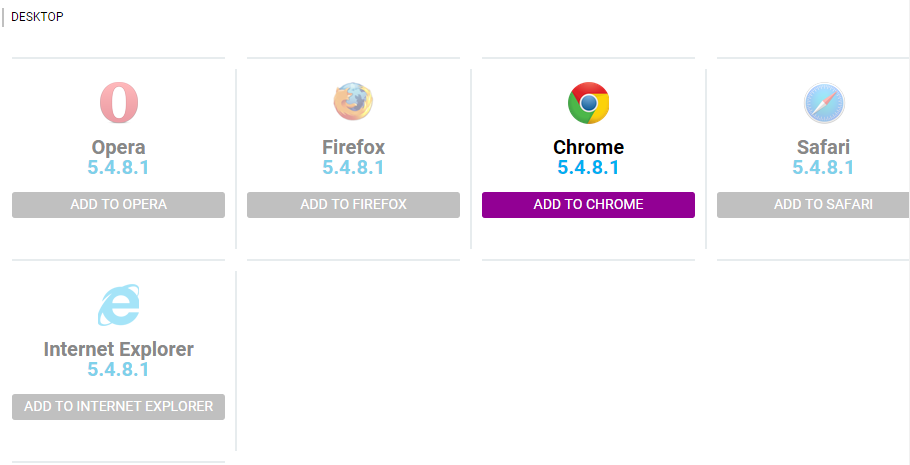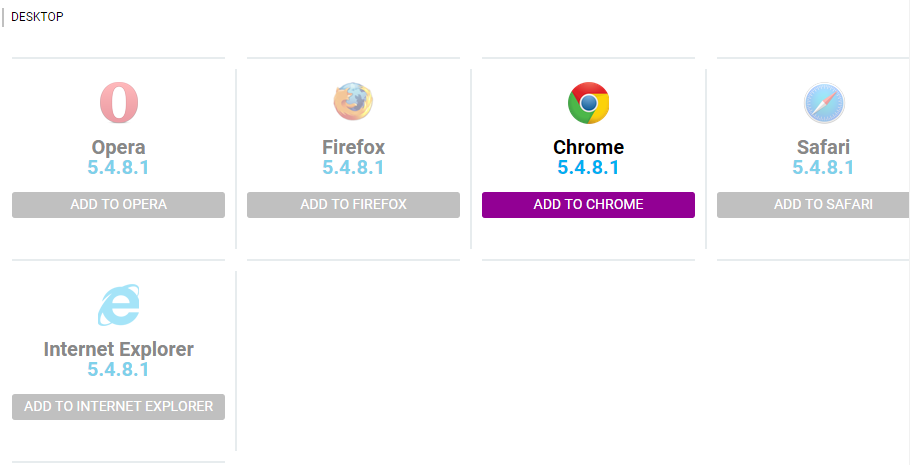 Once you click on the link above, you will be directed to a new screen. On that screen you will see a blue box with a purple button "ADD TO BROWSER". Click on that button and you are directed to another page that detects your browser automatically. Just click on the "Add to…" and your choice of browser.
You are then directed to your browsers extensions page with the Ghostery app already pulled up and awaiting you to confirm the addition of Ghostery. Now that you have enabled the Ghostery Extension installed, you are directed to the introductory page and allows you to get started using Ghostery.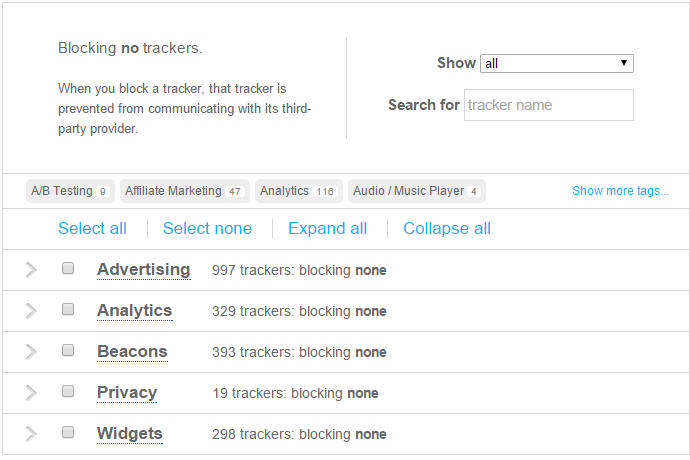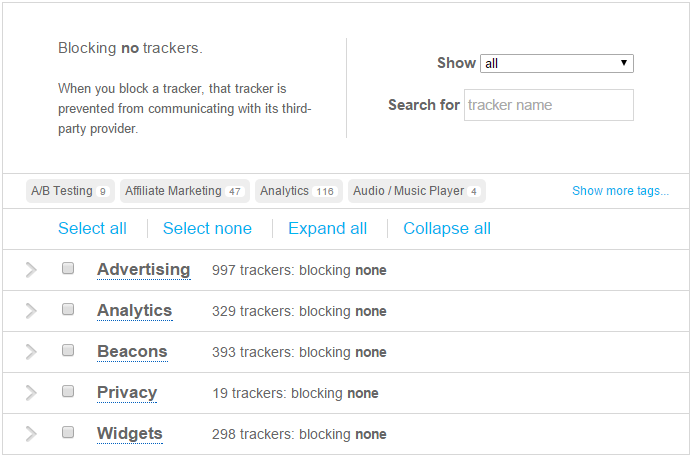 The screen you see above indicates the known trackers that are tracking you. As you can see we have a lot of trackers. So how do you stop them? By simply clicking on the checkbox next to each of the names you will see it change from "Blocking none" to "Blocking all" as you can see in the image below.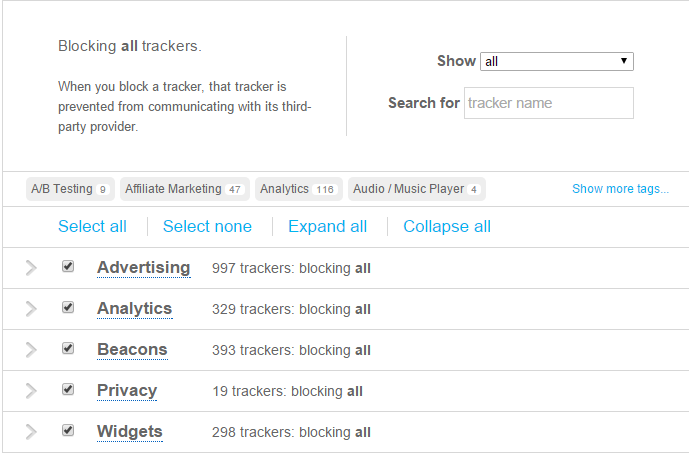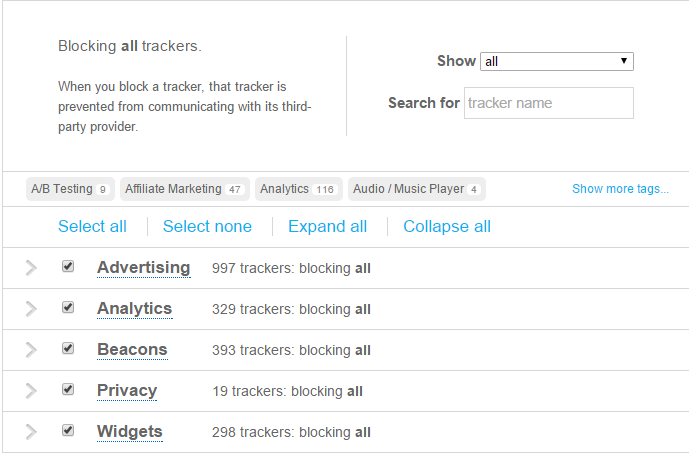 Another great feature of this extension is the ability to see who is tracking you. Simply click on any one (or all) of the selections (i.e. Advertising). This brings a dropdown selection with all of the companies that are tracking you. I have one that is from "33Across". I have posted an image that describes this company and even provides a website directly to the company.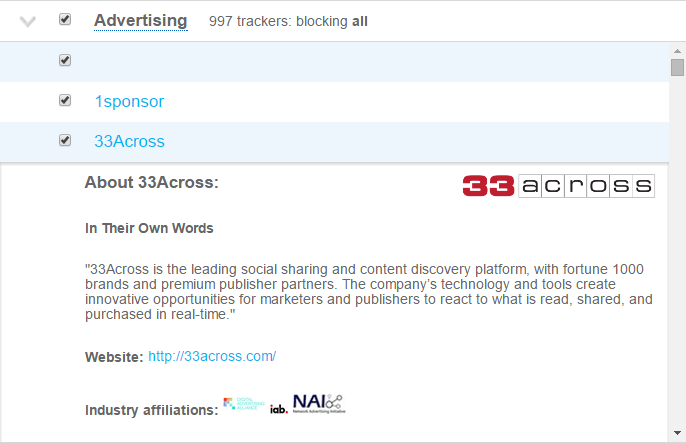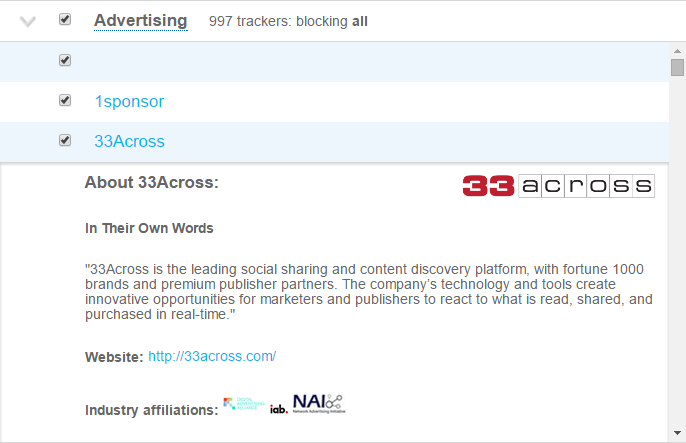 This is helpful as you can now track them as they track you.
If they track you on your computer, think they won't track you on your mobile phone? Think again. But luckily here…Guess what. Yep, Ghostery also has your mobile experiences covered as well. Ghostery covers both Android and iOS for your added security measures and less tracking activities.
Don't worry, with all of the tools to stop companies tracking, you are still able to use the web as if nothing is going on. So you can still check that Facebook feed, Twitter, and YouTube.
Ghostery comes complete by protecting from over 2,000 trackers, and comes fuller manageable and allows you to manage your data. With such simplicity, it is also extremely robust as they continue to improve their tool as it ensures you that Ghostery remains easy to use, convenient, and as intuitive as it possibly can be.

Link: https://www.ghostery.com/why-ghostery/for-individuals/?nr