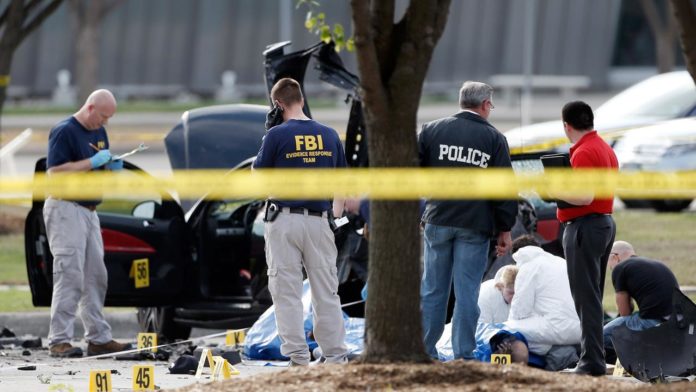 Two gunmen were shot dead by cops after they attacked 'Muhammad Art Exhibit and Cartoon Contest' at Curtis Culwell Center in Garland near Dallas; one of them, Elton Simpson, was a former terror suspect well known to the FBI. The other man involved is believed to have been his roommate in a Phoenix apartment.
Simpson, also known as Ibrahim in the Arizona Muslim community, was a convert to Islam and convicted of making a false statement involving international and domestic terrorism and sentenced to three years of probation. He had made his intentions clear via a tweet hours before opening fire at the Center.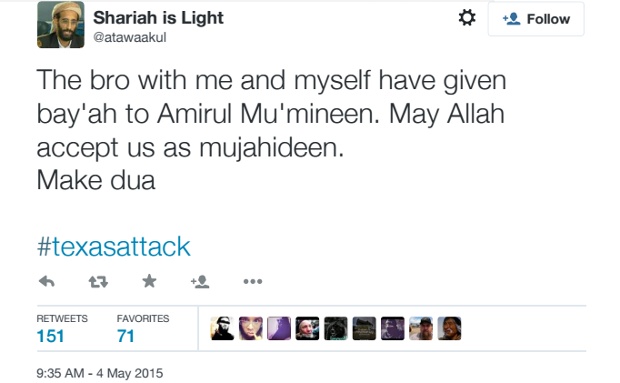 An ISIS fighter too claimed on Twitter that the shooting was carried out by two pro-ISIS individuals.
Brit jihadi claims #ISIS behind #texasattack: "They Thought They Was Safe In Texas From The Soldiers of The Islamic State" @siteintelgroup

— Annabel Symington (@A_Symington) May 4, 2015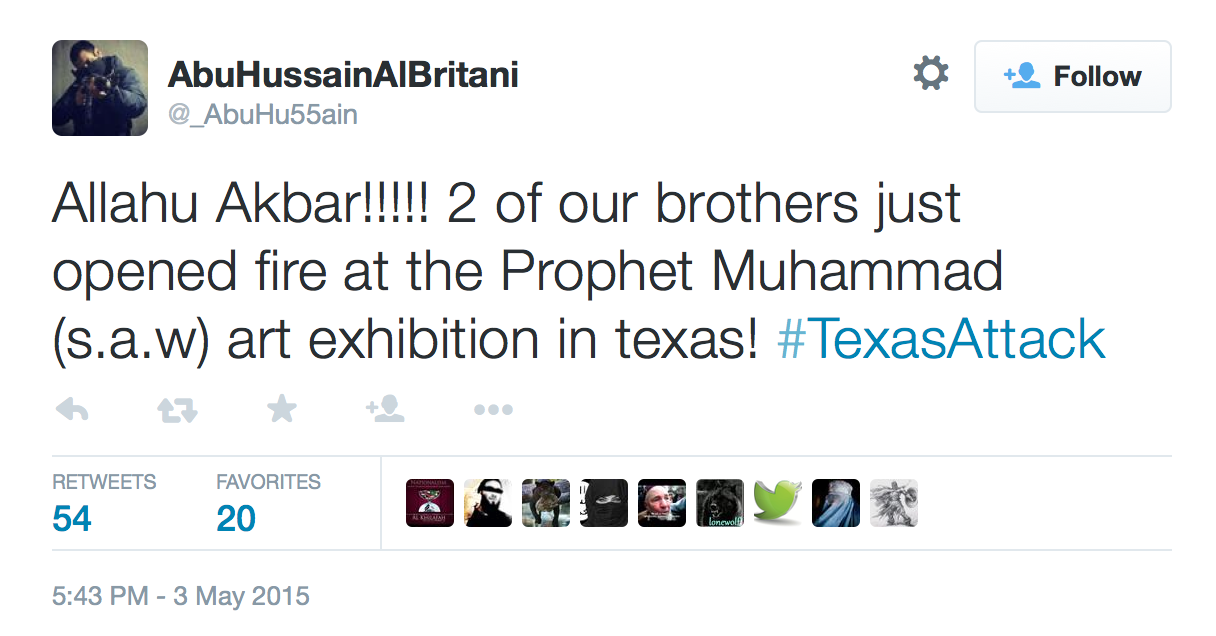 Douglas Athas, the mayor of Garland, told reporters, "Two men in a car tried to drive into the parking lot, jumped out with automatic rifles. Started firing at an unarmed schools security officer who was hit in the leg. He was transported to the hospital. The first suspect was shot immediately. The second was shot and wounded, reached for his backpack and, of course, officers not knowing any idea what was in the backpack, shot him again and he was killed."
The American Freedom Defense Initiative contest, described as a "free speech event", had offered a $10,000 prize for the best caricature of the prophet. This is the winning cartoon:
The winning cartoon from #garlandshooting. Now getting more circulation than it would have done if no #texasattack. pic.twitter.com/SjDKd16DBS — A Libertarian Rebel (@A_Liberty_Rebel) May 4, 2015
Opponents are now attacking both the event and its organizers calling it an attack on Islam. The AFDI has responded saying they "were simply exercising their right of expression", while Pamela Geller, the group's president, has noted the extra $10,000 on security was "the high cost of freedom". The AFDI's event was attended by Geert Wilders, the Dutch far-right populist politician who heads the Party for Freedom and has been accused of inciting racial hatred after pledging in 2014 to ensure there would be "fewer Moroccans" in the Netherlands.
@jihadwatchRS #FreeSpeech event? Wasn't it more like a spreading hate and asking for trouble event? #texasattack #texasattack

— J. Zach Hollo (@JZachHollo) May 4, 2015
the insulting drawings inside the building were a greater crime than murder #texasattack — Mizanur Rahman (@Abu_Baraa1) May 4, 2015
Did white people not learn from the Charlie Hebdo terror attack???! Why in hell do you have a "Draw Muhammad" art exhibit!!!! #texasattack

— melissa. (@annoyedarab) May 4, 2015
You f**kin hypocrates. Dare to draw #Holocaust in the name of freedom of expression. You will spend rest of your life in prison #texasattack — Under-Cover ︻┳テ=一 (@SSGsniper) May 4, 2015
Remember when Catholics shot at people over elephant dung being thrown at the Virgin Mary in the name of art. Yeah, me neither #TexasAttack

— PS (@ParvaSaeua) May 4, 2015
According to the Left it is exercising free speech to stomp USA flag, but insulting to muslims to draw muhammad . #texasattack — Dodie (@DodieClouse) May 4, 2015
People are hurt, but then there are some sane voices too.
As a Muslim, I am much more offended when violent people kill in the name of my religion than I am when Islamophobes attack it. #TexasAttack

— عمر فلسطين (@WeTeachLifeSir_) May 4, 2015
It's no surprise that those who commit acts of terror in "the name of Islam" have NO knowledge/involvement w/ Islam/community. #TexasAttack — AbdelRahman Murphy (@AbdelRahmanM) May 4, 2015
More people have died this year from Toonophobia than Islamophobia. #garlandshooting #texasattack pic.twitter.com/m8UyDYVXSe

— Chile's Atheist (@lalodagach) May 4, 2015
Geller/Wilder and ISIS all want a war. Don't give it to them. #texasattack pic.twitter.com/HPUOaAFetd — Omar Suleiman (@omarsuleiman504) May 4, 2015
Don't allow this hate. Stand tall stand together and #TakeOnHate. Stay united. Scary as hell. #TexasAttack pic.twitter.com/0vkLImM7Lk

— Linda Sarsour (@lsarsour) May 4, 2015
---
You want to discuss a certain topic with likeminded people or you want to organize a local protest or you have an idea for a project that can help people in need in your local community or all around the world? Join our forum! www.anonboards.com
---
You want to support Anonymous Independent & Investigative News? Please, follow us on Twitter: Follow @AnonymousNewsHQ
---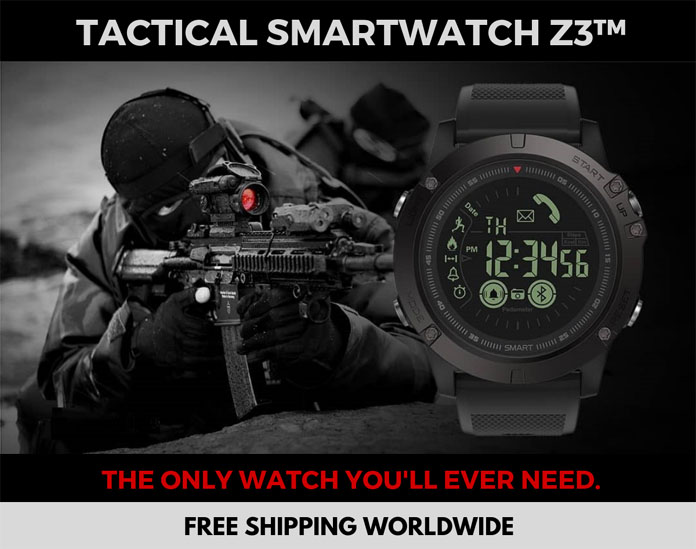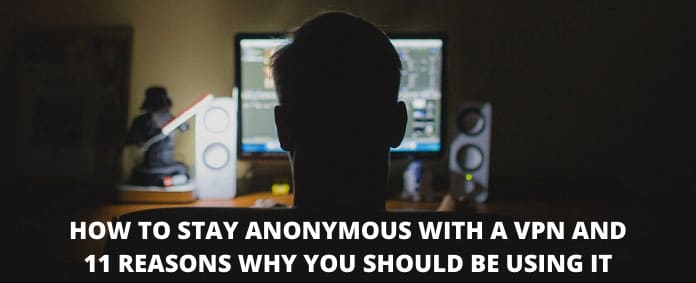 Get Your Anonymous T-Shirt / Sweatshirt / Hoodie / Tanktop, Smartphone or Tablet Cover or Mug In Our
Spreadshirt Shop
!
Click Here
Remove all ads by clicking here