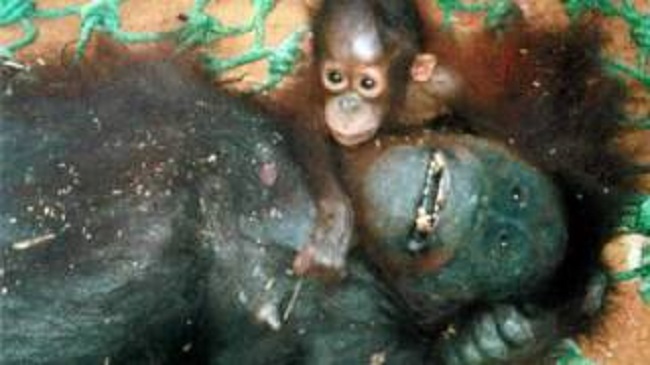 By Amanda Froelich at trueactivist.com
This is the cost of palm oil. Take a good look.
Did you know? Every hour, up to 300 football fields of forest are cleared to make room for palm plantations. Palm oil, a type of vegetable oil derived from the palm fruit, is used in a number of products consumers readily use.
The single vegetable oil is found in approximately 40-50% of household products and is used in everything, from shampoo and baked goods to Nutella and cleaning agents. Unfortunately, the ingredient is devastating the environment and wildlife – specifically orangutan populations.
According to
One Green Planet
, palm oil plantations are responsible for killing approximately 1,000 orangutans each year. This is mainly due to forests being cleared for production. Now, only 6,300 Sumatran orangutans are left in the wild, and two species of orangutans are now classified as endangered.
While activists are raising awareness about the issue, not enough is being done. Until a large percentage of consumers refuse to purchase products which contain palm oil, forests will continue to be cleared for plantations. This cannot be allowed to continue, and a few poignant images affirm this declaration.
Recently, International Animal Rescue (IAR) came across a frightened orangutan clinging to the last tree in a razed field. She was "stranded, starving, and left to die," relay the activists.
The orangutan's home had been destroyed, likely to make way for a palm oil plantation, and the heartbreaking image reveals her clinging to the tree, confused and unsure of her next move.
Says the IAR:
"Thankfully, our team reached this orangutan just in time and were able to translocate her to safety." 
The Dodo relays that the few orangutans who survive their homes being destroyed are in good hands with the IAR. Activists with the organization strive to provide the apes the medical treatment and care they need so they can enjoy the rest of their lives in peace and safety.

While the work the IAR is doing is admirable, it's a last ditch effort to protect wildlife, which is being adversely affected by human activity. Click here to learn more about the products you likely purchase which consume palm oil, and consider donating to the IAR by following this link.
Remember, you vote with your dollar and your activism is far more important than you may realize.
Please comment your thoughts below and share this news!
---
This article ( Heartbreaking Image Of Orangutan Clinging To Last Tree Reveals Toll Of Palm Oil Industry) is free and open source. You have permission to republish this article under a Creative Commons license with attribution to the author and TrueActivist.com