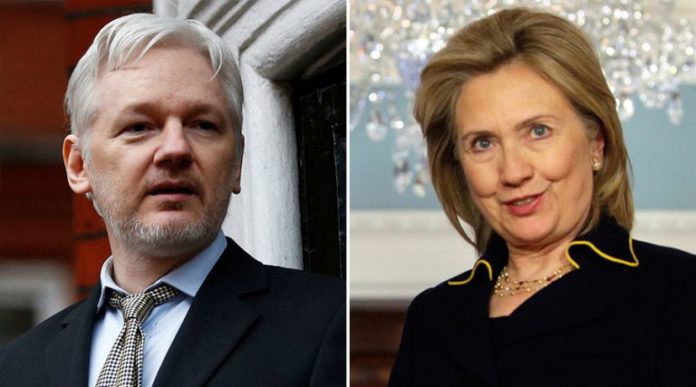 By Whitney Webb at trueactivist.com
State Department Sources allege that others present at the meeting first laughed at her suggestion until they realized she was deadly serious.
Hillary Clinton, while serving as US Secretary of State, reportedly wanted to kill Wikileaks founder Julian Assange in a drone strike, according to State Department insider sources. Clinton and the State Department were put under enormous pressure to silence Wikileaks in the months leading up to "CableGate," a massive document dump of over 250,000 diplomatic cables ranging from 1966 to 2010. Clinton and her State Department staff held several meetings about how to resolve the Wikileaks "situation" as Wikileaks has previously exposed criminal military actions and secrets relating to the war in Afghanistan and Iraq.
According to State Department sources, Clinton's suggestion of using a drone strike took place on November 23, 2010. While discussing how to spin, slow, or control the fallout from upcoming Wikileaks releases, Clinton at one point blurted out "Can't we just drone this guy?" The people in the room allegedly laughed at her comment until they realized she was serious. Clinton was said to have been fuming about the Australian journalist / publisher and the organization he founded in 2006. She referred to Assange as a "soft" target as he was "walking around freely" and thumbing his nose without fearing any reprisals from the United States.
To defuse the situation, someone else at the meeting suggested offering a $10 million reward to anyone who could secure Assange's extradition to the US. The actual outcome of the meeting is unknown though the result is assumed to be in an attachment discussing "legal and nonlegal strategies re Wikileaks," according to released emails once kept on Clinton's private server. Wikileaks itself has the email but not the attachment, which, we can assume, elaborates upon the nature of said strategies. Regardless of what was decided, CableGate occurred unimpeded 5 days after the meeting.
Hillary Clinton on Assange "Can't we just drone this guy" — report https://t.co/S7tPrl2QCZ pic.twitter.com/qy2EQBa48y

— WikiLeaks (@wikileaks) October 3, 2016

The suggestion of using a drone to kill Assange was apparently typical of Clinton during her time as Secretary of State. The FBI's investigation of her private email server turned up numerous discussions Clinton had regarding "nominating" individuals for drone strikes. She was later found to have approved drone strikes with her cell phone that ultimately killed thousands of civilians, including up to 200 children in Pakistan alone. According to the now-released FBI report:
"Clinton could not recall a specific process for nominating a target for a drone strike and recalled much debate pertaining to the concurrence process. Clinton knew there was a role for DOD, State and the CIA but could not provide specifics as to what it was. Due to a disagreement between these agencies, Clinton recalled having many discussions related to nominating an individual for a drone strike."
Six years later, Assange has again aroused the ire of Hillary Clinton, especially following the DNC leaks earlier this year, which exposed how the Democratic primary was rigged in her favor, as well as leaks of her private emails. Assange is set to make a big announcement regarding the highly-anticipated next round of Clinton-related leaks in only a few hours, but canceled this due to "security concerns." It seems highly likely that these security concerns could be related to Clinton's penchant for seeking to covertly "do away with" those who repeatedly work against her interests. If the Ecuadorian Embassy is bombed in the next few hours, at least we'll know who to blame.
What are your thoughts? Please comment below and share this news!
---
This article (Hillary Clinton Suggested Murdering Assange By Drone in 2010 State Department Meeting) is free and open source. You have permission to republish this article under a Creative Commons license with attribution to the author and TrueActivist.com