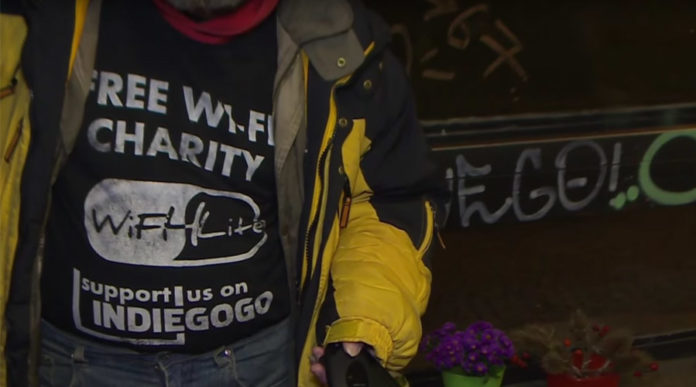 Mobile data can be costly, and practically unusable whenever you actually need it. Tourists also need to access the internet if they get lost, and buying a phone card for a trip that would last a few days seems rather wasteful.
Homeless people are avoided, isolated and forgotten by their well-heeled peers. If they are to ever find a place in society again, they need to be provided with a second chance at life, and they need to be shown compassion rather than be shunned.
An innovative Czech charity has brought a solution to both problems, one which can and should be exported to America and the world as a whole.
They have offered the homeless in the capital city of Prague work as Wifi distributors-
"WiFi4Life" is giving the homeless a new lease on life, providing them with a pocket WiFi hotspot and a power bank. Anyone passing these super-powered homeless can tap on their Wi-Fi and battery-charging prowess, while the homeless get meals, clothing, allowances and even a home.
"We choose homeless people because they are already in the street and most of the time they have nothing to do and we want them to start working … This, to provide internet, is one of the jobs they can do," Lubos Bolecek, chairman of WiFi4Life, told RT's Ruptly video agency.
The WiFi is provided free to whomever who wishes to use it, and the cost of running the operation will not even be borne by the tax payer. Instead, it will be funded via WiFi4Life's Indegogo crowdfunding campaign.
One of the homeless participants is Kamol Krtil, who spends 8 hours near a metro station for five days of every week.
"This (WiFi Hotspot) is not as heavy as magazines or newspapers. But the main advantage is that you have to buy the magazines or the newspapers and then sell it on your own, so for the WiFi hotspot it is not necessary to have any money to start," Krtil said.
"…it is modern, it is practical, it is very useful for everybody, for tourists who will be lost in the centre of Prague," Vaclav Hovorka, coordinator of WiFi4Life said.
Obvious drawbacks include the potential for theft of the hotspot and powerbank. Less obvious is the controversial consequences of prolonged close-proximity exposure to WiFi radiation, with most scientists apparently believing that WiFi exposure is safe.
---
This Article (Homeless Turned Into Roving WiFi Hotspots, Get Fed, Sheltered And Paid) is free and open source. You have permission to republish this article under a Creative Commons license with attribution to the author(CoNN) and AnonHQ.com.