What explains the recent surge in American jihadi recruits? Who are the Americans lured by the siren songs of ISIS' propaganda? How do they embrace such radical ideology, turning their backs on their country and, in most cases, their families? Do they do so by themselves or in clusters of like-minded individuals? Once radicalized, what do they seek: to join the ISIS caliphate between Syria and Iraq or to carry out attacks in the US?
An analysis of legal documents and social media accounts of nearly 400 American ISIS followers by George Washington University has provided a comprehensive overview of ISIS-relate radicalization and mobilization in the United States. The report has found that support for ISIS is growing in the United States and the size of the ISIS-related radicalization and mobilization in the country is unprecedented – there are currently 900 active investigations into ISIS sympathizers in every American state.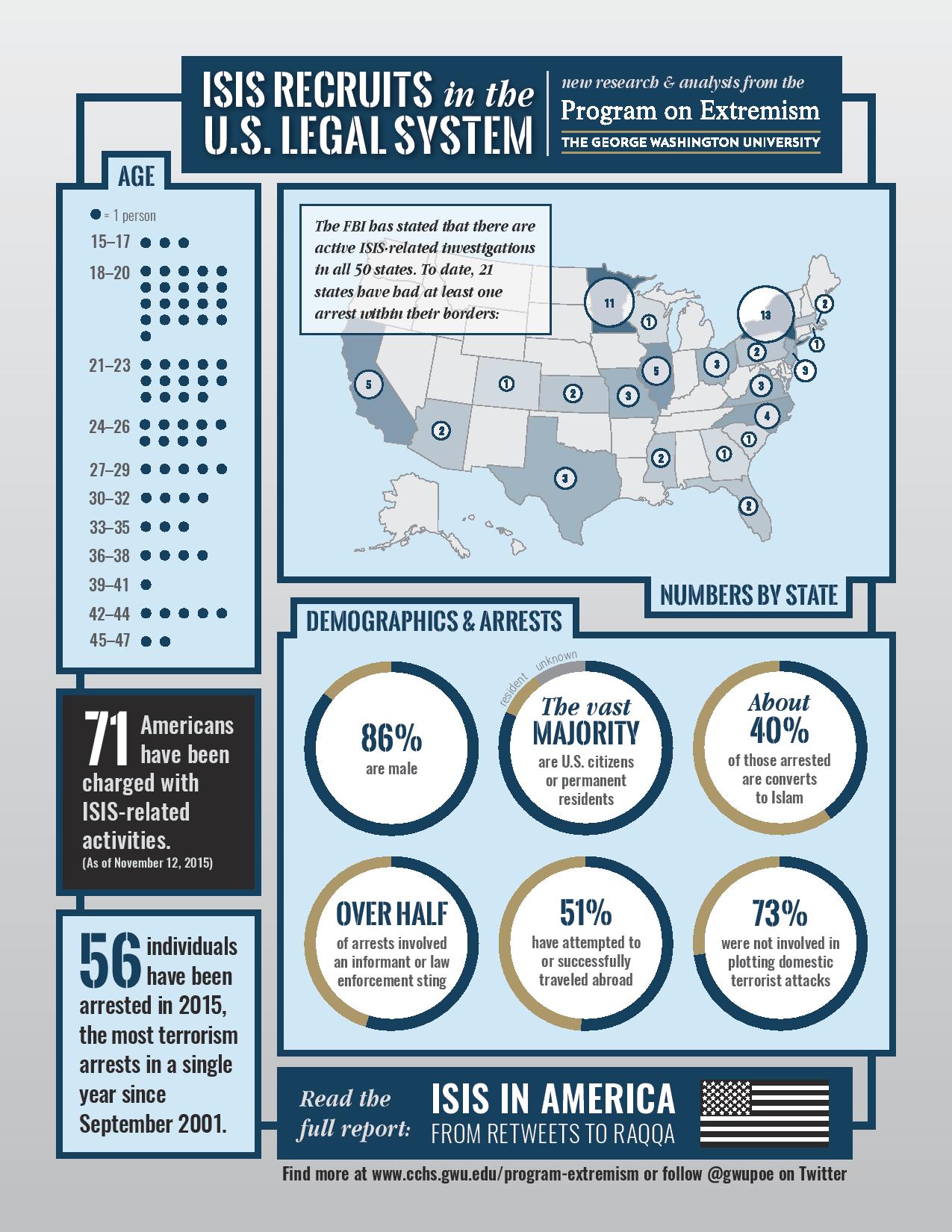 According to the study, "ISIS in America: From Retweets to Raqqa", 2015 has already seen the largest number of terrorism-related arrests in a single year since 9/11. Many of those arrests were connected to ISIS—of the 71 people who have been charged with supporting or plotting with ISIS since March 2014, 56 of those arrests came in 2015 alone.
Of those charged, the six-month study found that the average age is 26. 86% are male. Their activities were located in 21 states. 51% traveled or attempted to travel abroad. 27% were involved in plots to carry out attacks on US soil. 55% were arrested in an operation involving an informant and/or an undercover agent. Approximately 40% of those arrested are converts to Islam. Given that an estimated 23% of the American Muslim population are converts, it is evident that converts are over-represented among American ISIS supporters.
US authorities have estimated that several thousand Americans consume ISIS propaganda online. American ISIS activists and sympathizers are active on a variety of platforms, from open forums like Facebook, Google+ and Tumblr to more discreet messaging applications such as Kik, Telegram, surespot and the dark web. But Twitter is by far the platform of choice of this informal echo chamber, the report noted.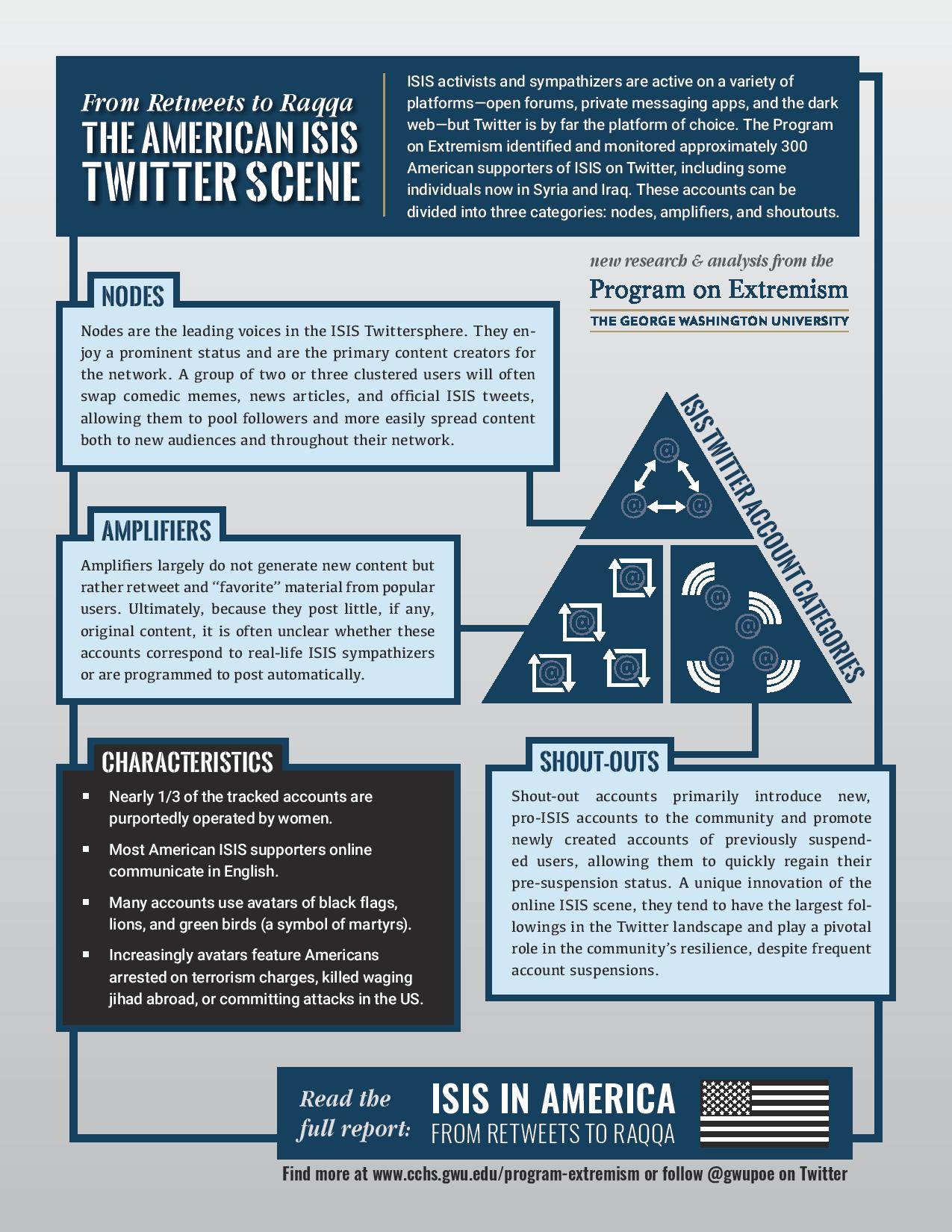 Having a Twitter account suspended has become a "badge of honour" among US-based ISIS supporters, researchers found, and they are adopting increasingly sophisticated techniques to circumvent the authorities in a "never-ending cat-and-mouse game".
According to the study, a significant number of American ISIS supporters use avatars of black flags, lions, and green birds – a scriptural reference from a hadith, or reported saying from the prophet Mohammad, that celebrates the virtues of martyrdom; jihadists term fallen comrades "green birds" to eulogize them as pious, faithful Muslims.
A particularly clever account uses a picture of the Detroit Lions, combining a distinctly American pride in an NFL team and the popular Islamic symbol of bravery very frequently used by Isis supporters. Images, quotes and links to lectures of the deceased radical cleric Anwar al-Awlaki are favourites of the American Isis scene. Increasingly, photos of other Americans who have been arrested on terrorism charges, killed waging jihad abroad or were responsible for homegrown terrorist attacks are used as avatars.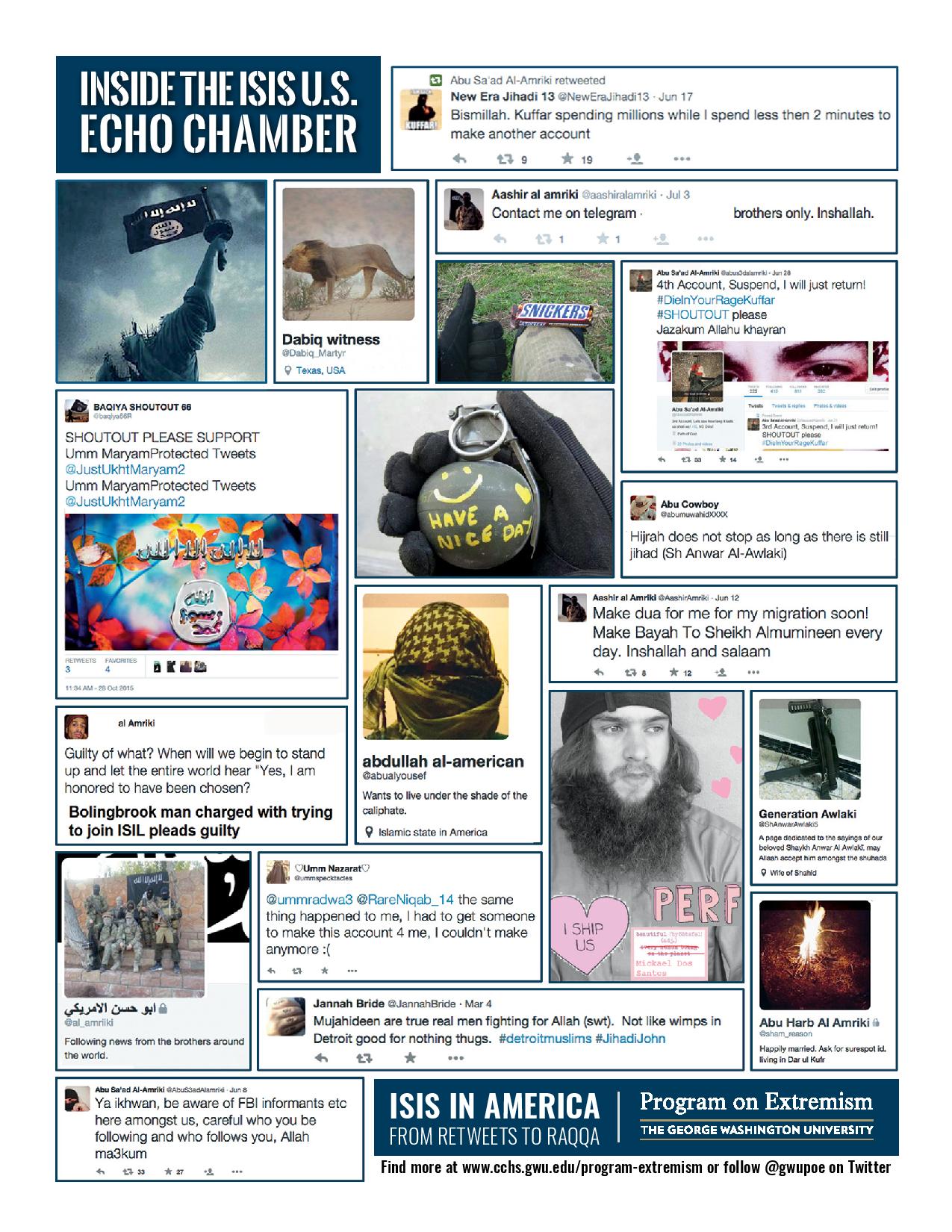 The study divided ISIS supporters on Twitter into three categories: the "nodes" are the leading voices and generators of primary content, the "amplifiers" retweet material (it can be unclear whether they are real people or automated) and the "shout-outs" promote newly created accounts of suspended users.
Shout-out accounts are a unique innovation and vital to the survival of the Isis online scene. They primarily introduce new, pro-Isis accounts to the community and promote newly created accounts of previously suspended users, allowing them to quickly regain their pre-suspension status. Although they tweet little substantive content, shout-out accounts tend to have the largest followings in the Twitter landscape and therefore play a pivotal role in the resilience of ISIS' Twitter community.
Describing the ISIS sympathizers, Vidino said, "While some seek to join the self-declared caliphate in ISIS-controlled territory, others plan attacks within the US. It's a growing and disturbing phenomenon. We have seen cases in big cities and rural towns. The individuals involved range from hardened militants to teenage girls, petty criminals and college students."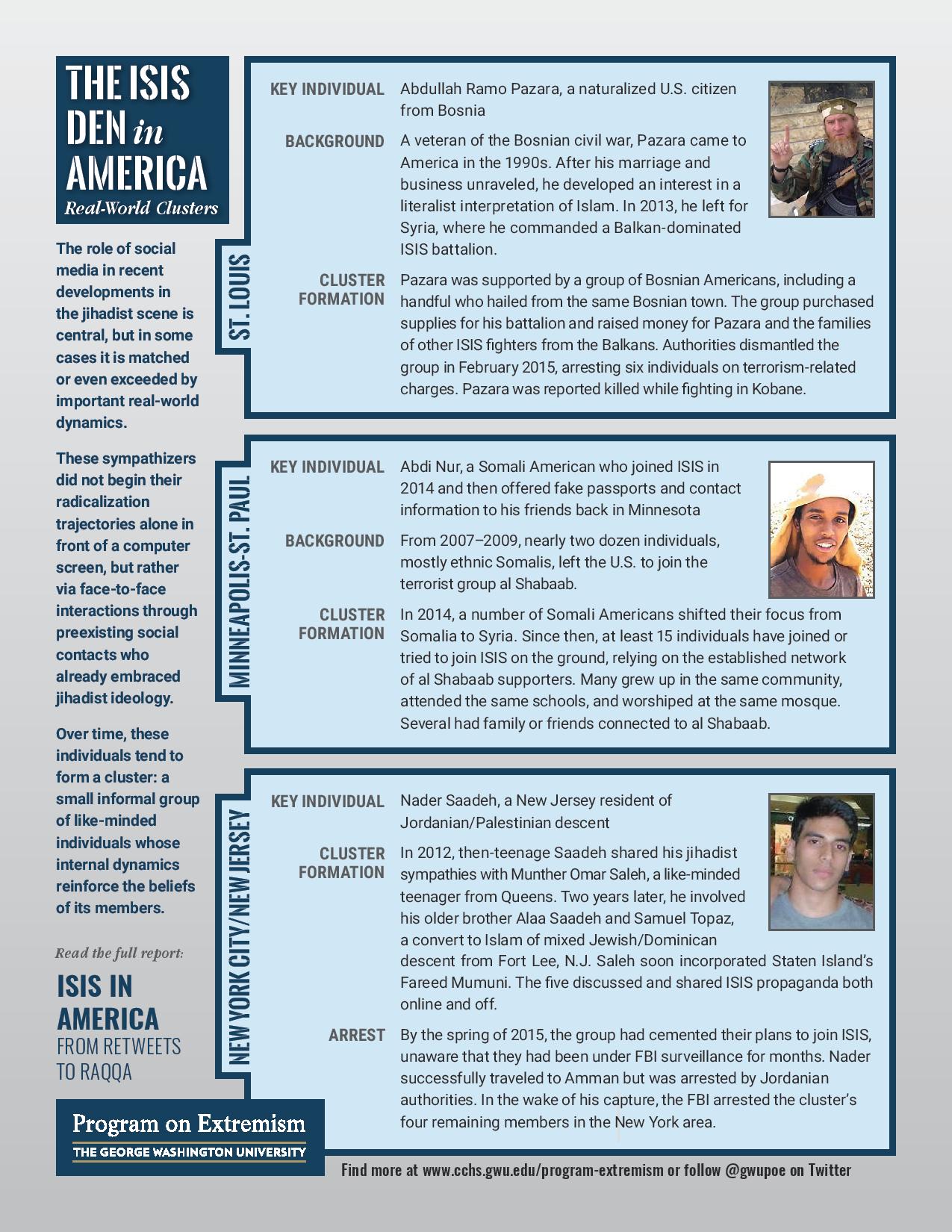 The researchers said the Internet isn't always the main point of contact. In some cases, people became radicalized by in-person meetings with "preexisting social contacts who already embraced jihadist ideology" — and over time, a cluster of like-minded individuals forms. They added that most of the sympathizers who are engaged in an ISIS "counter-culture" will never "make the leap from talk to action".
As for how to combat ISIS' reach in America, the report's authors recommended boosting funding to create dynamic programs; helping non–law enforcement groups take people off the path to radicalization; and encouraging American Muslims to engage with ISIS supporters without fear of becoming a target of a federal inquiry.
---
This Article (How ISIS Is Radicalizing & Recruiting Americans – On US Soil) is free and open source. You have permission to republish this article under a Creative Commons license with attribution to the author and AnonHQ.com.