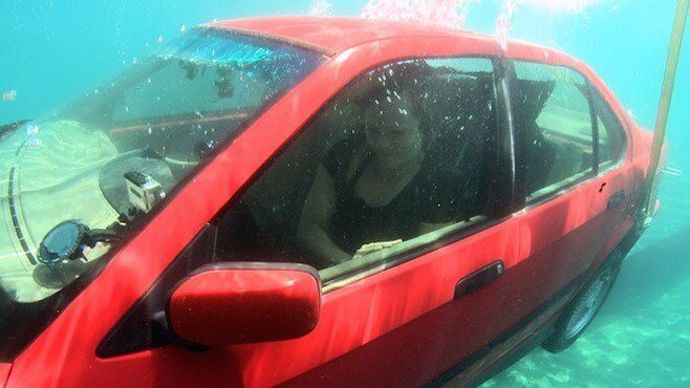 Two of every three U.S. flash flood deaths occur in vehicles. Vehicle submersions, which account for 5 – 11% of all drownings in several industrialized countries, cause about 400 fatalities in the United States annually. Although more than 33,000 motor vehicle traffic deaths in the U.S. are reported every year, very little is known about drowning deaths that occur as a result of motor vehicle traffic accidents.
While the mere thought of your vehicle plunging into deep water or being swept away in flowing flood waters can knock you off your feet, you can survive drowning — whether it's an accident [when your vehicle's central locking or power windows system fails] or a flooded river/street [when floodwaters rush into your vehicle and doors get jammed] — in less than 20 seconds by adopting a simple but crucial procedure for escaping.
Dr. Gordon Giesbrecht, Canadian researcher and professor of thermophysiology at the University of Manitoba, calls it SWO: SEATBELT(s) unfastened; WINDOWS open; and OUT. If you are traveling with children, then it is SCWO: SEATBELT(s) unfastened; CHILDREN released from restraints and brought closer to an adult; WINDOWS open; and OUT (children exit first).
"The bottom line is you cannot wait for rescuers to get to you. There simply isn't enough time. You have to get out of the vehicle before the water gets up against the windows, and that's really in the first 30 to 60 seconds. That means, don't reach for your cell phone when you hit the water. Don't call 9-1-1 from inside a sinking vehicle. You are responsible to save yourself in that scenario. You are not going to wait for help."
Drivers and passengers, he says, can scramble out of a sinking vehicle in time if they know just what to do right. In the video below, Geoff Fahringer, an expert diver with the dive rescue team for the Collier County Sheriff's department in Naples, Florida, demonstrates the procedure by rolling a 1987 Oldsmobile down a boat ramp and into an 8-foot-deep canal.
The key, Giesbrecht reminds, is to understand what you have to do long before one of these terrifying accidents ever happens. As soon as you are stuck in your vehicle underwater, undo your seat belt and open the window (you must leave the door alone).
If the window fails to open, take your headrest off and use the metal inserts to break it. Take a deep breath, and escape through the broken window. For safety, always keep a simple rescue tool (like Swiss Army knife) or a car window breaker and a seat belt cutter handy.
Giesbrecht says passenger vehicles pass through three distinct phases after contacting the water: FLOATING Phase, until the water reaches the bottom of the side windows; SINKING Phase, when water  rises  above  the  bottom  of  the  side  windows  and  the  water  level  outside  is  higher  than  the  level  within  the passenger compartment. These are then followed by the SUBMERSION Phase, when the vehicle is completely below the water surface and almost filled with water.
It is much easier to escape early by exiting through the windows when the submerged vehicle is still floating, adds Giesbrecht. In the early 1970s, the University of Oklahoma researchers had also declared that escaping through the windows while the vehicle is still on the surface of the water (especially deep water) is the best course of escape.
Too many victims, Giesbrecht finds, waste critical escape time calling 911 or wait before attempting an escape under the impression that it's better to exit through the doors after the vehicle sinks. Fahringer warns people who advocate staying in the vehicle until it hits the bottom, fills with water, and the air pressure is equalized so they can open the doors and escape:
"There's this fallacy that you have this magic air bubble. If you wait for this magic air bubble so you can get a breath and open the doors, by then it may be too late."
Related: How to Escape Drowning with Your Hands Tied
Giesbrecht's hair-raising research has resulted in the rewriting of the "Sinking Vehicle Protocol," and the creation of a new "Vehicle Stranded in Floodwater Protocol" used by the National Academies of Emergency Dispatch for 911 emergency dispatch operators throughout the world.
---
This article (How to Escape a Sinking Car and Save Your Life in Less Than 20 Seconds) is a free and open source. You have permission to republish this article under a Creative Commons license with attribution to the author and AnonHQ.com.
---
Supporting Anonymous' Independent & Investigative News is important to us. Please, follow us on Twitter: Follow @AnonymousNewsHQ