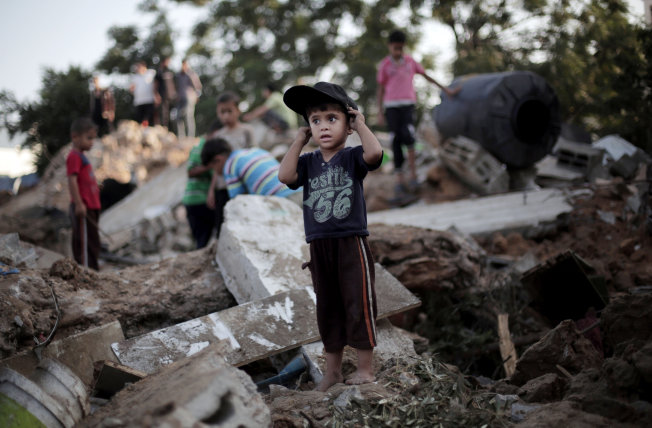 Despite killing over 500 children in Gaza in last summer's bombardment, Israel was excluded by UN Secretary General Ban Ki-moon from the List of Shame – a document outlining armed groups and states that violate children's rights during conflicts. Hamas, the militant group which traded accusations of gross rights violations with Israel, was also not included by the UN chief.
The UN special envoy for Children And Armed Conflict, Leila Zerrougui, had recommended that both Israel and Hamas, which controls the Gaza Strip, be placed on the list of parties that recruit, use, kill, maim or commit acts of sexual violence against children. At least 561 children (557 Palestinian, four Israeli) were killed and 4,271 injured (4,249 Palestinian and 22 Israeli) in 2014.
#UNSG CAAC report: #Israel forces killed 557 kids in OPT during 2014, third highest in 2014 behind Afghanistan & Iraq pic.twitter.com/d5xC2GYHgl

— Brad Parker (@baparkr) June 8, 2015
Ban, after choosing to ignore observations from within the UN and various rights' groups plea, said, "The unprecedented and unacceptable scale of the impact on children [as a result of Israeli military operations] in 2014 raises grave concerns about Israel's compliance with international humanitarian law, notably the principles of distinction, proportionality and precaution in attack, and respect for international human rights law, particularly in relation to excessive use of force."

Ironically, in November 2013, Ban had launched The Human Rights up Front (HRuF) initiative "to ensure the UN system takes early and effective action, as mandated by the Charter and UN resolutions, to prevent or respond to large-scale violations of human rights or international humanitarian law".
In August 2014, a total of 129 organizations and prominent individuals called on Ban to either do something or resign in light of his "biased statements… failure to act, and the inappropriate justification of Israel's violations of international humanitarian law, which amount to war crimes". But while the Secretary General earlier promised to "spare no effort to ensure that such incidents will never be repeated," he left Israel off the list.
Political pressure seems to have prevailed. We expected better from a Secretary-General who promised to put 'human rights up front' 3/3 — Philippe Bolopion (@Bolopion) June 8, 2015
"Ban's disappointing decision to override the advice of his special representative by removing Israel and Hamas is a blow to UN efforts to better protect children in armed conflict. Facts and consistency dictated that both be included on the list, but political pressure seems to have prevailed," said Human Rights Watch's Philippe Bolopion.
However, Ron Prosor, Israeli ambassador to the UN, welcomed the decision, "The UN Secretary General was right not to submit to the dictates of the terrorist organisations and the Arab states in his decision not to include Israel in this shameful list, together with organisations like Isis, al-Qaida and the Taliban. Instead of releasing thousands of reports and lists against Israel, the UN must unequivocally condemn the terrorist organisations that operate in the Gaza Strip."
The annual list names and shames governments and insurgent groups engaged in conflicts that lead to children's rights being violated. This year, the report includes groups in Afghanistan, Central African Republic, Congo, Iraq, Mali, Myanmar, Somalia, South Sudan, Sudan, Syria and Yemen as well as government forces in Congo, Somalia, Sudan, South Sudan and Yemen.
---
This Article (Hypocrisy: United Nations Chooses To Exclude Israel From List Of Shame) is free and open source. You have permission to republish this article under a Creative Commons license with attribution to the author and AnonHQ.com.