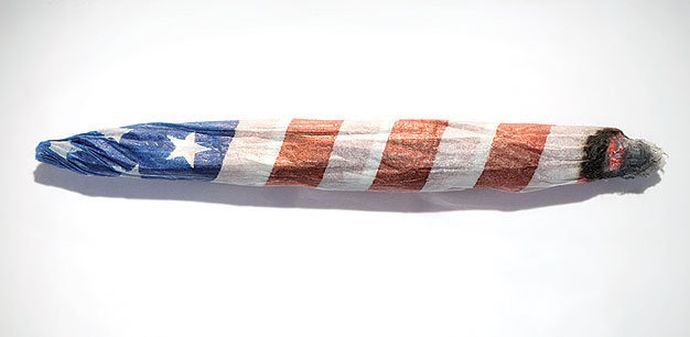 In April 1990 — long before the White House press secretary Sean Spicer indicated president Donald Trump's administration was interested in cracking down on states where recreational marijuana is legal, by enforcing federal marijuana laws — Trump had acknowledged that the United States should legalize drugs and use the money collected to educate the public on the dangers of drug use.
"We're losing badly the war on drugs. You have to legalize drugs to win that war. You have to take the profit away from these drug czars."
Then in October 2015 — after the third Republican debate was held in Colorado, which legalized marijuana for recreational use in 2012 — Trump insisted that in terms of marijuana and legalization, it should be a state issue, state-by-state. Later — during a political rally in Nevada, which recently legalized medical marijuana — Trump further softened his tone on marijuana legalization:
"Marijuana is such a big thing. I think medical should happen — right? Don't we agree? I think so. And then I really believe we should leave it up to the states."
#JFK using #cannabis #weed #ganja #marijuana to ease his back pain #naturalcures should be available to everyone in need #legalize #hemp pic.twitter.com/rdIBSNrjio

— budtoday (@getbudtoday) February 22, 2017
In February 2016, Trump hastened to point out his unequivocal support for medical marijuana. Speaking to Bill O'Reilly on Fox News, he acknowledged that he is one hundred percent in favor of medical marijuana and that legalizing it is "good in some ways":
"I know people that have serious problems… and… it [marijuana] really, really does help them."
As Trump grew older, perhaps, his memory deteriorated and he forgot his own stated position on marijuana after becoming the President of the United States. Or, perhaps he vowed to respect state marijuana rights on the campaign trail only to gain the votes he needed to infiltrate the oval office.
Isn't it unethical for Trump, who apparently supports states' rights, to crackdown on legal marijuana in states where voters have approved it? Why is Trump undermining his decade old stance about legalizing marijuana to help end the war on drugs? Does he want marijuana to be produced and sold by cartels and criminals, rather than tightly regulated taxpaying businesses?
#marijuana is a $1.3 BILLION Industry in Colorado. Provided 20,000 jobs. And our economy is BOOMING. $ going to schools and infrastructure.

— Julz ? (@JulzyaIsaidit) February 24, 2017
Can the federal government interfere in state marijuana laws or dishonor popular support on the issue? Who is going to compensate the states (in Washington state, sales at licensed marijuana shops now average nearly $4.4 million per day)? The Times Editorial Board notes:
"Decades of experience has shown that the U.S. can't win a war on marijuana. It would be foolhardy for the federal government to dig in on cannabis prohibition now, when voters are increasingly choosing to legalize the drug for medicinal and recreational use."
Roger Stone, a political strategist who advised Trump during his presidential campaign, criticized Spicer's remarks on Twitter:
A crackdown on legal marijuana in the states will cost thousands of jobs & bankrupt local govt- huge mistake #StatesRights @realDonaldTrump

— Roger Stone (@RogerJStoneJr) February 24, 2017
Spicer's remarks came the same day as a Quinnipiac poll found 59% of Americans believed marijuana should be legal, while 71% of voters opposed the government's move to enforce federal laws against marijuana in states that have already legalized medical or recreational marijuana. Eight states and Washington, D.C., have legalized marijuana for recreational purposes; 20 more states in the U.S. have legalized it for medical purposes.
Former president Barack Obama's administration did not enforce federal marijuana laws on these states and refused to intervene in state's marijuana laws as long as they kept marijuana — a Schedule 1 drug with no medical value — from crossing state borders and away from children and drug cartels.
Spicer one minute: "We are a states rights party."
Spicer next minute: Federal marijuana laws override state recreational marijuana laws.

— Paul Blumenthal (@PaulBlu) February 23, 2017
---
This article (ICYMI: When Donald Trump Favored Legal Marijuana — 100%) is a free and open source. You have permission to republish this article under a Creative Commons license with attribution to the author and AnonHQ.com.
---
Supporting Anonymous' Independent & Investigative News is important to us. Please, follow us on Twitter: Follow @AnonymousNewsHQ