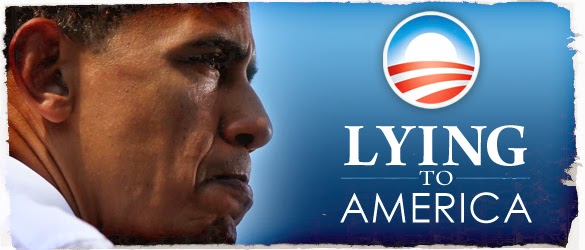 During Obama's campaign for the presidency in 2007 and 2008, he had promised that he was planning on "making health insurance universal." In non-politician speak, he had promised that 100% of Americans would have health insurance.
It has been 15 months since Obamacare was first open for enrollment and unfortunately, it has not met this promise. It is not even close to meeting his promise, and indeed is not even close to ever being able to meet his promise. To make matters worse, Obama has always known that he could never fulfill this promise, as shall be shown below.
Gallup Poll has tracked the percentage of Americans who had lacked health insurance since 2008, which came in at 12.9%, and on January 7th Gallup reported that it is now 14.6%.
Well done Obama, Obamacare has been in force for 15 months and you have increased coverage by a whopping 2%! You might be tempted to excuse this poorly predicted promise on his idealism, inexperience or naiveté, however there is evidence that this was not the case, and that he had told a bold-faced lie.
Universal Healthcare has been achieved by other developed Western nations, making Obama's "goals" not so far fetched. On June 16th, 2014, when the Commonwealth Fund issued their study, "How the U.S. Health Care System Compares Internationally," they reported that: "The United States health care system is the most expensive in the world, but this report and prior editions consistently show the U.S. under-performs relative to other countries on most dimensions of performance. Among the 11 nations studied in this report—Australia, Canada, France, Germany, the Netherlands, New Zealand, Norway, Sweden, Switzerland, the United Kingdom, and the United States—the U.S. ranks last, as it did in the 2010, 2007, 2006, and 2004 editions."
They emphasized the fact that: "The most notable way the U.S. differs from other industrialized countries is the absence of universal health insurance coverage. Other nations ensure the accessibility of care through universal health systems." This fact causes per-person medical expenses in the U.S. to rise relative to other countries, because, "Americans were the most likely to say they had access problems related to cost. Patients in the U.S. have rapid access to specialized health care services [which are the costliest type of health care services]; however, they are less likely to report rapid access to primary care [which is the type that's far less costly and that's long-term far more effective at producing a healthier population, and is thus a double-whammy better solution] than people in leading countries in the study."
Thus, the study had found (pg 13) that "health expenditures per capita, 2011" (which was the latest year) were $8,508 for the U.S., and ranged between $3,182 and $5,669 among all of the other ten — all of the countries that had universal insurance.
They had universal health insurance, and yet healthcare costs were about half of America's. At the same time, their healthcare was uniformly superior. This same analysis found (p. 12) that the "Overall Ranking" on "Quality Care" positioned the United States dead-last.
Real universal healthcare is certainly beneficial to the general populace, wherein the system treats healthcare as a right as opposed to a privilege. Truly free healthcare, as opposed to the insurance company boon that is Obamacare. In the US, where the opposite scenario plays out and healthcare is being treated as a privilege rather than a right, we see a system that is universally worse for the people.
Ironically, the real beneficiaries of this half-hearted attempt at universal healthcare are the CEOs of the insurance companies. These men contribute vast sums in political campaign financing in order to influence the policy of the politicians, and this windfall was certainly no accident.
Universal healthcare was a perfectly achievable ambition as observed by the ten success stories in the developed world. Unfortunately, Obamacare was never designed to achieve that lofty goal. Rather, it has always been intended as a means of simply forcing people to pay for insurance. As seen in the pathetic 2 percentage point rise in coverage, Obamacare was clearly a fraud.
Besides Obama, both Hillary Clinton and John Edwards were also peddling the exact same "universal healthcare" plan that he was. Politicians had simply given it a pretty label, with the words "universal healthcare," instead of the words "forced insurance". Unfortunately with all the "journalists" reporting on Obamacare, few have come to the realization that this was what had happened.
Bad enough that it was never Obama's intention to serve up what he had promised, he had a particular interest in not allowing the "public option" portion of his promise to come to fruition. Insurance companies had a specific concern regarding that part.
In order to achieve this true goal, he had worded the "public option" part of his promise in a particularly broad and general language that had rendered it meaningless to the critical observer. On 9 September 2009, he had taken a contradictory stance on this issue. He was now openly trying to peddle a product that was impossible to produce. Interestingly, nobody in the media had criticized this. He said, "I have no interest in putting insurance companies out of business. They provide a legitimate service, and employ a lot of our friends and neighbors. I just want to hold them accountable. (Applause.) And the insurance reforms that I've already mentioned would do just that. But an additional step we can take to keep insurance companies honest is by making a not-for-profit public option available in the insurance exchange. (Applause.) Now, let me be clear. Let me be clear. It would only be an option for those who don't have insurance."
At that very moment, he had ruled out a public option to compete against the insurance companies for the 85% (now 87%) who already had insurance. How would a public option that was unavailable to 85% of people be able to "keep insurance companies honest"? Indeed, he was actually blatantly admitting that he would be protecting their profitability while claiming that this would somehow keep them honest. Should this enforced insurance eventual force everyone into coverage, then nobody would have the public option.
This lie from Obama was detailed by an anonymous blogger who headlined on 22 December 2009, "President Obama: 'I Didn't Campaign on the Public Option'," where Obama's promises was shown as being nothing but a lie. That blog-post had been preceded by an interview with Obama which had just been published in the Washington Post headlining, "Obama Rejects Criticism on Health-Care Reform Legislation,". "'I didn't campaign on the public option,' Obama said in the interview." The President's claim was without a doubt an outright lie. You see, although the reality of the matter was that he had never intended for there to be a public option, he had repeatedly campaigned on the public option.
Knowing that the public option was extremely popular with the majority of Americans, he had used it to his advantage (Most polls showed support for the public option); after it is revealed that he had never intended to deliver it, he proceeds to brazenly lie about his track record.
A key piece of evidence in the blog-post "President Obama: 'I Didn't Campaign on the Public Option'," was an Obama campaign document that (like most of the others) was quickly removed from the Web after his election. This was because these promises were always meant to be broken, and nobody wanted little bits of quotable evidence to prove that he was an excellent liar. This document included the following statement, as copied here into a blog-post dated 30 May 2007, from very early in Obama's primary campaign against Hillary Clinton and John Edwards:
"Through the Exchange, any American will have the opportunity to enroll in the new public plan or purchase an approved private plan."
"any American." Is certainly not the same as "Let me be clear. It would only be an option for those who don't have insurance." How strange that none of the mainstream journalists had picked up on that.