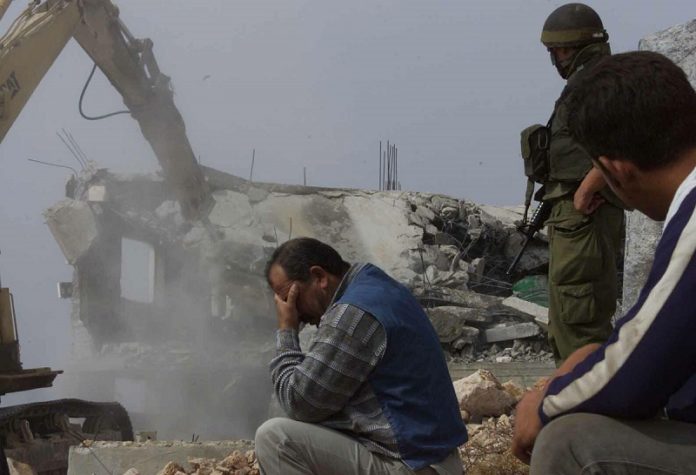 Written by: Hannibal
Despite the protests by top American and European officials, Israel still insistson continuing its illegal policy of destroying the homes of families of Palestinian terrorists to collectively punish them.  In a report by Ynet, Israel has refused an appeal by the ambassadors of the five biggest European Union nations not to continue its demolition of the homes of Palestinians who carried out the deadly attack that targeted Israel.
According to Haaretz's report, the senior Foreign Ministry official was told by German, British, French, Spanish and Italian ambassadors that such destructions will yield no result and it will only increase tensions.United States spokesman, Jeff Rathke, on Wednesday told reporters that,"the incessant destruction of homes by the Israelisis against the cause of peace, especially in a situation that is already tense."He also said that,"the nature of these home destructions by the Israelis had formerly been stopped when they saw that it was ineffective and unproductive. The Israeli Army in 2005 demanded that this policy be stopped because it wasn't doing them any good, the policy was only breeding hatred between Palestinian and Israeli people."
In Palestine, it is not uncommon for two or three generations to be housed under the same roof.  The destruction of homesis harming so many people, from children to adults. Israeli leaders decided to resume attack when they woke up to horrible Palestinian terror attacks, one of which was the attack on a Jerusalem synagogue, killing five Jews earlier this week. This destruction of Palestinian homes is being done, according to Israel, to prevent future attacks.
Following a meeting with the European diplomat, the Foreign Ministry spokesman, Emmanuel Nahshon, said that the attack on Palestiniansis not meant to be vengeful but rather to discourage others from carrying out any form of further terrorist attacks.The homes of cousins,Gamal and Uday Abu Jamal, the responsible parties of the synagogue attack, and Ibrahim al-Alkari and MuatazHijazi, are some of the homes that have been destroyed or slated to be destroyed. Last month,al-Akari, killed one Israeli and injured many others when he drove a truck into a crowd of Palestinians at the Jerusalem Tomb of Simeon. And last month, Yehuda Glick, was almost assassinated in Jerusalem by Hijazi.  The home destruction has been labeled as "illegal"and "immoral" by the group,B'Tselem.  The group alleged that the destruction of homes,regardless of its effectiveness, is wrong and unacceptable. They said,"it is against basic moral standardstopunish some people for the crimes of others."
According to Article 33 of the Fourth Geneva Convention, to which Israel is signatory, "no person may be punished for an offense he or she has not personally committed. Collective penalties, and likewise, all measures of intimidation or terrorism are prohibited,and the violation of these laws is to be considered war crimes under the convention."