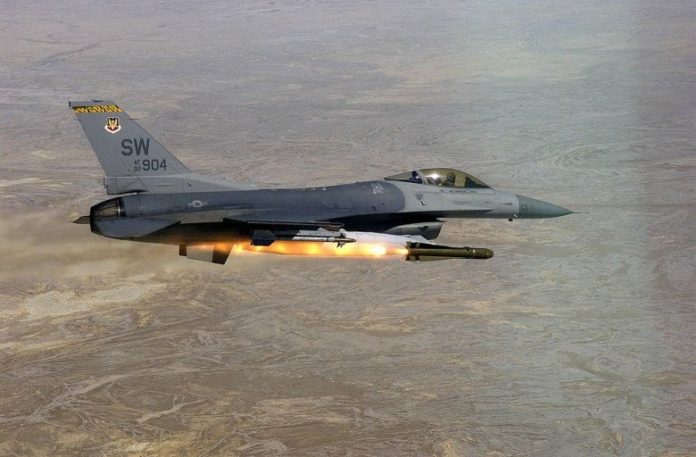 (MEE) Israeli jets struck four positions in Gaza on Thursday in the worst flaring of violence since the 2014 war, and as reports emerged that a captured Hamas militant was providing information on the group's tunnel network.
"In response to the ongoing attacks against Israeli forces, IAF (Israeli airforce) aircraft targeted four Hamas military posts in the southern Gaza Strip," the army said in a statement.
According to the army, Hamas had earlier fired "more than five mortar rounds at forces during operational activities adjacent to the security fence with the Gaza Strip."
Local sources told the Ma'an News Agency that Israeli F-16 jets launched several rockets on Gaza late on Thursday afternoon, hitting agricultural land in the Abu al-Rus area in eastern Rafah.
Earlier in the day four Palestinians, including three children, were injured earlier when Israeli forces carried out several air strikes on the strip.
One attack hit a metal workshop in the al-Zaytoun area southeast of Gaza City.
Hamas has accused Israeli forces of encroaching into Gazan territory.
Army spokesman Peter Lerner said in the last 24 hours "we have had at least six incidents where Hamas has fired at IDF activities," referring to the Israeli army.
He said that Israel had responded in what was the first direct confrontation between with Hamas fighters since the war of 2014, which killed thousands of Gazans.
Clashes between Palestinian fighters and Israeli forces were continuing east of Rafah in the southern Gaza Strip Thursday afternoon, security sources and witnesses said.
Israel's military said on Twitter that its forces had "responded with tank fire" to mortar rounds fired from the Palestinian enclave.
Hamas tunnels unearthed
On Thursday it was revealed by the Shin Bet intelligence agency that Israel had arrested a reported Hamas member, Mohammed Atawa, who had given the agency information about Hamas tunnels, digging sites and tunnel shafts.
The tunnels, used by operatives fighting within Israeli territory, have been targeted by both Israel and Egypt for demolition.
The Israeli army said that a major target of the strikes were suspected infiltration tunnels under the border like those whose destruction it cited as one of the principal achievements of the 2014 conflict.
Gaza has been devastated by three conflicts between Israel and its Hamas rulers and other Palestinian factions since 2008, and reconstruction has been painstakingly slow amid an Israeli blockade on all imports that could have military purposes.
Over the past two days, the Israeli army says that its soldiers, operating along the fence that tightly encloses the territory, have been repeatedly targeted from inside Gaza.
But army spokesman Lerner said Israel had "no interest in escalation whatsoever".
---
This article (Israeli Jets Pound Gaza in Worst Violence since 2014 War) originally appeared on MiddleEastEye.net and was used with permission.