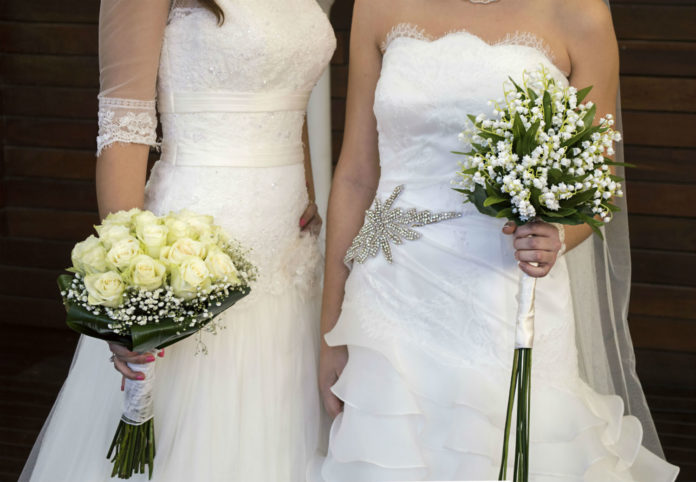 There is a verse in the Bible: Love knows no limit to its endurance, no end to its trust, no fading of its hope; it can outlast anything. It is, in fact, the one thing that still stands when all else has fallen.
While the Bible is not against love or homosexuals (the term "homosexual" didn't exist until 1892), the Catholic Church insists same-sex relationships violate divine and natural law.
Catholic Church calls gay and lesbian Australians "pure evil" "intrinsically disordered" an "abomination" and "against the laws of nature" https://t.co/xOtVsqTdWY

— Stephen (@ultimo167) September 24, 2016
The church's rejection of gays and lesbians has caused tremendous suffering to the LGBT community, which, as a result, has started to break the unjust shackles that bind their love.
Isabel and Federica, both 44, are one such couple that is showing the world how it is done.
The Catholic nuns met and fell in love during a mission in South America three years ago. The couple belonged to the Franciscan order, which follows the disciplines of Saint Francis of Assisi, renowned for his passionate commitment to embracing the Gospel message of radical inclusion and equality for all.
Since the Catechism continues to teach that homosexuality is 'disordered', the two ex-Franciscan 'Sisters' renounced their vows and tied the knot last month in Italy, which in May, became the last country in Western Europe to legalize same-sex relationships.
The Church tried to stop gay unions in Italy for decades. Now two nuns have left their nunnery to tie the knot. https://t.co/5yeaiYCRey

— Tom Kington (@tomkington) September 29, 2016
"God wants people happy, to live the love in the light of the sun," said Isabel. "We call upon our church to welcome all people who love each other," added Federica.
Mayor Luca Salvai of Pinerolo, who presided over the wedding ceremony at the outskirts of Turin, said the event — the second since the entry into force of the law — was brought forward by a day to protect the couple's privacy amid media interest in their love story.
La Stampa, the Turin-based daily newspaper, reported that Franco Barbero — a Catholic priest who was suspended from priesthood in 2003 after he challenged its approach to the LGBT community, and openly supported gay marriage — also blessed the couple in a non-official religious service. He described Isabel and Federica's relationship as "like all the love stories in the world."
"They are two marvelous people, with very deep faith. They got to know each other slowly and discovered they had deep feelings. They reflected for a long time and took the decision courageously, knowing it wouldn't be accepted. They have been criticized, but also understood by some sisters. Just as there are many good priests who do not condemn this kind of choices."
Christians think if you're gay you're a pedophile because the only homosexual activity in the church is pastors fucking kids.

— Afterthought (@IrrelevantDeity) April 18, 2016
Isabel and Federica have requested anonymity to keep their brave decision confidential.
"It is not modesty, but fear of prejudice. We do not want to become celebrities, but live peacefully together and soon find a new job. We leave the monastery, but not leave the Church and do not forget the faith."
---
This article (Italy: Lesbian Nuns Renounce Vows, Tie the Knot) is a free and open source. You have permission to republish this article under a Creative Commons license with attribution to the author and AnonHQ.com.