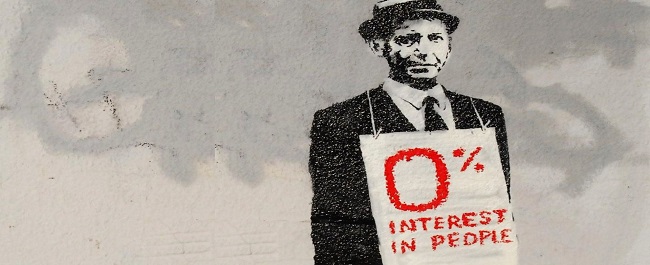 Carey Wedler at theantimedia.org
Iceland — The world watched in admiration last year when over two dozen Icelandic bankers who played a role in causing the 2008 financial crisis were sentenced to prison. Less than a year later, three of those bankers have been released — years earlier than expected. Their release was predicated on a change to current law regarding maximum penalties, but at least one lawmaker has suggested those who pushed the change through "handcrafted" it precisely to help bankers. News of their highly reduced sentences coincides with an ongoing scandal revealed by the Panama Papers this week regarding the Icelandic prime minister's previously secret, offshore holdings in banks implicated in the collapse.
Icelandic outlet Stundin reported Thursday, as translated to English by the Icelandic Review, that three bankers from the Kaupthing Bank who were sentenced last year have been released. Former Kaupthing Chairperson of the Board Sigurður Einarsson, former Kaupthing Luxembourg CEO Magnús Guðmundsson, and former investor and 10% owner of Kaupthing Ólafur Ólafsson were convicted last year for their role in market manipulation and fraud. As the Reykjavík Grapevine summarized, "they artificially inflated the value of the bank, deliberately deceiving investors and depositors alike, and contributed significantly to the late 2008 collapse of the Icelandic banking system."
They have each served roughly a year of their prison sentences, which ranged between four and five years, but because of a change to the law made March 16 regarding maximum penalties, they were released Thursday.
The Icelandic Review explained:
"The main part of the law change is to allow prisoners to double the amount of their sentence they serve at home, under electronic surveillance (i.e. tagged). The parliamentary bill was changed in committee to allow five days of electronic monitoring for every month of a prisoner's sentence, instead of 2.5 days as it has been. This means that a prisoner sentenced to one year in prison can now spend the last 60 days electronically tagged and in the community, instead of 30 days. The rule change means criminals can now be released earlier from prison."
Stundin reported they will be able to finish out their sentences at a "halfway house," where they will be expected to spend every evening but will otherwise be free. After they have completed this phase — Stundin did not specify the exact length — they will be allowed to finish their sentences via electronic surveillance as determined by the new five-day guideline established by changes to the law.
The change to the law was, according to Stundin's sources, pushed through the legislature by Unnur Brá Konráðsdóttir, chair of the Alþingi (Parliament) General Committee and MP for the Independence Party.
But not all lawmakers viewed the decision in a positive light.
"I don't think this is a good time for this legislative change, in light of the situation surrounding these particular prisoners," Left-Green MP Bjarkey Olsen Gunnarsdóttir said of the modification. "This seems to have been handcrafted for them. I generally support the increased use of electronic surveillance [as opposed to prison]. But we need to have a discussion about what crimes this new law would apply to."
Though the world celebrated the sentences of the bankers last year, the financial convicts complained of unfair treatment at their low-security prison, in spite of, as the Grapevine noted, "all evidence of their wrongdoing, their lenient sentences, practically idyllic living conditions, and – most galling of all – their continued assertions that they did nothing wrong."
In a televised interview with the bankers from prison conducted this January, they expressed disbelief they had ended up behind bars.
"We made a big mistake, our lawyers and us, in trusting the system. We trusted the courts, and put our trust in the Supreme Court to sentence according to the law. There is our mistake," Ólafsson claimed. The ex-banker, who has been called a "corporate Viking," also complained of the ongoing backlash against bankers. "The community is responding to a certain social group. They are subjecting a certain social group to bullying," he said. Twenty-six bankers were sentenced last year, receiving a combined total sentence of 74 years — an average of slightly less than three years per banker.
Regardless, the Kaupthing bankers have been now released from jail. The news comes the same week Icelandic Prime Minister Sigmundur David Gunnlaugsson came under fire amid evidence of corruption highlighted in the Panama Papers leak; Gunnlaugsson was revealed to have holdings in an offshore company — one tied to the banks implicated in the financial collapse for which the bankers were convicted. He initially refused to officially resign, instead "step[ping] aside for an unspecified amount of time." Sigurdur Ingi Johannsson, deputy chair of the Progressive party Gunnlaugsson chairs, will now serve as Prime Minister. Gunnlaugsson will remain chair of the party.
The Panama Papers revelations inspired mass protests in Iceland as 22,000 gathered in the capital city of Reykjavík on Monday evening, many demanding new elections to wipe the slate clean after corruption reached the highest office. The protests have continued throughout the week, though the size of the crowd has grown smaller.
As the current government remains mired in scandal and attempts to salvage its image, news of the freed bankers highlights deep-rooted issues with accountability in Iceland prior to the Panama Papers scandal; Stundinalso reported that last week, before they were released, the bankers were allowed to leave their confinement center to go out for ice cream.
---
This article (Jailed Bankers Freed Early as Icelandic Government Implodes Over Panama Papers) is free and open source. You have permission to republish this article under a Creative Commons license with attribution to Carey Wedler and theAntiMedia.org. Anti-Media Radio airs weeknights at 11 pm Eastern/8 pm Pacific. Image credit: Baslow. If you spot a typo, please email the error and name of the article at [email protected].