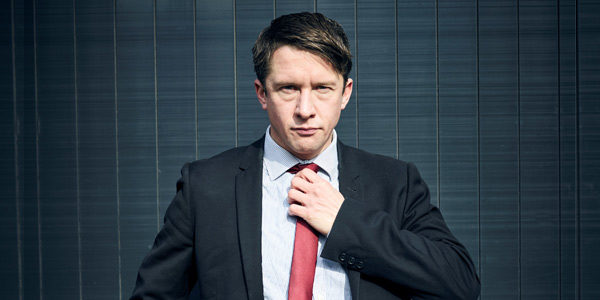 Who is Jonathan Pie? For all those that are unaware of the man who speaks his mind, Jonathan Pie is a spoof reporter created by Tom Walker, a British actor and comedian. The character he plays is fictional, however, in his latest tirade, Pie is 'caught' off camera during a break airing his frustrations to his production crew. The monologue is entertaining, but it's funny because it reflects real life and voices the real fears of a lot of people, both in America and worldwide.
His unapologetic YouTube segment focuses on a post-truth world, and no topic surrounding media or politics is too sacred to touch. Walker, 38, represents the embittered news reporter. First airing online in September 2015, his weekly clips document an out-of-the-box journalist loyal to his sponsorship, but when waiting for his cameraman to reset, he begins his tirade of ranting and disbelief to his producer, Tim. Politics and media are the centrepieces of his clips. Brutal honesty, frustration and a ruthless view of world politics is the emphasis.
He has a mass following on Facebook, Twitter and YouTube, and although he never set out to be political, the fast-paced news he presents – that was supposed to be "secondary – has taken over his segment. Not to mention his 'sold out' venues of his live performances around the United Kingdom.
Arguably, it is the news as it really is and in his own words "told the way it should be."
In this segment of Jonathan Pie, the fictional news reporter is covering Donald Trump's inauguration. You can be forgiven for thinking – just for a moment – that this is real. Within 18 hours of release, it reached 101,415 views.
Describing the inauguration speech given by Trump as "painting by numbers" and "Macbeth written by monkeys" the exacerbated Pie uses facts to support his satire. This is political satire at its British best and well worth the watch whether you support Trump and his agenda or not.
If you're wondering about all the fuss and want to hear more about Pie's views of the "bloated, incandescent lobotomized sexual predator; a paranoid and supremely unqualified demagogue; a massive 70-year-old cheese-puff whatsit with tiny wandering hands; an arrogant ill-informed oversized Oompa Loompa; a whinging brain misogynistic no-nothing spunk-bubbler; f*uckheaded egomaniac with a skull full of fetid s*it…with a good tie though," then view the clip below.
Be warned: strong language frequents the clip.
.

 
---
This article (Jonathan Pie: Telling Us the Trump News as it Really Is) is a free and open source. You have permission to republish this article under a Creative Commons license with attribution to the author AnonWatcher and AnonHQ.com.
---
 Supporting Anonymous' Independent & Investigative News is important to us. Please, follow us on Twitter: Follow @AnonymousNewsHQ