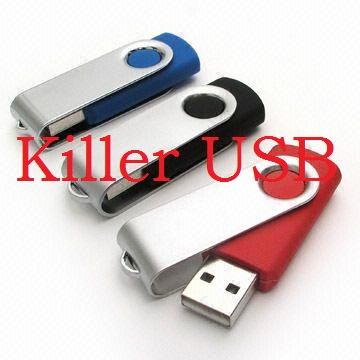 If you think your computer can, at worst, be infected with worms, Trojans and viruses… think again. We present to you a physical USB device that possibly possess a more deadly threat than any virus you can catch. We are talking about the infamous "Killer USB Flash Drive."
All over the internet right now is a story in which a person picked up some random USB Flash Drive from the floor of a public bus and plugged it into his own machine when he got home. Instead of finding secret files and folders, the person actually had their computer fried… literally! Like any other curious tinker, "Dark Purple" looked into this story a bit further. With a little bit of research and development, Dark Purple actually developed his own version of the "Killer USB" and tested it out.
Sure enough, the story was indeed true…
So, what exactly happens when this Killer USB drive connects to your computer?
When you connect a Killer USB to your computer, an inverted DC/DC converter kicks in and starts to charge the capacitors to get to -110V. Then, when the correct voltage is reached, the DC/DC is switched off. This may sound harmless… but this is a looping process that keeps going until everything that is possible in frying your computer, is indeed fried.
In Layman's terms, this little cleaver device utilizes high voltage, as well as high current, to actually fry your computer and all of the electronics inside of it. All of your USB ports often have a direct connection to the CPU (Central Processing Unit), this means that your entire computer can in fact be affected by a little extra voltage, causing an entire system burn up.

When we say "burn up," this is no analogy or understatement… it will actually set it on fire. Yes, flames coming out of the fan ports and any other open ports you have on your machine. This device is similar to possessing an "Atomic Bomb" for PCs. Very effective, however, not necessary to have.
What would you do with a device such as the Killer USB Flash Drive? Save it for when you are detected and the police are outside, or send it to that bully back in high school?
In conclusion, despite the nasty viruses roaming around the web, there are physical dangers that can harm not only your computer, but you as well.