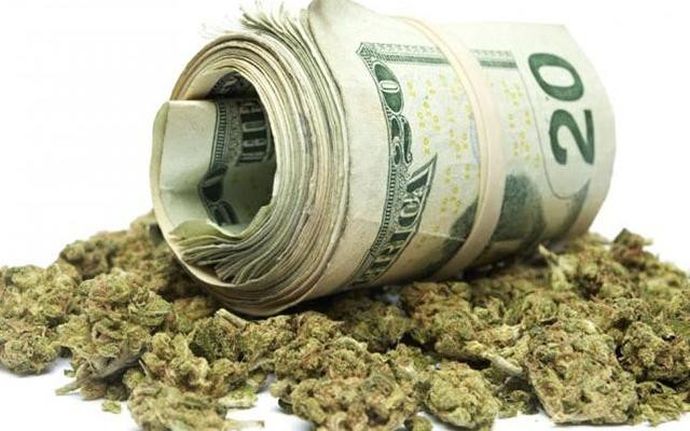 The U.S. marijuana industry could become an economic force in less than three years.
Even as Donald Trump threatens an anti-marijuana crackdown with greater enforcement of federal drug laws, according to a new report released by Marijuana Business Daily, every dollar spent on medical and recreational marijuana at the retail level could lead to an extra $3 for the U.S. economy every year. Sales of recreational marijuana could surpass sales of medical marijuana as early as 2018; and the U.S. marijuana industry could pump $44 billion into the United States' economy by 2020.
"The estimates attempt to capture the industry's overall contribution to the economy, encompassing everything from revenues generated by cannabis-related companies, licensing fees and taxes to marijuana tourism, employee spending, job creation and the impact on real estate prices in a community.
"Overall, for each dollar spent/earned by cannabis companies, an additional three dollars in economic benefit will be realized. For example, a cannabis dispensary/store makes a sale for $100. The business then uses a portion of that money to pay an employee, who in turn uses a portion of that money to buy groceries at the local grocer, and so on – a process that creates a ripple of economic value, most of which remains in the community."
57% of U.S. adults support legalizing the use of marijuana, compared to 37% who do not: https://t.co/qDheJ3XQPG pic.twitter.com/3a1rgqTvyd

— PewResearch FactTank (@FactTank) November 14, 2016
At $44 billion, the U.S. marijuana industry's contribution to the country's economy will be more than the combined GDP of Iceland and the Bahamas. If current trends continue in future, CBS News observes the sales of medical and recreational marijuana could nearly equal the annual revenues of such Fortune 500 firms as FedEx and Lockheed Martin. Chris Walsh, managing editor of Marijuana Business Daily, commented:
"We've been expecting rapid growth in the marijuana industry for a while now, and that's exactly what's playing out. The main drivers of the growth in recreational sales are Colorado, Washington and Oregon. And also, interestingly, even the mature medical marijuana markets are growing very quickly, like Arizona, New Mexico, and states that have had medical programs for years now. And then you have new medical marijuana states like Illinois, Nevada and Massachusetts.
"The genie's out of the bottle, half the country has legalized medical marijuana and an increasing number of states are legalizing recreational. Anyone who tries to stand in its way is going to have a hard time."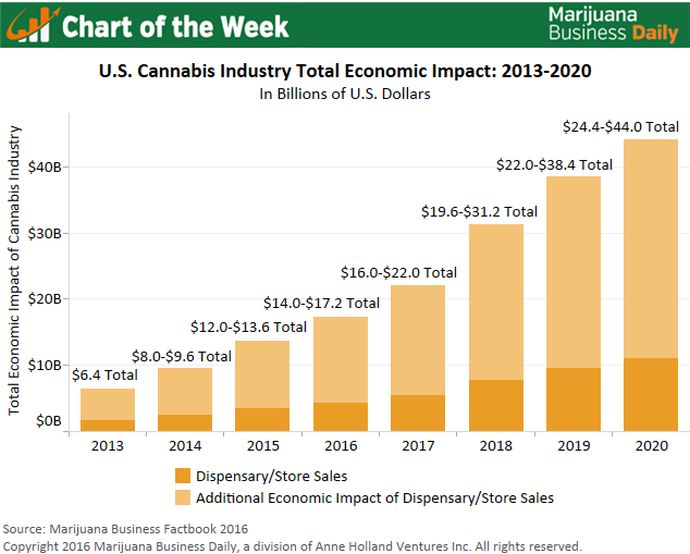 Although marijuana is considered a Schedule 1 drug with no medical value under the Controlled Substances Act, 28 U.S. states have legalized marijuana for medical purposes, while eight states have legalized marijuana for recreational purposes. According to the latest research by GreenWave Advisors, medical marijuana or recreational marijuana could be legal in all 50 states and Washington D.C. by 2021.
1 in 8 U.S. adults say they smoke marijuana, according to a new @Gallup poll. ?? pic.twitter.com/VhOiWLIAjc

— ATTN: (@attn) August 9, 2016
The projections, says the report, reflect marijuana's march towards the mainstream as it emerges from the shadows to become "a respectable, above-board industry that is giving birth to scores of jobs, fostering new business opportunities and creating a broad ripple effect across the country". Walsh added:
"We're witnessing the emergence of a business that is about to become a massive economic force. These figures, which we deem conservative, show not only how important the industry already is to the U.S economy at large, but also how much more important it is about to become."
annual poll by @GallupNews shows record 60% of Americans support legalizing #marijuana https://t.co/uXzKiOPVsl pic.twitter.com/tLTNvYSKet

— MPP Marijuana Policy (@MarijuanaPolicy) October 19, 2016
---
This article (Legal Marijuana Set to Pump $44 Billion into the U.S. Economy by 2020) is a free and open source. You have permission to republish this article under a Creative Commons license with attribution to the author and AnonHQ.com.
---
Supporting Anonymous' Independent & Investigative News is important to us. Please, follow us on Twitter: Follow @AnonymousNewsHQ